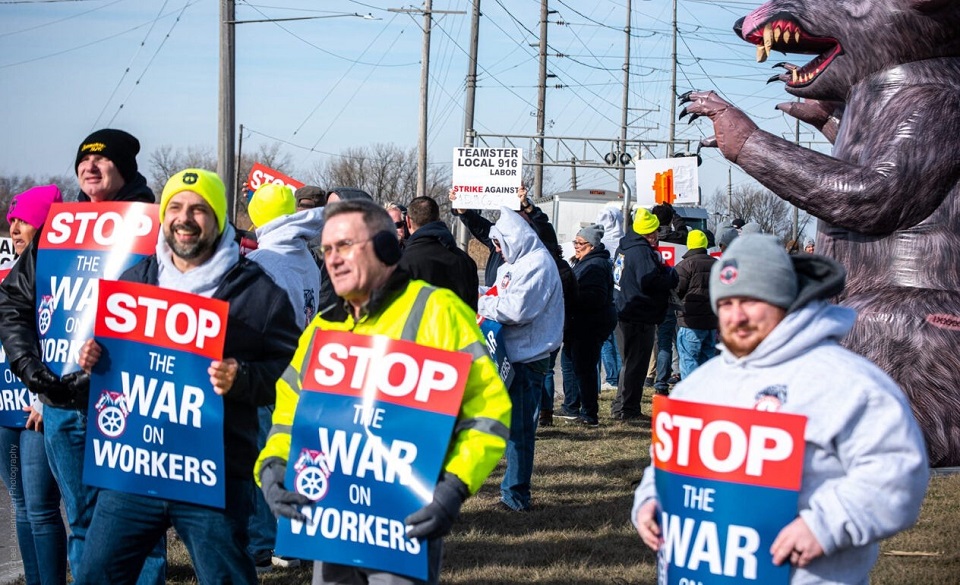 DECATUR, Ill. —Refusal by the giant food conglomerate Archer-Daniels-Midland (ADM) to negotiate a new contract, or even send someone to talk who has the power to make decisions, forced the 50 workers at its Decatur, Ill., cogeneration plant, all Teamsters Local 916 members, to strike.
In response to the forced walkout, which began Feb. 2, ADM has brought in "replacement workers"—scabs—to operate the plant, which supplies power created from plant refuse to the rest of ADM's big Peoria food plant complex, Reuters reported.
As a result of the refusal to bargain in good faith, plus what the local calls "a bribe" offer of further benefits to workers if they didn't strike, the strike may become over ADM's labor law-breaking, formally called unfair labor practices. The union formally filed the unfair labor practices complaint with the National Labor Relations Board's regional office covering
In the original dispute, the local seeks a $12 an hour pay raise over the life of a three-year contract, but ADM hasn't even replied, Local 716 President J.P. Tyans and Business Agent and chief bargainer Kyle Bollinger said. Since the strike began, the two sides have been tussling over when to restart bargaining.
"In a public statement, the company has said they will 'continue to bargain in good faith.' We had to file these charges because the company hasn't even started to bargain in good faith," J.P. Fyans told the national union. "If they want to act in good faith, they can meet our members' very reasonable request to get a raise of 12% over the course of three years.
"ADM is refusing to offer these workers wages and benefits on par with what union members receive at other union facilities, which is a slap in the face," he added.
"We all know the real reason the company is doing this: When these workers get a contract, non-union ADM staff will hear about it and want to join the Teamsters. ADM needs to stop the union-busting and start showing some respect to the people who are responsible for its prosperity."
"This isn't just about one group of workers, it's about setting a standard at ADM," Bollinger told the national union. "Everyone at this company, whether they're a Teamster or not, needs to join in solidarity and demand a better life. That's the only way ADM workers–not just shareholders or the C-Suite–can benefit from the immense revenue that this company generates."
ADM netted $100 billion last year, up 20% from 2021, the international union reported. "This isn't about money to ADM, it's about power. Well guess what–the Teamsters have power too, and we plan on using it to get a good contract for these workers," said Peter Finn, the national union's regional director for food processing plant workers.