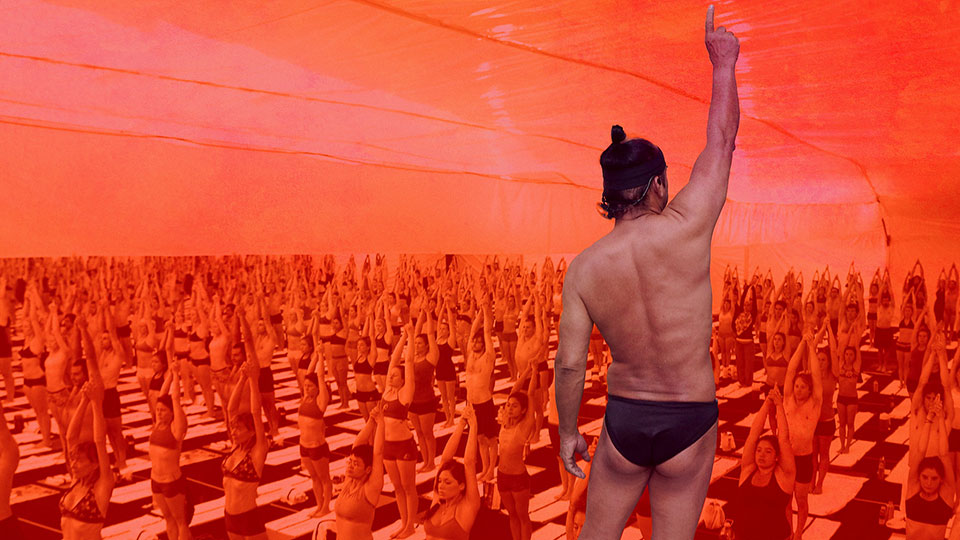 Academy Award-winning Australian filmmaker Eva Orner's well-made documentary Bikram: Yogi, Guru, Predator (seen at the 2019 American Film Institute's annual film festival) is an 86-minute creepfest perfect for the #MeToo Movement and moment. This no-punches-pulled nonfiction film purports to chronicle the career, life, lies, and sexual abuse of Bikram Choudhury, the main ballyhooer of Bikram or "Hot Yoga" in America and beyond. The ornery Orner goes after Choudhury with the same take-no-prisoners panache that Alex Gibney—with whom she shared (as producer) the Best Documentary Oscar for 2007's Taxi to the Dark Side—employed on another cult in 2015's Going Clear: Scientology & the Prison of Belief.
Born 1944 in Kolkata (Calcutta), Choudhury migrated in the 1970s to America, introducing an extreme form of yoga. The long haired, well-built "guru" from India parlayed and peddled his "exoticism" to "benighted" but well-to-do Westerners, building an empire by teaching and selling his 26 hatha yoga posture technique. Choudhury grew rich in the process and in archival footage is repeatedly shown preening and fawning over his fleet of luxury vehicles. This should have been the first clue: Anyone obsessed with materialistic emblems of wealth and ostentatiously showing them off in a blatant braggadocio manner is in all likelihood an extremely mentally ill individual (paging Mr. Trump!).
But thousands fell under his spell for Choudhury's sick shtick. According to Bikram, like many power-mad men put into positions of control, he used his stature to sexually manipulate, molest and even outright coerce female acolytes, who perform their workouts scantily clad. Indeed, in the film Choudhury comes across like a Harvey Weinstein of the yoga world.
Orner unravels her grim saga with lots of archival footage, as well as original interviews with followers and women who claim to have been victims of Choudhury's sexual abuse and machinations. During related court proceedings, and after he's found guilty, Choudhury sounds like a crazed chowder-head. Onscreen he seems like a demented lunatic with a bizarre view of women and very tenuous grasp of and on reality.
Among the many interesting things in Bikram is President Nixon's trip to Hawaii. As co-author of three books about the screen image of Hawaii, I had never heard of this visit and found the news clips of this presidential foray into the Aloha State to be quite fascinating. Of course, they appear in this Netflix documentary because Choudhury set up early studios in Hawaii, as well as California, and the self-anointed, self-appointed guru went on to build his reputation in part on his specious claim that he cured Nixon of his phlebitis. Orner proceeds to debunk this boast and contends that there's absolutely no documentation whatsoever that the Indian ever met Nixon in Hawaii (or elsewhere, ever), let alone cured him. The film challenges other contentions, such as that Choudhury won national awards in India for titles Bikram insists didn't even exist. Be that as it may, had the president met the self-proclaimed guru, Tricky Dick would have found his yogic counterpart and kindred spirit, assuming Bikram's depiction of its title character is accurate.
Another thing I found interesting about Bikram is that unlike other Indian "mystics" who have preyed on Western naïveté and finances, in what may be to his credit, Choudhury did not seem to emphasize or promise adherents spiritual enlightenment in exchange for paying for his lessons and other ministrations. A number of interviewees insist that the Bikram yoga method is indeed very effective and makes them feel physically better (if not spiritually). Choudhury may be a maniac and fraud in other respects, preying upon female followers, teaching "hot yoga" in a steamy studio environment while he's cooled by a personal air conditioner, but if I understood correctly, Bikram does not dispute that the yoga technique per se works for the body.
(Although the doc does dispute whether Choudhury actually originated the methodology, claiming instead that his mentor in India did. To be fair, Choudhury does give the man he purports to have been his own guru high praise indeed.)
There are numerous cross-cultural examples in fact and fiction of purported Holy Men from India and elsewhere proselytizing in the West, often to extremely gullible people easily separated from their money. As I wrote in my review of the comedy Yoga Play, which ran at Laguna Playhouse in October:
"Some prominent examples of this East-meets-West trend include the supposed Indian holy man J. Krishnamurti, who was discovered in India around 1909 by wealthy Theosophist Annie Besant, co-founder of the Ojai Foundation. She proclaimed him to be a sort of messiah, but by 1929 he renounced Besant's Order of the Star in the East religious group. Nonetheless, Krishnamurti continued on the path to enlightenment as a spiritual teacher, believing each person must be his own guru. The Krishnamurti Library and Study Center still exists in Ojai where, incidentally, Frank Capra shot the mountains that double for Shangri-La's Himalayas in his 1937 movie Lost Horizon, based on James Hilton's novel.
"Somerset Maugham's 1944 The Razor's Edge is another novel that deals with this theme and was also adapted for the screen, in 1946 and 1984 movies starring Tyrone Power and Bill Murray. Other films along these lines include the comedies 1969's The Guru starring Michael York, directed by James Ivory and co-written by him with Ruth Prawer Jhabvala; 2002's The Guru, a sex comedy starring Marisa Tomei and Heather Graham; 2008's The Love Guru starring Mike Myers, Jessica Alba, Kanye West and Deepak Chopra (as himself). In real life, the Beatles' 1968 trip to Transcendental Meditation maestro Maharishi Mahesh Yogi's ashram in Rishikesh, India, is probably the most famous real-life example of this trend, along with George Harrison's ongoing adherence to a form of Hinduism."
As Eva Orner's chilling Bikram: Yogi, Guru, Predator contends, Bikram Choudhury—who is now a fugitive from the U.S. but still teaching and cashing in elsewhere beyond the long arm of the law—is one of the latest in a long line of figures from the "mystic East" who claim to bring ancient knowledge to heal the materialistic West. But according to this documentary, Choudhury is more conman than Holy Man, using his power, prestige and wealth to prey on vulnerable women. Bikram buyer beware.
The trailer can be seen here.