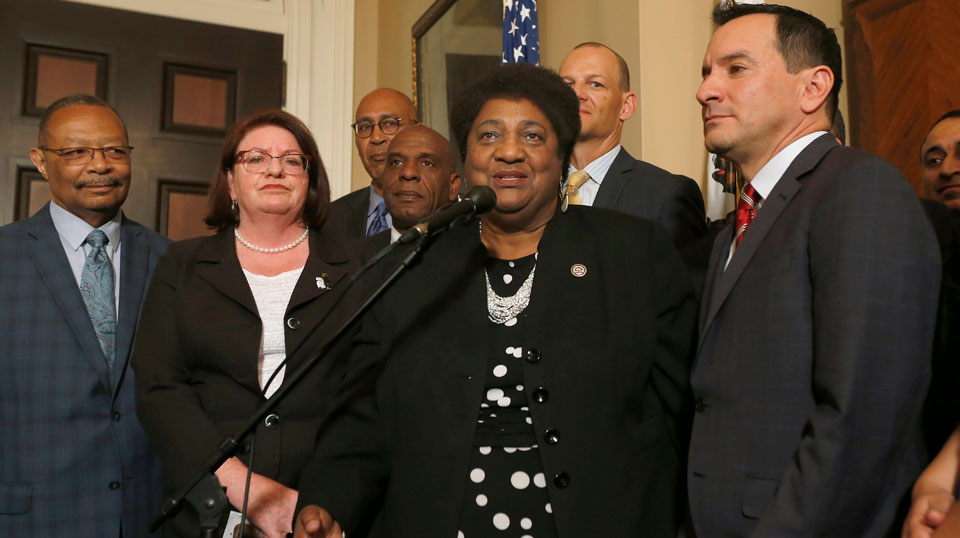 Among the waves of bills that passed from California's Assembly to the state Senate last week was one that observers say could move the state from having one of the loosest standards for police use of force to one of the strictest.
That measure, hotly debated since Assemblymembers Shirley Weber, D-San Diego, and Kevin McCarty, D-Sacramento, introduced it in February, is Assembly Bill 392, the California Act to Save Lives. It passed the Assembly by a vote of 67-0 on May 29, and if passed by the Senate, will go for signature to Governor Gavin Newsom, who has indicated his support.
After the Assembly vote, Weber said, "Significant change is never easy, but those who voted today looked to their conscience and found the courage to do the right thing for California." She thanked the families who have lost members to police violence, calling them "the energy and the moral compass for making this possible."
An earlier version had been introduced in March 2018, in the wake of the police killing of unarmed Sacramento resident Stephon Clark in his grandmother's back yard and the intense, prolonged public outcry that followed. But that version stalled in the legislature last year.
From the start, AB 392 has galvanized the attention of organizations seeking to end the wave of police shootings that have especially affected people of color and people with disabilities. On the other hand, it drew intense criticism from law enforcement agencies for its original language changing the standard for using lethal force from the present "objectively reasonable" to "necessary," and requiring consideration of whether police officers had been criminally negligent or had failed to exhaust nonlethal means of handling the situation.
After intense negotiations between law enforcement agencies and the bill's initiators, AB 392 now says lethal action is justifiable only when an officer "reasonably believes, based on the totality of the circumstances, that deadly force is necessary to defend against an imminent threat of death or serious bodily injury to the officer or to another person" or when apprehending "a fleeing person for a felony that threatened or resulted in death or bodily injury…." The requirement to exhaust nonlethal methods has been dropped.
Law enforcement agencies are now no longer opposing AB 392, while Senate President Pro Tem Toni Atkins, D-San Diego, and Assembly Speaker Anthony Rendon, D-Lakewood, have joined Weber and McCarty as co-sponsors.
Though some initial supporters have dropped away because they said the changes weakened the bill too much, other organizations and individual supporters say AB 392 will—in the words of the Anti Police-Terror Project—"change the legal standard under which law enforcement can justify utilizing lethal force and hold police criminally liable when there is no justification to be found."
While much organizing and educating are needed on police and police violence, the Project said, the bill is a chance, while continuing to work for radical reforms, to make it harder for law enforcement to kill with impunity.
Another organizational sponsor, the American Civil Liberties Union of Northern California, said that if AB 392 goes into effect, it "will transform California from a state with one of the most permissive use of force laws to a state with one of the most protective laws in the country."
The ACLU said the measure will "update California's outdated use of force standard to require that police officers avoid using deadly force when there are other options," and will also help ensure that officers are held accountable when they fail to comply with the new standard.
The ACLU also noted that in cities with stricter standards for use of deadly force, officers are trained to use non-deadly resources or techniques, and fewer deaths result "without negative impact on law enforcement or community safety."
If the bill passes, the organization said, California would become "the only state to combine a 'necessary standard' with the requirement that courts consider an officer's conduct leading up to a use of deadly force when determining the legality of the officer's actions."
Among AB 392's supporters who have lost family members to police violence is Cephus "Uncle Bobby X" Johnson, whose nephew, Oscar Grant, was killed by Bay Area Rapid Transit police on Jan. 1, 2009. Johnson and his wife, Beatrice X. Johnson, are founders of California Families United 4 Justice.
After the Assembly vote, Johnson called AB 392 "a step in the right direction," and thanked Weber, the governor, leaders of the Assembly and all supporters of the bill.
"As an impacted family member and the uncle of Oscar Grant," Johnson said, "there is no horror comparable to the excessive use of force by the police that takes your loved one's life. This horror is forever etched into your memory, perhaps, because it could have been prevented. AB 392's goal is protecting human life and safeguarding human rights."
Stephon Clark's brother, Stevante Clark, a leader in the protest movement that erupted in Sacramento after police killed his brother, said the bill was "a little watered down with the changes that were made, but at the same time, this is progress…slow progress is better than no progress."
The Anti Police-Terror Project gave great credit to Assemblymember Weber who, it said, "took heat from all sides" while continuing steadfast work on a bill that even with amendments, stayed true to its original intent: "Change the legal standard under which law enforcement can justify utilizing lethal force, and hold police criminally liable when no justification is to be found.
"This bill," the Project said, "in its current form, does just that."