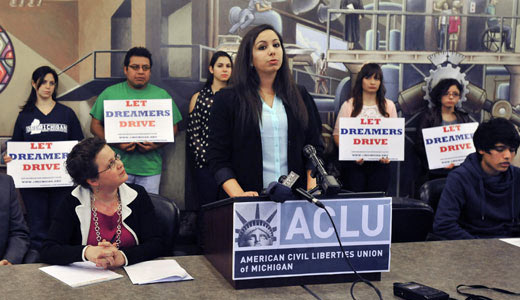 On Jan. 8, Illinois Gov. Pat Quinn declared he would sign into law a bill that would grant three-year state driver's licenses to undocumented immigrants. The legislation would be an important victory for immigrant rights. The bill's chief House sponsor, Rep. Edward Acevedo, D-Chicago, remarked, "We're all human beings. People come to this country to fulfill the American dream. We can offer them that today."
The House passed the measure, after heated debate, by a vote of 65-46, prompting applause and cheers of triumph. Under the plan, which has already passed the Senate, immigrants who lived in Illinois for at least a year can receive a temporary visitors' driver's license that would last for three years. Thus, thousands of undocumented Illinoisans will now enjoy new legal recognition from the state – a major step forward.
Quinn's primary reason for ok'ing the legislation is a feeling that the measure will rid Illinois roads of a "dangerous risk." He noted, "More than 250,000 immigrant motorists on our roads today have not passed a driving test, which presents a dangerous risk to other drivers. Illinois roads will be safer if we ensure that every driver learns the rules of the road and is trained to drive safely."
Many House Republicans launched their usual barrage of criticisms, suggesting that the measure condones illegal entry into the country and is vulnerable to fraud. However, Republican House Minority Leader Tom Cross voted for the plan, putting him at odds with his GOP peers. Nine other House Republicans joined him in voting "yes."
The bill had been heavily advocated by Chicago's Immigrant Youth Justice League, which remarked in an official statement, "We are committed to fighting for driver's licenses for all undocumented immigrants, because they are our [family], our friends and neighbors, and members of our community." They added that the legislation offers "one less opportunity for a police officer to use the lack of a driver's license as an excuse to place a member of our community in deportation."
Chicago mayor Rahm Emanuel supported the House's action on this, and called it an exemplar of the Windy City's "values as a mixing pot of cultural diversity." In a prepared statement, he elaborated, "I applaud legislators from both sides of the aisle for doing what is right by acting on this critical legislation to make our city and state more welcoming to immigrants while also making our roads safer by requiring all drivers to be trained, tested, and insured. This legislation is true to our values as a city."
Jose Vera, a community organizer with Bolingbrook, Illinois' nonprofit group Southwest Suburban Immigrant Project, said, "This is a historic vote and is going to help the community very much. People that are driving to work, driving to church, are not going to be afraid anymore that anytime they drive they are going to be deported."
Undocumented citizens in other states, however, don't have reason to celebrate just yet. North Carolina initially indicated it would grant driver's licenses to immigrants, but has since reversed that position, joining Arizona, Iowa, Michigan, and Nebraska in doing so. The news has come as a blow to undocumented people statewide, who, at first, had been optimistic.
In October, 22-year-old Raleigh resident Cinthia Marroquin applied for deferred action (which blocks deportation and secures a two-year work permit for those who immigrated to the U.S. as children). Her next order of business was going to be a stop at the DMV, until she heard the devastating news. "It's horrible! I can't really get a job [now], basically. Am I going to make it? What am I going to do?" She is just one of 18,000 North Carolina immigrants who are feeling this anxiety.
Lacey Williams, youth program director at the Latin American Coalition, said that denying licenses is unfair and discriminatory, and that it absurdly contradicts the benefits offered under the deferred action program. "I don't know who they think it will benefit to have this class of people who can now work but cannot drive," she said. "It just doesn't make any sense."
Unfortunately for activists fighting for immigrant rights, the good news in Illinois is accompanied by yet another negative development: On January 10, the mother and brother of activist and DREAM Act supporter Erika Andiola were arrested and removed from their home by Immigration and Customs Enforcement. Despite the Obama administration's assurances that ICE's intent is to only remove people convicted of serious crimes, one cannot avoid the glaring fact that Erika's mother had no criminal record.
As seemingly each progressive step forward is coupled with another step back, the fight for fair rights for undocumented citizens has become more urgent and more important than ever.
After giving his "yes" vote to the Illinois legislation, Cross concluded, "At the end of the day, I'd like to think we'd continue to be a country and a state that remains open to the idea of people coming to our country, who want to do better, who want to have better lives, who want to work, who want to be part of our communities. We should work with them, not fight them, as we move ahead as a state and a country."
Photo: Leen Nour El-Zayat, a pre-med student, speaks during a press conference held at the ACLU of Michigan headquarters in Detroit, outlining the importance of allowing undocumented citizens to obtain driver's licenses. Robin Buckson/AP