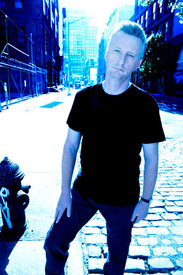 'The response of Main Street to the idea of bailing out Wall Street is all about Main Street wanting some accountability from the capitalist system,' said musical legend and political activist Billy Bragg in a recent interview with Political Affairs magazine. Bragg is scheduled to open the second leg of his North American tour later this month on the East Coast, and talked with the magazine by phone.
Bragg's latest album, "Mr. Love and Justice" (), has been praised by music critics as one of his most introspective and personal albums. Long-time fans of Bragg, however, will be pleased to know that his turn toward music that addresses personal issues and questions about relationships is not a turn from politics in general.
Talking about how "Mr. Love and Justice" developed Bragg cited his almost two-year effort to publish his book, "The Progressive Patriot," a 'polemic,' as he described it, against racist hate groups in London. 'When I finally put my pen down and picked up my guitar,' Bragg said, 'the songs that were there waiting to break through the concrete, not surprisingly, were love songs. I was quite pleased about that.'
'I am happy with how this album turned out,' he added.
Still, the creative burst that produced this batch of 'love songs' didn't stop the devoted socialist activist from sounding off on the major issues of the day. Returning to the hot-button issue of the Wall Street bailout, Bragg opined, 'We can hold our elected officials to account, but perhaps we need to extend accountability or at least some sense of responsibility to those who have financial power over us as well.'
Readers will be able to hear the full interview with Billy Bragg on the next episode of the Political Affairs podcast, scheduled for Sunday Oct. 5. See .