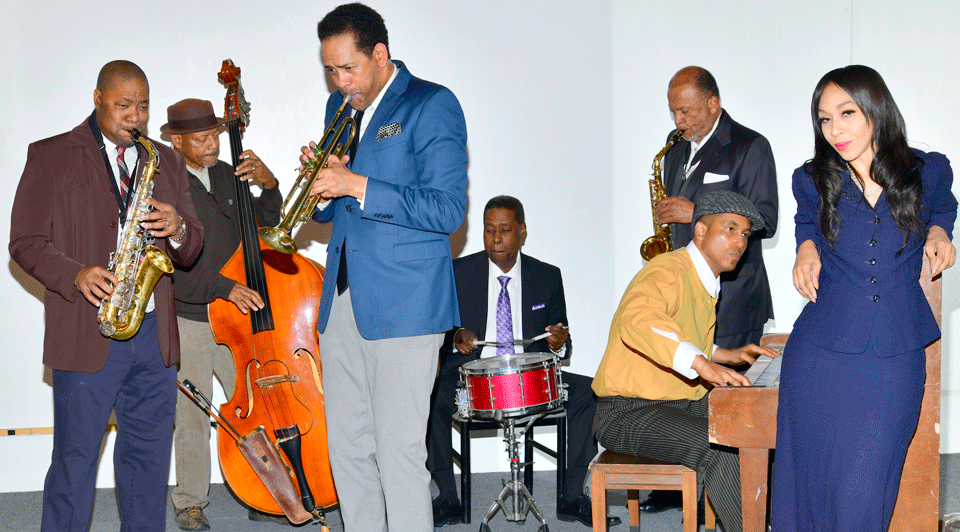 LOS ANGELES—In Randy Ross, Ph.D.'s new world premiere play with music, we go deep behind the scenes with Miles Davis (1926-91) and his sextet in August 1959 at the famed Birdland jazz nightclub at Broadway and 52nd St. in New York City.
Produced and directed by Ben Guillory, artistic director and co-founder of The Robey Theatre Company, Birdland Blue (seen April 6) is presented by The Robey, now celebrating its 25th anniversary season, at the downtown Los Angeles Theatre Center. The Robey pays tribute to the legendary actor, singer, activist Paul Robeson, whose intimate friends called him by that nickname.
Legendary center of the jazz world, Birdland got its name from the late American jazz saxophonist and composer Charlie Parker (1920-55), also familiarly known as Yardbird or Bird. Parker's death at 34, from years of alcohol and drug abuse, was a constant memento mori—a reminder of death—that hovered over the lives of jazz musicians among whom drug use, particularly heroin, had been common. It is also integral to the Birdland Blue story. Although Billie Holiday is not a character in the play, the musicians make some rather cruel gallows humor imitations of her unique singing voice just weeks after her untimely death on July 17, 1959.
Birdland's 500 seats were regularly filled by the glitterati of Broadway, Hollywood and the sports world. In August 1959, the biggest star in jazz was Miles Davis (Marcus Clark Oliver), who had just released Kind of Blue, regarded by many then and still as the most innovative and best jazz album of all time. The Miles Davis Sextet, as constituted that summer, was considered the finest jazz combo ever.
Kind of Blue received unprecedented airplay and rave critical reviews. At the 50-year mark since its original release it had sold over four million copies in the U.S. alone. In 2009, a U.S. House of Representatives resolution honored it as a national treasure by a vote of 409–0.
On the afternoon we meet Davis and Birdland owner Mo Goldman (Charles Isen), they're anticipating a lucrative night with four sets plus a recording for broadcast. Employer and employee spar over pay—how much and when, and if the extra set will be compensated at time and a half. It's not said whether or not the musicians were union members, but they were certainly hep to the systematic exploitation of musical workers, especially those of darker shades. It would appear also that Davis is not averse to demanding fair pay for his band and then not doling out the proceeds in proportional amounts.
Goldman has his own problems—a serious gambling one for starters. And the play's title refers to more than the blue mood that Davis's album evokes. It also has to do with Goldman's payoffs to a certain Detective O'Brian (Darrell Philip) of New York's finest (who needs the Mafia when you have the NYC police?). Davis has his own scuffles with the racist police as well. In actual fact, on the night of August 25, 1959, outside of Birdland, he was arrested and charged with assaulting an officer, hospitalized with five stitches and jailed. Months later he was fully acquitted. The incident "changed my whole life and whole attitude again, made me feel bitter and cynical again when I was starting to feel good about the things that had changed in this country," he said later. The history of authorities harassing African-American musicians is volumes long—including a hefty chapter on Billie Holiday. It's evident that jazz, the freedom it represented and the folks who played it, were viewed as a threat to the established order in those still McCarthyist times.
The blues keep on coming for Davis. Two of his musicians, Julius "Cannonball" Adderley (Damon Rutledge) and John Coltrane (Jermaine Alexander) are on the verge of leaving Davis's sextet to start their own groups. The issues are mostly esthetic—Adderley is too smooth and predictable, whereas Coltrane ("Trane") is too egocentric and experimental. Another of his musicians, the pianist Wynton Kelly (Eddie Goines), is resentful that Davis surprised him by inviting his former collaborator Bill Evans onto Kind of Blue, leaving Kelly to perform only on one track. Art being a constant struggle, Kelly's wife leans on him to get a real job so they can pay the rent and put food on the table.
And the mercurial Davis deals with substance abuse problems, his own and that of his bassist, Paul Chambers (Rogelio Douglas III). The actor plays bass to accompany himself in a wrenchingly pathetic drugged-out monologue. The final member of the sextet is Jimmy Cobb on percussion (Michael D. Ricks).
Now into the mix the playwright adds the sole female in the cast, a writer for Upbeat jazz magazine named Lucinda Holmes (Tiffany Coty), who also wears blue, adding to Miles Davis's list of woes. She's a serious fan and though underpaid as a writer for her work—a point of affinity with the musicians—she is hoping that her interview with the suddenly famous Davis will set her career into the groove. Davis is hot to jump her beautiful bones, but she remains calm, cool and collected in the face of his advances. She is a proto #MeToo character, strongly defending herself and her sex against male predation.
The play is loyal to the specifics of the Miles Davis sextet and the atmosphere in the air that August 1959 night, without presuming to be a documentary. Ross invents dialogue that could have been spoken, illuminating the individual genius of these stellar creative talents and their interactions. At the same time, that insular evening is almost plucked out of history insofar as national and world events are barely mentioned, so we are not planted in an unmistakably recognizable milieu. President Eisenhower is not mentioned, nor the civil rights movement, nor the daring Cuban Revolution that kicked off that year on January 1.
Yet a great deal of the badinage that the musicians deflect against one another has to do with women—how to get'em, hold'em, and let'em go. Maybe this is true to the era and more or less faithful to the life experiences of these men, and it does extract from Ross some of his most colorful writing, but none of it advances the plot except to serve as a foil for Ms. Holmes to bristle against.
In fact, about that plot: Where is it? Birdland Blue belongs to a genre of theatre that I believe we're seeing more and more of these days. Maybe there's a name for it already, but I'd call it "slice of life" theatre. Not much actually happens, but a period is opened up for us and characters are introduced as personality portraits, without there necessarily being a clear narrative that brings them together dramatically. The passage of time alone and the piling up of a succession of interactions and conversations do not a play make, at least not one that observes the conventional formulas. One could argue that, hey, where does Waiting for Godot go—one of the seminal plays by Samuel Beckett that defined the theatre of the absurd and existentialist eras—but Beckett is an outlier that few have tried to imitate and build on.
What do the characters in Birdland Blue want, and how successful are they in achieving it? Perhaps the best one might answer is, They want to be left alone to develop their art free of commercial exploitation and police racketeering and to be rewarded commensurate to the public's taste. Their other wants are socially determined—women, fancy cars, induced highs, and ostentatious display of money. Again, this might be the casual locker room puffery men talk about, but it doesn't lift these musicians up into the pantheon of great theatrical characters.
Adderley is the one who seems to have instinctively figured out the system. A motormouth former used car salesman, he tells Davis, "Maybe you didn't get the word, but that's what American capitalism is all about—sales. Whether the consumer needs it or not. By definition, selling is nothing but a hustle. Everybody can't do it." He's a man who used to have a good-paying job but gave it up for performing: "Fully employed with the school district teaching music—had great fringe benefits…Medical. Retirement…. And I made a heap of money gigging around town nearly every night. On top of all that, I was so good at selling cars, I would have sold you a used Cadillac with five flat tires."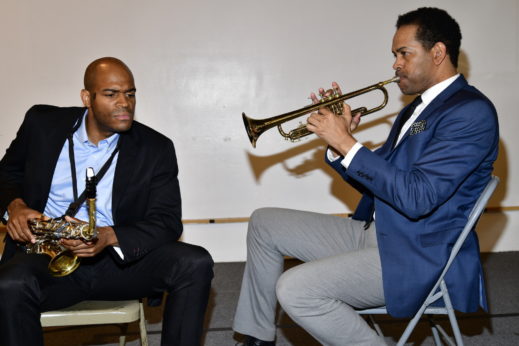 In that way, Ross does integrate consciousness of race and class, art and commerce, capitalism, violence and exploitation.
If my instinct is correct, from the point of view of character development, the real protagonist of Birdland Blue is not Miles Davis at all, nor any of the other musicians, but the Upbeat writer Tiffany Coty. She is the one with an explicitly articulated want—to get her profile of Davis published—and she achieves it. Supporting my thesis is the surprise final scene of the play that sneaks up on you unannounced, which of course I shall not reveal!
All through the play, music is performed live by percussionist Ricardo Mowatt, bassist Marion Newton, and saxophonist Randy Ross, the playwright himself. When they are not playing, cues come up of recorded music from Kind of Blue to set the tone of each scene. The actors mostly imitate playing their instruments in synch with the recorded sound. There are moments, I have to say, when the music obscures if not overpowers the dialogue, but perhaps that in and of itself is a metaphor for the dialectic between art and life. I enjoyed the music but would have preferred catching every word of the script.
The play takes place in scenes set throughout the intimate performance space, which is configured with small round draped cocktail tables and chairs, like the interior of a nightclub. With a little imagination a playgoer can place themselves right inside Birdland at its prime, with an open door onto Mo Goldman's office, the street outside, and the green room backstage where the musicians gather. Actors may brush by you as they move from one playing stage to another. The scenic design is by Ernest Gardner. Costumes are by Nailia Aladdin Sanders, and lighting by Michael D. Ricks.
The play spools out in one 90-minute act, engaging eye, ear and heart all the way. Fans of the coolest music of that era will not want to miss this unusually moving play, even if the storyline is somewhat abstract.
Birdland Blue plays through May 12, with showtimes Thurs. through Sat. at 8:00 pm, and Sun. at 3:00 pm, except Sundays, April 21 and May 12, when showtime will be at 7:00 pm. The Los Angeles Theatre Center is located at 514 S. Spring St., Los Angeles 90013. For tickets call (866) 811-4111 or go to www.thelatc.org. There is a reduced rate for seniors, students, veterans, LAUSD teachers, and for groups of ten or more.