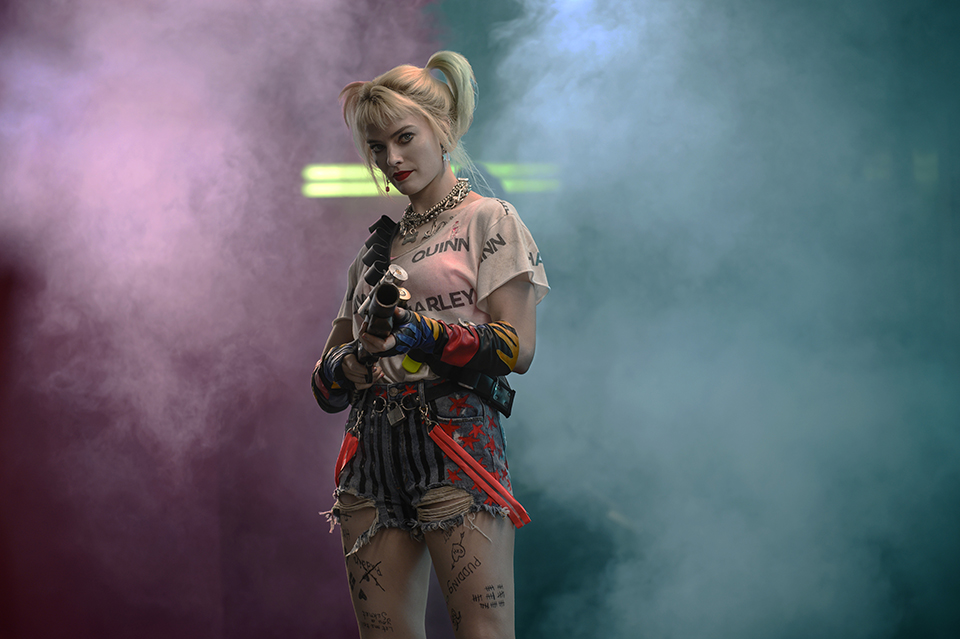 Birds of Prey: And the Fantabulous Emancipation of One Harley Quinn is the first mainstream R-rated female-led comic book movie. It also happens to be one of the boldest in breaking away from overused tropes viewers have come to expect from action and comic book films alike.
The "lovable psycho" Harley Quinn gets a live-action film that separates her from her toxic and domineering romantic partner, The Joker, while introducing a roster of lesser-known female characters to audiences. The unconventional storytelling, dark humor, non-stop action, and theme of women's empowerment makes for a wild and fun time at the movies. This isn't a film about larger than life superheroes, but about complex women with larger than life obstacles to overcome.
Birds of Prey is the eighth film in the DC Extended Universe (DCEU), and a follow-up to the 2016 movie Suicide Squad. Directed by Cathy Yan (Dead Pigs) and written by Christina Hodson (Bumblebee), the film stars Margot Robbie (Once Upon a Time in Hollywood), Jurnee Smollett-Bell (Underground), Rosie Perez (White Men Can't Jump), Chris Messina (Julie & Julia), Ella Jay Basco, Mary Elizabeth Winstead (Death Proof), and Ewan McGregor (Doctor Sleep). The movie follows Harley Quinn as she joins forces with Black Canary, Helena Bertinelli, and Renee Montoya to save Cassandra Cain from Gotham City crime lord Black Mask. It's a twisted tale as it is told through the point of view of the deranged Harley Quinn herself.
Three major things Birds of Prey has going for it are the tone, rejection of the male gaze, and compelling characters. The film is gritty, hence being rated R, but in-your-face graphic violence is balanced with dark humor and moments of softer emotion. Harley and her team break bones and draw blood numerous times, but not so much to be gratuitous and overdone. The violent fight scenes are used more as a way to showcase the capable fighting skills of the main women characters, and other times to show the brutality they are subjected to in a male-dominated criminal underworld. Things aren't made to be softer for the women due to being female; rather it is shown that they have it even harder than their male counterparts.
The film's structure is chaotic at times because the storyteller is Harley Quinn herself. Comic book and DC animation fans will know that Harley is a morally ambiguous character with deranged tendencies, as well as the occasional heart of gold. She's sporadic and, for all intents and purposes, mostly insane. This gives the narration of the movie a spark like no other as viewers are told the story through her gaze. Funny and pointed captions (there's a fun reference to Bernie Sanders in the movie) and a wickedly observant voiceover by Harley makes even some of the bleaker moments pop. We're inside her brain but also outside of it watching her story, and there are times when the lines are blurred. Many may love this way of storytelling, while others may long for a more linear plot.
This isn't a movie for someone hoping to see scantily clad women in impossibly tight outfits serving more as eye-candy than characters with purpose. The costume designs are great, but fashion isn't the sole focus of this feature. In this sense, there's a rejection of the often default male-gaze of filmmaking. This may be in part due to the fact that women are not only in front of the camera but behind the lens as well (Robbie is also a producer), making decisions whose results viewers will surely see in the movie. Women are behaving "badly" in Birds of Prey, and they are extremely unapologetic about it.
This is in contrast to DCEU's previous female-led comic book movie Wonder Woman. Although a formidable and groundbreaking film, there was a reliance on Wonder Woman's male romantic partner, Steve Trevor, to shape how viewers saw the female lead. There is no such role or reliance in Birds of Prey.
It should come as no surprise that Robbie as Harley Quinn gives a standout performance as the bad girl gone solo, searching for her independence in a crime-ridden Gotham City. Robbie is the clear star of the film, but other players, such as Smollett-Bell and Perez, hold their own. The characters of Black Canary and Renee Montoya emerge as personalities worth exploring in potential sequels. It is also worth noting that the majority of the main female characters are played by women of color. This is another contrast to a majority of previous comic book films (and even future slated ones if we're being honest), where women of color are usually relegated to side characters or cannon fodder.
Ewan McGregor gives a fantastic menacing performance as the main villain Roman Sionis a.k.a. Black Mask. The character seems to serve as the personification of misogyny and bourgeois class entitlement in the movie. You would think that would make him a rigid caricature rather than a compelling personality, but McGregor doesn't allow this to happen. It's a scenery-chewing over-the-top portrayal that matches well to Robbie's Harley Quinn.
For comic book fans, there are references and Easter eggs that will be enjoyed. For those not familiar with the comics, enough is explained that you're not left in the dark. The movie could have done with twenty to thirty more minutes of runtime. At one hour and 42 minutes, with five main characters to showcase, there are moments that feel rushed and characters that suffer from lack of focus.
Birds of Prey is not a hero's journey, but rather a wild roller coaster of female emancipation through a variety of brutal moments that culminates in a mostly cohesive plot. There are parts that dive deeper into what women deal with in a society embedded with male supremacy and other moments of silly fun and adventure. The film relishes being multifaceted, just like its certifiably insane former psychologist and only slightly reformed criminal main character, Harley Quinn.