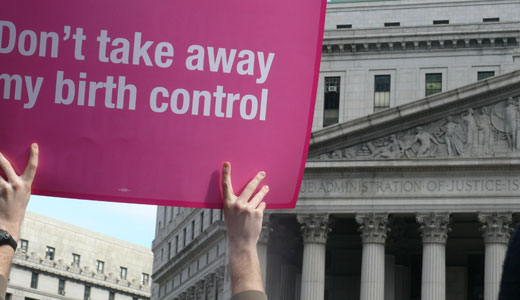 The Obama administration made the right move when it mandated that all employers be required to offer free family planning services to women through their insurance plans.
Because religious-based employers are included, it amounts to an infringement on the separation of church and state, claim top Catholic officials and religious conservatives. In the hyperbole of the presidential election, Republicans claim it's a war on religion.
They are wrong.
These rules do not apply to churches, or any religious group serving and employing primarily its own members. The rules only apply to religious-run organizations that serve and employ people of different faiths or of no faith, such as colleges and other large institutions.
The real question is: Are religious-run organizations allowed to impose their beliefs on their workers, regardless of those workers' own religious (or non-religious) beliefs? That seem to be what the critics are arguing for.
Why should a secretary, working at a Catholic college, be denied the same right to free contraceptives as her counterpart at a secular institution? If a religious organization has enough money to run a mega-institution, should it be allowed to invalidate the rights of its workers? Common sense says no.
Take this to its logical extreme. What if the Mormon Church, before it was forced to change its racist policies (by federal mandate, by the way), opened a hospital and was allowed, because of its religious beliefs, to enact a policy of not hiring Black workers?
This isn't a case of the federal government encroaching religious rights; it is an example of the federal government allowing people to make their own choices on family planning. Mitt Romney and other Republicans must want the government to collude with religious groups and control individual freedom! Especially if that individual is a woman, of course. That's the real target of this campaign: women.
It also seems contradictory when religious-run institutions accept government funding, but reject the government's authority to enforce laws equally. Plus, one would think the critics, who also happen to be foes of abortion, would want health insurance that covers birth control. Birth control reduces abortions!
Despite pious pronouncements, the flock, at least on the issue of contraception, aren't following the earthly shepherds.
A recent poll shows that 55 percent of Americans support requiring employers to provide contraception; there is less support – 49 percent – for the religious institution mandate. Yet, among Catholics, 58 percent support for the employer mandate and 52 percent support the inclusion of religious institutions in the mandate.
Some who are in President Obama's corner fear a blowback, yet in taking a principled stance on birth control, the administration stands with the millions of Americans who want to see religious freedom, common sense decisions, and equality under the law.
Photo: Women's eNews