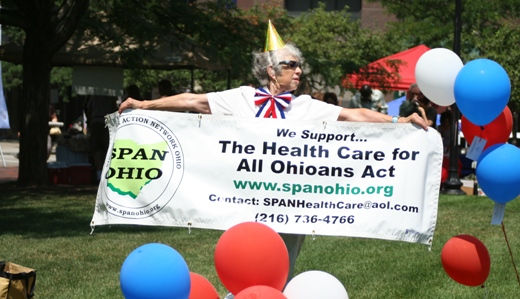 CLEVELAND — July 30 was a bright sunny summer day here in Cleveland and dozens gathered in Public Square to launch balloons in celebration of the 45th anniversary of Medicare and call for extending the program to all Americans.
Speakers at the event hailed the expansion of benefits under the health reform law passed earlier in the year. This includes new preventive care programs under Medicare, the federal health insurance system for seniors, and expanded coverage for low income families under Medicaid.
The crowd cheered as state Rep. Mike Skindell described his continuing efforts to pass House Bill 159 to provide Medicare for all Ohio residents.
"We need to cover everyone," he said "and eliminate deductibles and co-pays."
Steve Inchak, representing Congressman Kucinich, cosponsor of federal Medicare for All legislation, blasted the current U.S. system "based on profit."
Medicare, he said, is an intergenerational compact in which younger, healthier workers support retirees.
"Where would the elderly be" he asked, "without Medicare? We should be a nation that takes care of each other."
Medicare, he said, reduces the cost of health care for seniors from $1000 to $100 a month and administrative costs are only 3% instead of 14% for private insurance.
An immediate step to strengthen coverage would be to allow Medicare to negotiate drug prices with pharmaceutical companies.
Beth Thames, representing U.S. Senator Sherrod Brown, described the senator's efforts to obtain a public insurance option and expand Medicare during the fight for health care reform. The new law, she said, extended the life of the Medicare trust fund to 2029.
Beverly Charles, representing Congresswoman Marcia Fudge, said Medicare was 45 years old and still going strong.
"Eighty-five thousand seniors in District 11 depend on it," she said.
Dr. George Randt, president of Physicians for a National Health Program said that the U.S. health care system surpasses other countries in only one area.
"We spend the most money per person per year. And yet one-third of the people are not covered and we are 37th in the world in the overall outcome. We are the highest in preventable deaths of any industrialized country," he said.
"Tell the deficit hawks," he said, "the way to save money is to extend Medicare to all. We need to bring everybody in and leave nobody out."
The Cleveland event was one of dozens of similar celebrations throughout the country. Many were initiated by the Alliance of Retired Americans.
Writing in Huffington Post, Alliance President Barbara Easterling called the anniversary "a milestone for a true American success story that has helped reduce senior poverty by two-thirds."
The alliance now is gearing for events nationwide to celebrate the 75th anniversary of Social Security Aug. 14.
Together with the AFL-CIO and 60 other groups, the alliance has formed a coalition to fight back against attempts to cut the two programs. This is particularly directed at the Federal Commission of Fiscal Responsibility which many fear may recommend such cuts when it issues its report on reducing the deficit in December. The fact isSocial Security has no impact on the federal budget since it is entirely self-funded and increased Medicare costs are due to rising health care costs generally.
Photo: Seniors and many others celebrated Medicare's 45th birthday in Cleveland, July 31. (Debbie Kline)