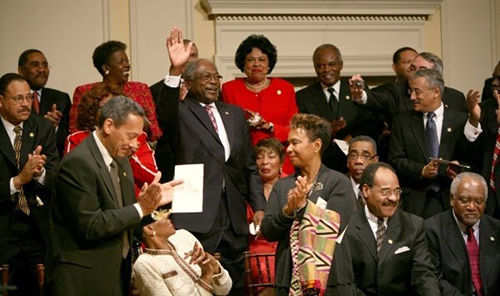 WASHINGTON – Some 10,000 participants from all over the country gathered here at the Congressional Black Caucus annual meeting earlier this month to listen, discuss and speak their minds on the urgent challenges facing Black America and the nation as a whole.
This CBC has 42 members and represents a combined constituency of more than 29 million Americans. Many of their members are ranking members of Congress, and if the Democrats win back the majority of the House of Representatives in November many CBC members will be heading congressional committees. The CBC is a force that cannot be dismissed in the struggle for democracy and justice.
The caucus has one Republican member, the redbaiting, ultra right-wing Rep. Allen West of Florida, who, seemed to have played little, if any, role in the conference.
The overall theme of the legislative conference, "Inspiring Leaders/Building Generations," seemed rather timid in light of the heighted racism and deepening economic crisis facing the African American people. But in response to the right danger, the speeches and issues that were discussed, in my judgment, had politically moved more to the left then at previous conferences, despite the usual presence of big corporate sponsors.
The National Town Hall meeting, which was sponsored by Service Employees International Union, drew several thousand participants with its theme, "Voting Rights and New Age Discrimination." The November elections and voter suppression laws were discussed throughout the conference.
There are 176 bills that are aimed at restricting voting rights in 41 states. If they stand, the Republicans' chances of winning will be much greater. As Pennsylvania state Rep. Mike Turzai once brazenly put it, "The new voter ID laws would allow Presidential Candidate Mitt Romney to win the State of Pennsylvania."
Rep. Marcia Fudge of Ohio said her elderly mother, who was born in rural Mississippi, must now produce a birth certificate in order to vote. She recounted her own experience having to spend $1,000 to obtain her own birth certificate from the same state.
Rep. Andre Carson of Indiana said in his state the Republican-dominated legislature passed the most restrictive voter ID law to counter so-called "rampant voter fraud." The State of Indiana, he added, "has never convicted anyone of voter fraud." The only exception was the state's Republican secretary of state.
In many states, for example in Texas, you can use your hunting license to vote, but not your student ID.
The forms of restrictions that the Republicans have legislated are special photo IDs, new proof of citizenship, elimination or reduction of early voting and same day registration, new restrictions on voter registrations drives and not allowing students to use valid student photo IDs.
Many speakers called these laws the "New Age Discrimination" or the "New Jim Crow" because they continue the old Jim Crow voter disenfranchisement.
Two Republican panelists argued these bills have nothing to do with race. They argued that people use ID to get on airplanes and to buy liquor. They also said the main problems in Black communities are crime and the "breakdown of the family."
"Voter ID laws are not bad," conservative columnist Crystal Harris said. "Eighty-eight percent have IDs, 11 percent don't. Whose fault is that?"
Sharpton retorted, "Why not use the same ID system used in 2008, or when Bush and Reagan ran? You are changing the rules in the middle of the game. This is an attack on the Voting Rights Act."
Other panelists made the point that this is more than an ID issue. The Republicans just want to focus on and use the ID issue in a demagogic way. What about early voting? Weekend voting? The costs?, they asked.
"Voter ID is different than IDs to buy liquor or get on a plane. None of those things are like voting. Voting is a constitutional right!" Rep. Melvin Watts of North Carolina said.
Congressman John Lewis of Georgia, a hero of the civil rights movement who was brutally beat during the infamous "Bloody Sunday" Selma, Ala. march, spoke of how sad he was to have to fight this all over again. "In the 1960s, I gave a little blood. But my friends Chaney, Goodman and Schwerner gave their lives."
Lewis called for marches to the Boards of Election wherever and whenever the right to vote is threatened.
The Congressional Black Caucus Foundation in its report, "Towards A More Inclusive America: African American & Voting Rights in the 21st Century," recommended:
1. Immediately contact your Board of Elections to verify your voting status.
2. States requiring photo ID should cover the cost and should issue a photo registration to new voters.
3. Election Day should be a national holiday with free public transportation and same day registration, which should be a federal statute.
4. All ex-felons should have their right to vote reinstituted after serving their time in prison.
The strongest advice came from Lewis who argued that the civil rights movement was not just for Black people, it was for all people. "It helped create a new nation," Lewis said.
He added with urgency, "Everyone should vote like you never did before!"
Photo: Members of the Congressional Black Caucus demand action on foreclosure crisis in December 2009. (CBC on Facebook)