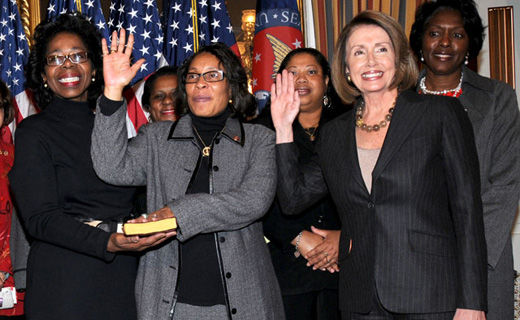 Close to half the members of the Congressional Black Caucus have called for reform of the recently created Office of Congressional Ethics.
Legislation introduced by Rep. Marcia L. Fudge, of Ohio, would prohibit the release of the office's findings to the public and limit its ability to initiate investigations without a sworn statement from someone with personal knowledge of wrongdoing.
The Cleveland-area Democrat, in a statement calling for revising the mandate of the body, said, "The Office of Congressional Ethics was created to provide more transparency in the House of Representatives. We must now perfect its processes to ensure that those aims are achieved in a manner consistent with America's spirit of justice. The processes must be fair to all people involved."
The New York Times reports Rep. Fudge as saying the changes are warranted "because the ethics office, known as the O.C.E., has taken up frivolous investigations that have unfairly damaged the reputation of House members."
"O.C.E. is currently the accuser, judge and jury," Fudge said in a statement Monday. "This isn't the case in the American justice system, and it shouldn't be so in Congress."
Currently the investigative body's great weight stems from its ability to release findings prior to work of congressional or judicial bodies.
Divided equally between Republicans and Democrats, the O.C.E. was created at the initiative of House Speaker Nancy Pelosi after Democrats took control of Congress.
The Democratic initiative was in response to public outcry over corruption and undue lobbying by big business interests. The House ethics committee, formally known as the House Committee on Standards of Official Conduct, is perceived to be reluctant to investigate its own members.
Many members of the Congressional Black Caucus, however, feel the O.C.E. has spent much of its time investigating Black lawmakers.
Press reports indicate that some representatives who are co-sponsors of Fudge's bill were objects of investigation by the watchdog group. Rep. Charles Rangel, D-N.Y., investigated by the O.C.E. and censured by the House ethics committee, is not a co-sponsor.
The New York Times has editorialized against the attempted reforms, arguing, "To gut the ethics office as it makes real headway against corruption would be another scandal. Surely House members realize that. Surely Ms. Pelosi must."
Photo: Speaker of the House of Representatives Nancy Pelosi of California (right), at the swearing-in of Congresswoman Marcia L. Fudge (center) in the U.S. Capitol. http://creativecommons.org/licenses/by/2.0/deed.en