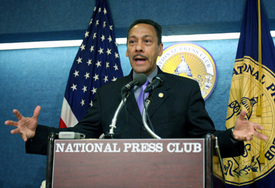 WASHINGTON — Charging that "inequities" have widened for Black people in recent decades, the 44-member Congressional Black Caucus (CBC) promised a determined campaign to get out the vote Nov. 7 to break the right-wing grip on Congress and turn the nation in a new direction.
Speaking at a Sept. 5 National Press Club news conference, Rep. Mel Watt (D-N.C.), chair of the CBC, said the caucus was founded by 13 African American lawmakers 37 years ago to oppose racism and to close "inequities, gaps, disparities" that pushed millions of African Americans into poverty.
"Our agenda is not different from when it was first formed in 1969," Watt said. In "every area of life," whether jobs and income, health care, education, housing or criminal justice, "the gap has widened."
The CBC has been a consistent advocate of affirmative action measures to help close this gap.
Watt convened the news conference to outline the agenda for the CBC's 37th annual legislative conference Sept. 6-9, which was expected to bring 20,000 people to the Washington Convention Center. Flanked by other members of the CBC, Watt blasted the Bush administration and the Republican right for resorting to election-year fear and smear tactics as they hit rock bottom in the polls.
Asked about Defense Secretary Donald Rumsfeld's charge that Democrats are "appeasers" of "Islamo-fascism" in criticizing the Iraq war debacle, Watt retorted, "I thought it was outrageous and a number of other caucus members thought it was outrageous."
Asked about Bush administration threats against Iran, Watt said, "We'd be as opposed to an invasion of Iran as we were to the invasion of Iraq."
Rep. Eleanor Holmes Norton, Washington, D.C.'s non-voting delegate in Congress, said African American voters "are energized … but this is a non-presidential election year. A lot of work has to be done to get out the vote."
Rep. James Clyburn (D-S.C.) cited polls predicting that the Republicans will lose control of the House and perhaps even the Senate. "I read the polls that say there is a 75 percent chance the Democrats will win. But I'm not a gambler," he said.
Clyburn blasted vote suppression tactics: "In Cuyahoga County, Ohio, that includes Cleveland, the state's largest city, voting machines have a 10 percent error rate. On Election Day, to have a 10 percent disparity is unconscionable."
He pointed out that the CEO of Diebold, manufacturer of the voting machines, "promised that he would deliver Ohio for George W. Bush. … No matter what we do, if you are rigging the machines, then you've got a problem."
Watt added, "We have been working very closely to insure that the mobilization of voters is not left to the last minute."
There are many Black candidates running for office, including U.S. Senate candidates Kweisi Mfume in Maryland and Harold Ford in Tennessee. While the CBC does not endorse candidates, Watt said, CBC members, individually, are working hard to help elect these candidates. "There is movement in the right direction" in the number of Black elected officials, but "we are still not up to our percentage of the population," he said.
He praised the recent victory, spearheaded by the Black Caucus, in pushing through a bill renewing the Voting Rights Act of 1965 for another 25 years without weakening amendments.
Rep. Elijah Cummings (D-Md.) hailed the role of the Congressional Black Caucus. "As congressmembers, we have certain principles and we are not afraid of speaking the truth," he said. For good reasons, he added, "we are called the 'conscience of the Congress.'"