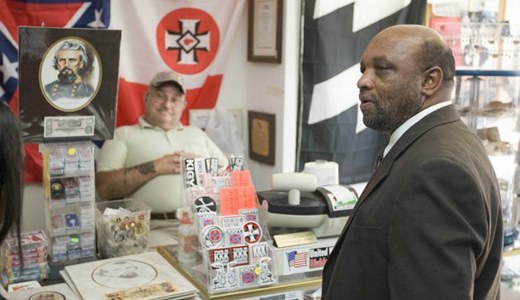 LAURENS, S.C. – This town, approximately an hour northwest of the city of Columbia – is home to the Redneck Shop, said a report, which sells hateful KKK merchandise including Klan robes, T-shirts with racial slurs, and many other items displaying harmful or negative messages.
Now, in a fitting twist of irony, a circuit judge has ruled that the New Beginnings Baptist Church is the actual owner of the building that store is in, and the shop's proprietor – John Howard – has been ordered to pay the church's legal bills of over $3,300, as part of what will surely be an incredibly uncomfortable landlord-tenant relationship.
It was not yet clear whether the ruling would impede the sale of racist paraphernalia or expedite the store's closing.
Ownership of the shop was first transferred to the Baptist Church's Rev. David Kennedy in 1997, by a Klansman fighting with others in the hate group, according to court records. The Klansman reportedly argued with Howard and meanwhile formed what was called a "spiritual relationship" with Kennedy's church.
After years of trying to have Howard's building inspected, Rev. Kennedy and New Beginnings sued him and others in 2008.
For Kennedy, this is more than a simple matter of a property dispute, and is about promoting a message of racial equality. Kennedy has been fighting racial injustice for a long time, the report noted. He led a protest when a South Carolina county refused to acknowledge or observe Martin Luther King Jr. Day as a holiday, and also helped to remove the Confederate flag from the Statehouse dome.
"It's been a long time coming," said Kennedy of the court ruling. "We knew we had done everything right. A lot of people became so afraid [of reprisals from Klan members]. The court knows that we have suffered."
The reason people – in particular, New Beginnings churchgoers – have been so afraid is because the hateful crowd attracted by and surrounding Howard's shop have stirred up trouble in the past. They have tacked Nazi and Confederate symbols to the door of a mobile home where New Beginnings meets, and have left dead animals near there as well.
However, the hateful shop – which has been operating in an old movie theater since 1996 – has not survived without being the target of protests in the past. High-profile African-American activists have staged protests in front of the shop on numerous occasions, the report elaborated, and Kennedy himself has regularly picketed there.
Photo: Rev. David Kennedy and store owner John Howard come face to face as Kennedy surveys the Redneck Shop's hateful environment. Patrick Collard/AP Photos