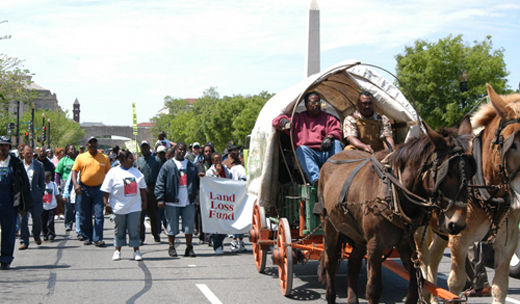 Willie Adams, a Black farmer in Greene County, Ga., hailed President Obama's $1.25 billion proposed settlement of a lawsuit by Black farmers demanding compensation for 80 years of racist discrimination in federal farm loan programs.
"It's long overdue," said Adams in a telephone interview with peoplesworld.org, Feb. 22. Adams grows beef cattle, poultry and vegetables on his organic farm where he was born. His grandfather bought the place in 1938 under a New Deal program initiated by President Franklin D. Roosevelt.
Under the proposed settlement, announced by Agriculture Secretary, Tom Vilsack, Feb. 18, each Black farmer could receive $50,000 under an expedited settlement process or more if they fill out a more lengthy application.
"President Obama wants to settle this," Adams said. "The administration has to get approval from the House and Senate. With all the cutbacks, I'm afraid. We have to let the lawmakers know that we want this settlement funded."
Adams, active in the National Black Farmers Association (NBFA), was an initiator of the first lawsuit filed by 16,000 Black farmers in 1997. A federal judge ordered the Agriculture Department to pay $1 billion to Black farmers for decades of discrimination in which Black farmers suffered long delays or outright rejection of their applications for federal loans.
Adams application for that first settlement was denied. "I think the U.S. Department of Agriculture discriminated against us because we started the lawsuit," he said. "I hope they pick up all those farmers who were excluded in the first settlement. I will go with the streamlined process to get the $50,000."
NBFA President John W. Boyd Jr. said the settlement is not enough to restore Black farmers to the land they lost from discrimination "but it will help them have some comfort in their final years."
Rep. Barbara Lee, D- Calif., voiced hope that the settlement will help stop the hemorrhage in which half the nation's Black farmers have lost their farms in the past twenty years.
Adams pointed out that African Americans have tilled the soil, planted and picked the tobacco and cotton since they arrived in chains in this country in 1619. "We have been involved in agriculture since slavery," he said. "We were promised forty-acres and a mule under Reconstruction which we never received. We were the sharecroppers."
Millions of Black farmers have been driven from their farms by discrimination both private sector and government, Adams said. "Here in Greene County there were about 200 Black farmers in the 1930s and 1940s. Now there are two full-time Black farmers in my county."
Adams expressed hope that with the surging popular demand for local, organic, food, more youth, including Black youth, decide to go into agriculture. "I hope we have a chance to visit First Lady Michelle Obama and see the garden she started at the White House, with her ideal of encouraging people to eat more fresh fruits and vegetables."
Adams stressed that a victory for Black farmers is a victory for all family and independent farmers. Encouraged by the success of the National Black Farmers Association, Native American Indians have filed suit against oil and mining companies charging these giants with swindling them of billions of dollars in royalties. Latino and women farmers are also suing the federal government for discrimination.
"I support the Native American Indians," Adams said. "They should be made whole for the discrimination they suffered. The same for Hispanic and women farmers, all family farmers. We need to work together more. We gain strength from working together. We are all involved in food production."
Photo: http://lawsuit by Black farmers /