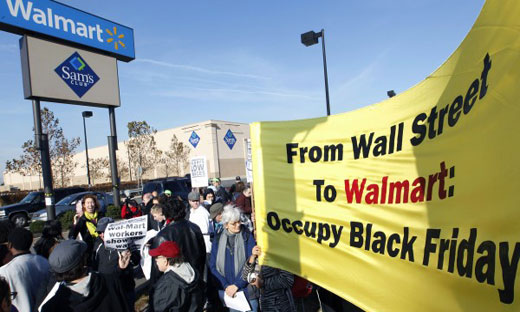 SEATTLE – Joining a strike wave that promises to crest on Black Friday, workers in Seattle Walmart stores walked off the job today just less than a week after Southern California Walmart workers went out on strike, demanding a living wage and an end to punishment of workers who are seeking justice at the retail giant.
"I want people to be able to live better, you know, like the commercial says. Nobody lives better now except for the Waltons," Mary Watkines, a Walmart worker, told Salon's Josh Edelson before she walked out on strike.
In the Southern California strike earlier this week some 50 Walmart associates and community supporters were arrested after sitting down in the street outside the Chinatown Walmart in Los Angeles.
Workers say today's strike in Seattle and the earlier ones in Southern California are only a small preview of what will happen on Black Friday when low wage retail workers across the country will walk off the job on the busiest shopping day of the year.
The strikes are being organized by OUR Walmart, a non-union group that led more than 400 Walmart workers out on strike last Black Friday. Although the organization is not a traditional union, it has the support of the United Food and Commercial Workers Union, other unions and even the top leadership of the AFL-CIO, the nation's largest labor federation.
AFL-CIO leaders have said as recently as this week that fairness for low wage retail and other workers is critical if all the workers in the country are to able to maintain a decent standard of living.
In interviews with the press this week Tefere Gebre, an Ethiopian immigrant recently elected as Executive Vice President of the AFL-CIO, said, "We shouldn't be limited in who we organize. From retail and fast food workers to cab drivers and domestic workers, you have workers saying that enough is enough. It is up to us to jump on here and say, 'Here we are to support you. We are a home for you now.'"
As the Seattle workers were walking off the job today there were reports that strikes against Walmart may be spreading to other giant retailers. Janitors who work for Twin Cities Janitors, a subcontractor hired by Target stores, plan a walkout at Target outlets, also on Black Friday.
The strikes have impressed people with the bravery and determination of many of the Walmart workers. For a low-wage retail worker deciding to strike the risks are great and the decision to strike does not come easily.
"I want to be able to take care of my family," Los Angeles Walmart worker Anthony Goytia told the press on a conference call during the Southern California strike. "And that's why yesterday and today, I'm risking everything – my livelihood, my ability to provide for my family, my ability to pay rent on time, put food on the table – everything, by challenging a company that penalizes and even fires workers who speak out for better jobs."
Photo: Nick Ut/AP