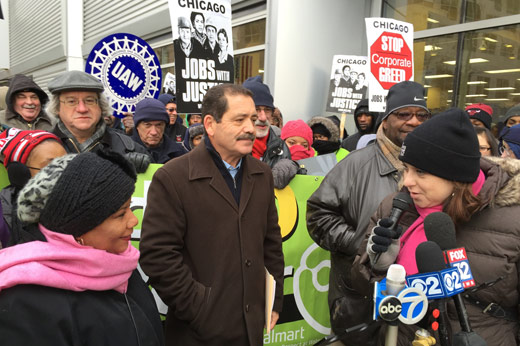 Walmart employees' fight for justice and an end to retaliation against workers who speak out for better working conditions and pay reached a new level on Black Friday, with an estimated 1,600 actions and strikes at Walmart locations around the country, including workers' sit-down strikes at Walmart stores in Southern California and the District of Columbia.
Thousands of union and community-based supporters joined Walmart workers and called on the company to end retaliation for workers who are speaking out for better pay and working conditions. Walmart brings in more than $16 billion in annual profits; and the Walton family has built up nearly $150 billion in wealth, OURWalmart reports.
OURWalmart, which stands for Organization United for Respect at Walmart, is an organization of Walmart employees and former employees committed to making change at the nation's largest retailer.
According to research done by OURWalmart, the giant retail corporation along with the Waltons take more than $8 billion every year from taxpayers in the form of subsidies for food, health care and housing for workers who are paid low wages. The majority of Walmart workers are paid less than $25,000 a year.
Standing in front of a Columbus, Ohio, Walmart, holding a sign that says, "Walmart – always low wages #FightFor15," Ohio AFL-CIO President Tim Burga said public response to the protesters message "has been tremendous."
Burga linked Walmart's wage policy to the larger issue of the concentration of wealth on one end and impoverishment on the other. "We're out here on the street now making sure folks understand that Walmart is paying poverty wages. There's more and more knowledge about income inequality in America. We haven't seen this sort of wealth gap since the 1920's and that didn't turn out very well," he said.
Erica Clemmons, who works at Kroger and is a "young worker activist" in the Columbus area, says working in a union store has its advantages, "Being organized, we actually have a voice at the workplace and management has to listen to it."
She also sees the larger impact Walmart has on communities. "It's not just a Walmart issue. It's a community issue. Walmart is the biggest corporation right now, so they're setting the standard with low wages," she said.
Columbus area Fire Chief Tim Taylor explained why he turned out for the demonstration. Putting it bluntly, he said, "The wealthiest family in the United States can't afford to pay their employees a living wage."
Burga had been on hand when store management came out into the parking lot to expel the demonstrators from the property. Burga asked the managers to commit to deliver a message to "the corporate office in Arkansas that workers here are being treated unfairly with regard to wages and work schedules." Management flatly refused to make that commitment, then proceeded to tell the demonstrators that an injunction, recently issued by a Cincinnati judge, prohibited demonstrations on Walmart property. However, the retail corporation did now own the parking lot at this store, and protests continued until the parking lot's property manager arrived who complied with Walmart's wishes. In Columbus, there were three other Walmart protests happening at the same time.
The video below shows the Walmart action in Chicago at a store downtown. Like most of the demonstrations, Chicago's featured a coalition of organizations, unions, community, elected officials, fast food workers, minimum wage activists and clergy.
Walmart Black Friday 2014 from Scott Marshall on Vimeo.
Photo: Chicago mayoral candidate and Cook County Commissioner Jesus Garcia joined the delegation that presented Walmart management with a letter supporting workers in their fight for living wages and better working conditions. Scott Marshall/PW
Scott Marshall, Tim Steinhelfer, Teresa Albano and John Wojcik contributed to this article.