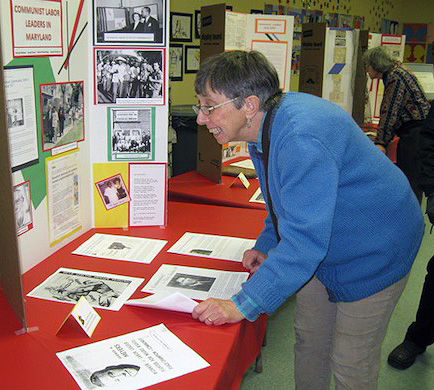 BALTIMORE – Struggles against segregation and for militant trade unionism in Maryland were the subject of a Feb. 23 Black History Month program sponsored by the Baltimore Marxist Labor Forum at the Govans Branch of the Enoch Pratt Free Library.
Nine exhibits representing the decades of the last half of the twentieth century included photos, news articles, radical pamphlets and original artifacts.
Organizers utilized the George A. Meyers collection at the Lewis J. Ort Library of Frostburg State University in Western Maryland as well as the personal archives of activists and relatives of civil rights and union leaders who led the struggles of the 40s and 50s. Meyers, twice elected president of the Maryland-DC CIO, used his position to help end Jim Crow hiring policies of many of the state's biggest corporations. He was the first victim of the Smith Act in Maryland and later went on to become the labor secretary of the Communist Party USA.
Some of the exhibits:
Druid Hill Park in Baltimore is a beautiful, urban park with a zoo and other family attractions. In 1948, its tennis courts and other facilities were segregated. Twenty-four people, including Jean Silverberg, were arrested in a protest demanding an end to policy of segregation, organized by supporters of the Henry Wallace presidential campaign.
Across town in Fells Point, Baltimore's waterfront area, restaurants and other public facilities were also segregated. Militant seaman like Jake Green and Howard Silverberg in the National Maritime Union desegregated coffee shops by the practice of passing cups of coffee in porcelain cups intended for white sailors to their African American comrades. (It was the practice to serve Black patrons in paper cups.)
Down the harbor at Sparrow's Point, a company town run by Bethlehem Steel, African American workers had menial jobs and lived in segregated housing, their facilities smaller than the homes provided for white workers. A campaign to organize Black workers was led by CIO Steelworker organizers like Joe Henderson, who signed up 1,000 African American workers to help secure union representation and better conditions.
In 1953, students at Morgan State College, now Morgan State University, a historic Black College, couldn't walk across the street and have lunch at the Northwood Shopping Center. Scores of students, like Joyce I. Dennison who related her experiences at the exhibit, organized a series of sit-ins, resulting in dozens of arrests that broke down segregation in facilities at the shopping center.
Many leaders of these movements were fired during the McCarthy period and unable to get union jobs. A photograph showed victims of the Smith Act who worked as "Tin Men," putting aluminum siding on homes as featured in the Danny DeVito movie of the same name.
An exhibit created by housing activist Rose Taylor documented her family's nearly century-long fight against housing discrimination. Another exhibit put together by anti-apartheid activists Mary Benns and Max Obuszewski documented the stirring history of that movement in Baltimore.
Event organizers said the exhibit was available for distribution and would be expanded and used in future events.
Photo: Cindy Farquhar examines one of the Black History Month exhibit boards, Feb. 23, in Baltimore. (PW/Margaret Baldridge)