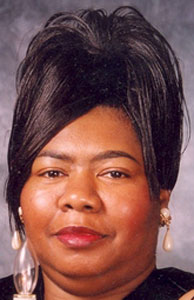 NEW HAVEN, Conn – When the judging for the African American History Month High School Arts and Writing Competition takes place this Friday, Dalzenia Henry's legacy will be on our minds.
As a young African American woman growing up in the projects, Dalzenia's aspirations, hopes and dreams were very plain: she wanted every one to have the opportunity to achieve their fullest potential. She stood up against racism and inequality all her life, most of all by dedicating herself to children.
Dalzenia D. Henry passed away on January 12, 2008 at age 49. She had been recovering from the flu. Even though she didn't feel well, Dalzenia went in to work at the Children's Center that day. All at once, she stopped breathing and collapsed. She never made it back home.
The shock was deep at her workplace where she was president of her AFSCME local, and in the community where she had spent years directing an after school "youth diversion" program at Quinnipiac Terrace, It was devastating to her daughters, her mother and her large, extended family.
At the time, Dalzenia was in the midst of preparations for the 34th annual People's World African American History Month celebration She put her energy and creativity into these celebrations so people would be "educated, entertained and motivated … This should sustain you to go out into the community and fight the battles we have yet to win," she would say.
As one of the delegates who traveled from Connecticut to St. Louis, Missouri in August 2007 to attend the African American Equality Conference of the Communist Party, Dalzenia was committed to take on a larger leadership role.
As part of an effort to end the violence in the community, the high school competition was launched to coincide with the African American History Month celebration. It is now named for Dalzenia and her mother Virginia, a leader of Local 35, service and maintenance workers union at Yale, who died a year later.
Dalzenia was a deep thinker. She understood the interconnections of exploitation, racism and war. She was not afraid to stand up for her beliefs, and was proud to be a member of the Communist Party USA.
Despite the difficult economic problems she faced, often working several low-wage jobs, she found the time to participate and raise consciousness in her neighborhood.
All the kids loved "Toosie," as they called Dalzenia. When the Housing Authority cut the after-school program she directed, the children wrote a petition and showed up at a meeting of the Board of Directors. The program was extended for an extra six months.
Dalzenia served as a Commissioner on the City of New Haven Peace Commission. She was a candidate for State Legislature on the Tax the Rich line in 1992. She participated in many long bus trips to Washington DC for peace, jobs and justice marches and rallies.
Dalzenia was a wonderful friend and comrade. She was open-minded. She had a passion for justice and a zest for life. She put family first and embraced the entire community. Her creativity, deep political thinking and optimistic outlook for achieving basic change made a lasting impact. Dalzenia helped make history.
This year's competition fits Dalzenia to a "T." The students are asked to write or draw about their vision for the future and to address the question: "How can being involved in the struggle for freedom and equality bring positive change to your life and the larger community?"
The prizes will be awarded on Sunday, February 26 at 4 pm at 37 Howe Street in New Haven during the 38th annual African American History Month Celebration of the People's World. The theme, "We who believe in freedom cannot rest," is a phrase from Ella's Song. The dedication and inspiration that Dalzenia brought to the struggle for freedom and equality does not rest