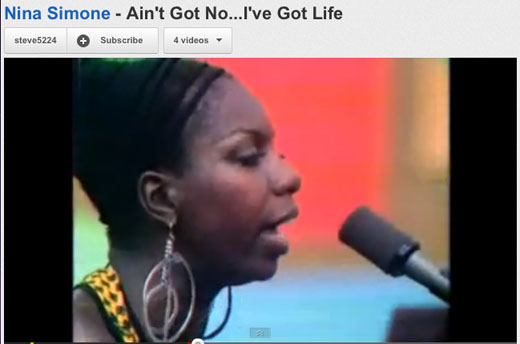 Legendary artist and civil rights activist Nina Simone was born 79 years ago today, Feb. 21, in Tryon, North Carolina. Named Eunice Kathleen Waymon, Simone aspired to be a concert pianist as a child and was influenced by gospel and classical music, in particular by the works of Johann Sebastian Bach. Her father was a minister and Simone played piano for church revivals and services starting at six years of age.
Simone experienced the inhuman nature of racism as a young woman when a prestigious musical institute in Philadelphia rejected her because she was black. However resilient, she continued to play in clubs to earn money for her music education, eventually signing with a record label.
In 1964, as the Civil Rights Movement began to take on national prominence, Simone put her talents to the equal rights fight, debuting her most famous protest song "Mississippi Goddam," in response to the murder of Medgar Evars and the killing of the four little girls in Birmingham, Ala.
Simone had one daughter, born Lisa Celeste Stroud, who is a Broadway actress and singer known as Simone.
Nina Simone died in France April 21, 2003. Only two days before her death, Simone was awarded an honorary degree by the Curtis Institute, the music school that had refused to admit her as a student at the beginning of her career. Simone had previously received two honorary degrees in music and humanities from the University of Massachusetts and Malcolm X College.
For more information, Africanamericanhistorymonth2012.gov is celebrating the contributions of Black women to American culture and history.