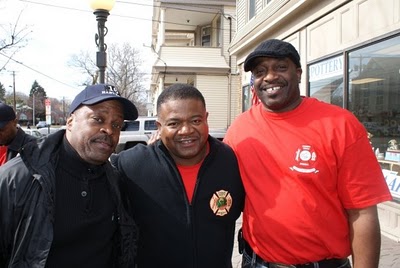 A call to action to defend and expand affirmative action to achieve opportunity for young people, good jobs in communities hardest hit by the economic crisis, and economic security for our country will be highlighted at the 36th Annual African American History Month Celebration hosted by the People's World in Connecticut.
Featuring remarks by Dr. Gerald Horne and recognition of the New Haven Firebirds, the events to be held in Hartford and New Haven are organized around the theme "Working Together for Justice."
The first event, in Hartford, will be held at La Paloma Sabanera, 405 Capitol Avenue on Saturday, February 27 at 6 p.m. The second event, in New Haven, will be held at the Peoples Center, 37 Howe Street, at 4 p.m.
Special guest speaker Gerald Horne holds the John J. and Rebecca Moores Chair of History and African American Studies at the University of Houston. His research has addressed issues of racism in a variety of relations involving labor, politics, civil rights, international relations and war. A life long civil rights activist, he is author of more than two dozen books and 100 scholarly articles including the book "Reversing Discrimination – The Case for Affirmative Action." He is a contributing editor to Political Affairs (www.politicalaffairs.net/)
A highlight of the events will be recognition of the New Haven Firebirds, the organization of African American firefighters, for their ongoing efforts to overturn discriminatory hiring and promotion practices. Remarks will be made by Gary Tinney, president, Ron Benson,past president, and George Sweeney, who in 1958 was the first African American firefighter hired in New Haven.
At the New Haven event prizes will be awarded for the High School Arts and Writing Competition. Music, drumming, and poetry for Haiti will be presented by Baub Bidon, Jeff Fuller, Ras Mo Moses and Richard Hill. Children's posters drawn on Martin Luther King's birthday at the Peabody Museum will be on display.
The Firebirds formed in 1973 to challenge hiring and promotion practices in the New Haven Fire Deparment. They filed four successful lawsuits over 25 years to correct various methods of "willful discrimination."
Their cause came to national attention last year, when the City of New Haven threw out the results of a test for promotions which did not reflect the diversity of the force. A group of 20 white firefighters including one Hispanic sued the City, demanding their promotions. A panel of the U.S. Second Circuit Court of Appeals including Judge Sonia Sotomayor, upheld the decision to disregard the test. The New Haven 20 then appealed to the U.S. Supreme Court which sided in their favor. The case was used by Republicans to try and block the appointment of Sotomayor.
The significance of the case goes far beyond firefighters, calling into question all the gains of the civil rights period, and relating to the disproportionately high unemployment rate of African American and Latino workers in the economic crisis.
A New Haven Grassroots Unity Statement, issued by the New Haven Peoples Center, will be circulated. The statement reads in part: " The needs of all city workers and residents require the selection of qualified recruits and leaders in our fire, police and all city departments that reflect our diversity. The consequences of unthoughtful tests hurt everyone across race, gender and neighborhood lines. A better promotion process will assist, enable and benefit all those who choose to participate, and our community as a while. We will not let such tests break the hard-fought unity of our diverse city. We call for a through review of all hiring practices to assure they contribut to that mandate."
A light supper buffet will be served at both events. A contribution of $5 (or what you can afford) is requested. A collection will be taken for the People's World fund drive. For information call 203-624-8664.
Photo: Members of New Haven Firebirds. http://www.tomficklin.blogspot.com