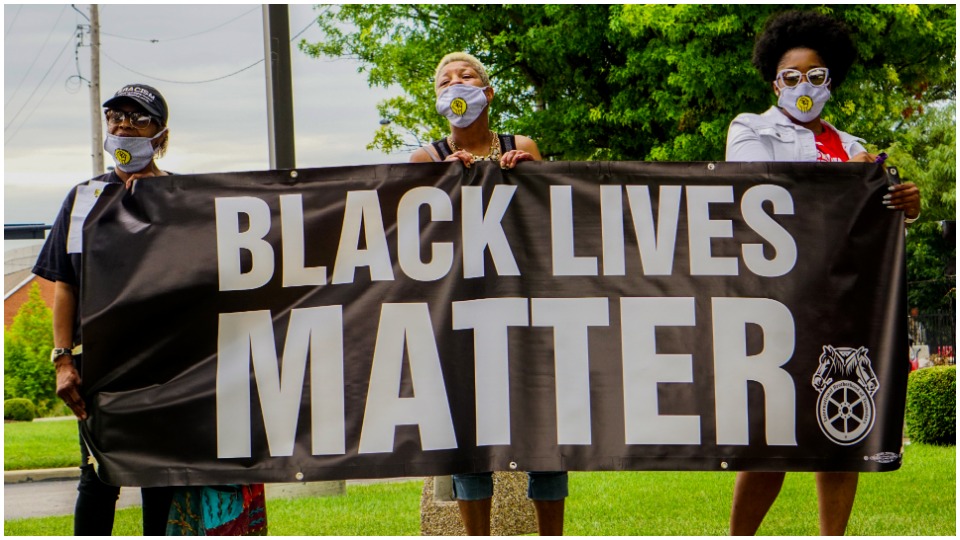 ST. LOUIS— The rally cries of "Black Lives Matter" and "Show me $15" rang out through the afternoon air in downtown St. Louis Monday. Over 75 fast-food workers, members of the local Fight for $15 campaign, union members representing various area unions, clergy, and community members flooded a local McDonald's restaurant as part of the nationwide Strike for Black Lives day of action, July 20.
Striking workers and activists took to the streets—either with their cars or their feet—and rallied outside the store. Dozens of cars were mobilized and took over the drive-thru, bringing the afternoon lunch hour rush to a complete halt.
Organizers of the local action said Monday's demonstration was about working people coming together to challenge elements of corporate power which feed into the cycle of multi-generational poverty with zero accountability. Low-wage workers are demanding real solutions from local and federal government and corporations that focus on communities of color and dismantle racist policies. They want assurance that every family, every worker is healthy, safe, and secure while at work and in their communities.
Along with the call for corporations to improve pay, benefits, and, during the COVID-19 pandemic, availability of proper personal protective equipment (PPE), low-wage workers are also making the connection between racial and economic justice.
"Today, workers in dozens of different cities, including St. Louis, are on strike for Black Lives because McDonald's is failing all its Black and brown employees," said Betty Douglas, a Show Me $15 leader, and 14-year McDonald's worker. "They refuse to pay us a living wage, they have cut back our hours, and now, at the height of the COVID-19 pandemic, they can't provide PPE or paid sick leave for workers.
"And more importantly, we cannot have economic justice without racial justice. It's not possible to separate the two; they are linked, and that's why we are out here fighting every day to organize unions and to push for an end to systemic racism and police brutality."
State Rep. Rasheen Aldridge for the 78th District, a former fast-food worker himself, also addressed the crowd and thanked the Show Me $15 fast-food workers campaign for their continued organizing efforts and for their leadership in the months following the killing of Michael Brown in Ferguson, Mo., in 2014.
Following the fast-food takeover, strikers and allies marched to St. Louis City Hall to call on elected officials to hold police accountable and invest in community programs to tackle racial inequality in a divided city.