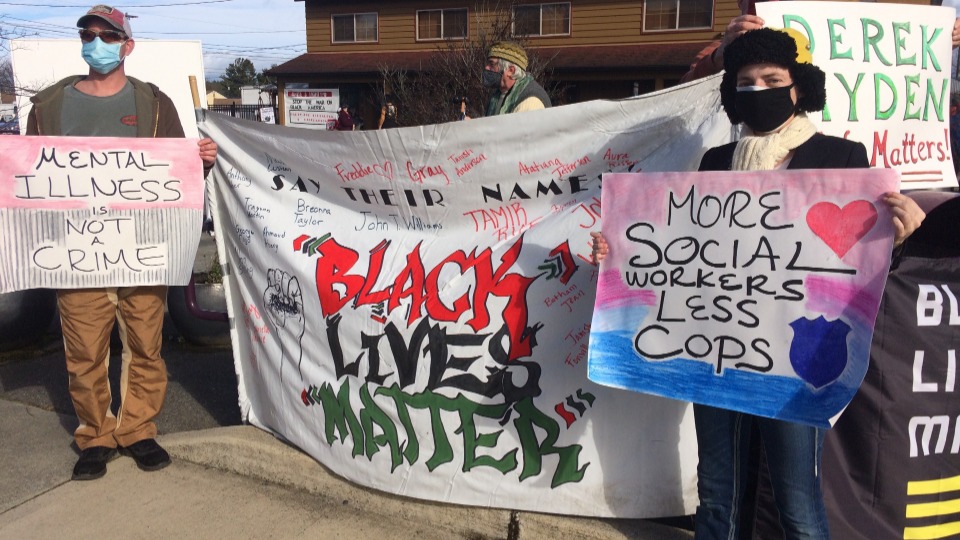 Scores of protesters joined a Black Lives Matter street-corner vigil in Sequim, Wash., Sunday, Feb. 28, several holding signs protesting the Feb. 16 slaying by Seattle police of Derek J. Hayden, who grew up in Sequim and had many friends and admirers here.
Marion "Honeybee" Burns, held a sign, "Derek Hayden: His Life Matters" as she stood beside Neil Morris, who has become a folk hero sitting on a lawn chair holding his own signs, at the same street corner nearly every day for over a year.
There was a din of car horns honking and people waving giving thumbs up salutes to greet the protest.
The vigil was called on the eve of the March 8 trial in Minneapolis of the ex-cop who kneeled on the throat of unarmed African American, George Floyd, murdering him. Signs at the Sequim vigil proclaimed, "Remember George Floyd, Breonna Taylor, John T. Williams." Another protester denounced Sequim's notorious QAnon mayor, holding a sign reading, "Mayor Armacost, RESIGN!"
It was a mixed crowd, with senior citizens joining many younger people. Those gathered were African American, Latinx, Jamestown S'Klallams, and white. Local troubadour Steve Koehler came with his banjo and played Bob Dylan's "The Times They Are A-Changin."
"Derek Hayden was an orphan and moved here when he was 11-years-old to live with his aunt and uncle after his parents died," said Burns, who said she knew Hayden well since he was a close friend of her sons in middle school. Hayden was admired as the best skateboarder in Clallam County, a skill he learned in California before moving here.
On Feb. 16, a Port of Seattle police officer called city police around 9:20 p.m. saying a man with a knife had cut himself and appeared to be suicidal. The Port Police attempted to subdue Hayden with non-lethal projectiles but failed. When Seattle police arrived, they got out of their squad cars already armed with assault rifles and shouted at Hayden to drop his knife. He lifted his hands overhead but did not drop the knife and continued walking toward them shouting at the police to shoot him. They opened fire, killing him.
Stephen J. Sundberg, S.J., President of Seattle University, urged students, faculty, and alumni to "join in prayer, remembrance, and solidarity as we mourn Derek Hayden," a graduate student at the Catholic university in Seattle.
Rev. Sundberg wrote: "It is clear from the report that he was in a mental health crisis. His death underscores the need for additional and more equitable resources to address mental health issues and the need for more serious consideration of changes in response to such situations to prevent them from happening in the future."
Adilia Watson, an SU student, president of the school's Black Student Union, and a journalism student, said she and others at SU are mourning Derek Hayden's death. A vigil in his memory is planned, she told People's World.
This reporter knew Derek Hayden well. He lived in a camper RV on my family's farm for nearly two years. He was a computer whiz and set up a website for me and helped me whenever I was lost in cyberspace. He read writings by my father and was so impressed that he set up a website featuring the writings of Donald Niven Wheeler.
He was a caring, sympathetic person who identified strongly with the poor and homeless—like himself. He helped organize a plant nursery in Port Angeles that sold trees and flowers to raise money for people experiencing homelessness. He was enrolled as a graduate student at Peninsula College in Port Angeles.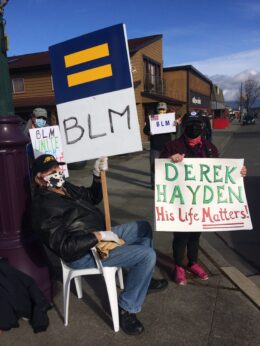 He moved to Seattle two or three years ago. Last summer, he telephoned me out of the blue to tell me how well things were for him—he had found a comfortable, affordable apartment in Seattle, a minor miracle. He had found a job as a computer programmer and was earning a decent living. He told me he was also enrolled as a graduate student at Seattle University seeking a higher degree in Computer Science. He was always studying. Years earlier he had earned a degree in Computer Science at Port State University.
On the phone that day, he sounded completely upbeat and happy. He offered to help me with any problems I had on the computer. I urged him to come and visit sometime soon.
It shows that police officers' option of using deadly force is too often their first choice. And the fact that African Americans and other people of color are disproportionately the targets of this lethal force doesn't mean that white people are safe. When the lives of Black people don't matter, often it is life in general that doesn't matter. Some cities are slashing funding for their police departments and using the money to hire social workers to respond to emergencies when mentally ill people find themselves in crisis. The plague of police shootings of often unarmed people is traceable to the militarization of our police. Instead of "peace officers" they are "war officers."
Alan Burns, son of Marion Burns, joined the vigil in deep mourning. Derek Hayden, he said, was a close friend since their youth together and in recent years when he lived on the family farm. "Derek was not a violent man, not a criminal. He was hurting. He needed help, not bullets. No one is safe from these shoot-first cops."
One young woman held her hand-lettered sign that seemed to catch the spirit of the moment. It read, "More Social Workers, Less Cops."
As with all op-eds published by People's World, this article reflects the opinions of its author.