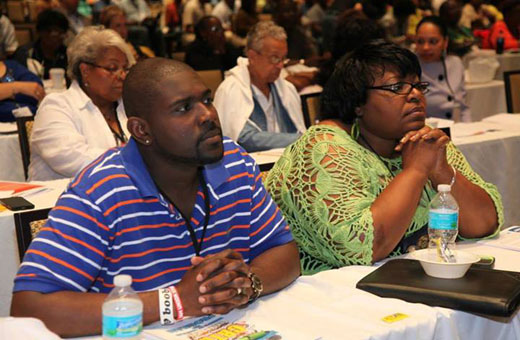 Four Cubans being held in U.S. prisons should be released, according to a resolution passed by the Coalition of Black Trade Unionists at their 42nd Annual Convention, held in Orlando, Fla., in May. Labor should take a stand on this question because labor has been an advocate for freedom and justice in this country and around the world, said Lew Moye, second vice president of CBTU's Executive Council.
The four Cubans mentioned in the resolution have been incarcerated in U.S. high security prisons as a result of their activities in monitoring anti-Cuba terrorist groups based in Florida. They have been known as the Cuban Five. One, Rene Gonzalez, was released on parole last year, and after pressure, the U.S. allowed him to serve his parole in Cuba.
Though they are little known to the American public, an international campaign for their release has won support from around the world, including a long list of Noble Prize winners. "Cuba is no threat to U.S. security whatsoever," said Moye. "Labor needs to be standing on the right side of justice."
The conference, which gathered 1,000 trade unionists, included among its business a comprehensive resolution on U.S. policy toward Cuba. That resolution called for repeal of the economic and political embargo against Cuba and opening of free travel to that country by Americans. The U.S. government currently prohibits its citizens from travelling to Cuba without government-issued licenses.
Moye, who is also president of the St. Louis Chapter of the CBTU, said that around the world "Cuba is viewed as a country that strives to take care of its people, environmentally and healthwise, and also strives to help people in other countries." He added, "We feel that it's time for the attacks on Cuba to end and for it to be treated as an equal partner."
"Cuba should be totally removed from the terrorist list," Harold Rogers, the resolution's author, told peoplesworld. Rogers recalled that the African National Congress and its leader Nelson Mandela were also on the same list until well after Mandela's election as president of South Africa in 1994.
Rogers, national director of international affairs for the CBTU , said the American public must become more educated on Cuba and lobby Congress to repeal all laws embargoing trade and restricting travel. "We see only negative information on Cuba," Rogers stated, " But in reality this small island presents absolutely no military or economic threat."
The political difficulty, according to Rogers, is that the anti-Cuba lobby, based in Miami, is strong in D.C. That lobby leverages the fact that Florida, with 29 electoral votes, is key to any presidential candidate's success, and has had a large anti-communist Cuban exile community, to block changes in current policy.
Rogers says that the CBTU's resolution will be forwarded to the upcoming AFL-CIO convention through those who are leaders in both bodies. The AFL-CIO will hold its national convention in September in Los Angeles.
"We will also use this resolution as a basis for educational work and mobilization in our local chapters," added Rogers.
Photo: Participants at the Coalition of Black Trade Unionists convention in Orlando, Fla., May 22-27, 2013. CBTU Facebook page.