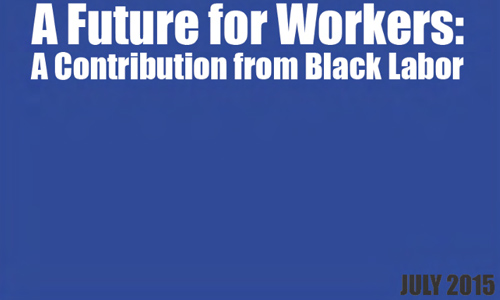 WASHINGTON – A new 35-page white paper, "A Future for Workers: A Contribution From Black Labor," was released last month by the Black Labor Collaborative, a group of influential African American leaders from major labor organizations who offer a progressive critique and agenda to frame discussions about the direction of the American labor movement. This is a seismic development, because it is the first time representatives of 2.1 million black trade unionists have published a comprehensive outlook on organized labor.
The BLC report landed the same week that the AFL-CIO's Labor Commission on Racial and Economic Justice held its first meeting. It also comes amid an explosion of protests and activism in black communities and among low-wage black workers across the nation, demanding racial justice as well as economic justice. For example:
* For the past 50 years, the unemployment rate for African American workers has been at least double that of their white counterparts.
* At its lowest point, when white male median earnings dropped to $37,000 in 1981, it was still higher than the peak median earnings of $34,118 that black men reached in 2006 – 25 years later.
In an executive summary that accompanies the report, the BLC calls for a "transformed labor movement," noting that "the foe we face, in the political Right and global capitalism, demands a transformed and energized labor movement that can fight back with more than slogans of solidarity. No tinkering around the edges! A transformed movement must be authentically inclusive because diversity carries the strongest seeds of change, of untapped creativity."
Rev. Terrence L. Melvin, one of the BLC conveners, said, "This is not about a 'black agenda.' This brief paper seeks to advance a broader discussion that is so badly needed: What is it that workers need and want, and how can it become the robust agenda that can truly rally the bottom 99 percent to collective action?"
Melvin, who is also president of the Coalition of Black Trade Unionists (CBTU), added, "We approach these questions in the voice of nearly 2.1 million African Americans in labor unions. We believe a frank and open conversation where diverse voices are heard can produce changes that will strengthen our movement and benefit all workers."
Download 'A Future for Workers' Report
Download 'A Future for Workers' Report – Executive Summary
Bloomberg BNA Daily Labor Report – Media Coverage