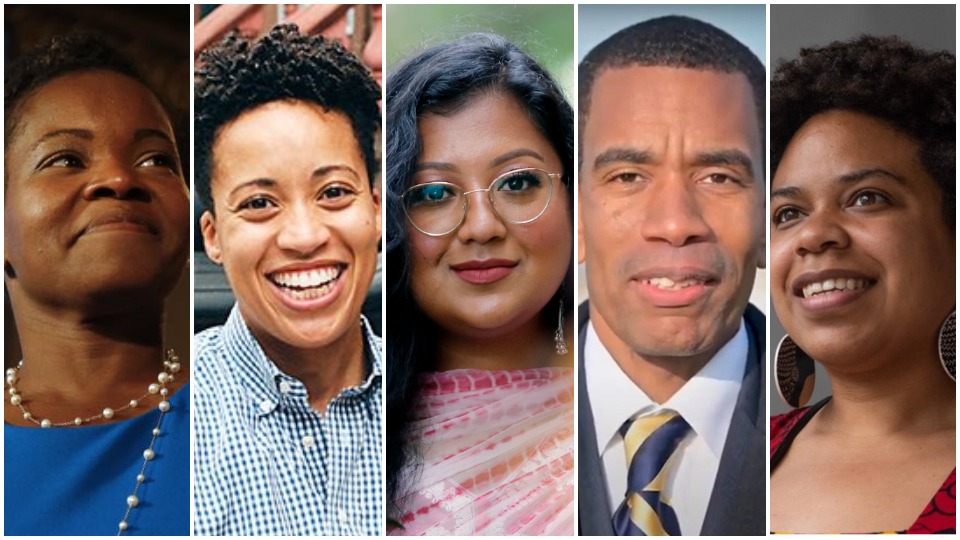 NEW YORK—Election season heats up after Labor Day. That is an American tradition. Given the domination of the Democratic Party in New York State's cities, however, there won't be too many surprises in November. Municipal election results are practically determined by the June primary outcomes.
From Buffalo to Long Island's many towns, villages, and hamlets, and from Rochester, Syracuse, Albany to New York City and everywhere in between—a slew of progressive, pro-labor mayors, city council members, and county legislatures and executives are headed for victory.
Labor unions, social movements, and the state's strongest third party continue to influence the politics of the Democrats. That is not news, but it is a developing story. Which unions? A wide variety of them. Which social change organizations? Many, including ones that link several issues and are intertwined with unions and elections.
What is that party? Unquestionably, the Working Families Party. For endorsed candidates, WFP members and volunteers from affiliate organizations contacted hundreds of thousands of voters by phone, text, and the old-fashioned way—knocking on doors. Beyond that, the WFP trains, coaches, and supports its candidates in a variety of ways. These include fundraising plans, field operations, voter targeting, and volunteer organizing. Simply put, the WFP knows how to win elections.
Many unions, the WFP, and multiple progressive coalitions prioritize equality. So these winning candidates are looking more and more like the populations they serve. In some municipal areas, the progress of earlier years is being strengthened. In others, breakthroughs have been achieved. Here is what happened in June and what is at play in November in some cities.
New York City
The City Council (with 51 seats) is "on track to be the most diverse and … left-leaning in the city's history." Money, advice, volunteers, and credentials to candidates came from many quarters. As usual, the Central Labor Council was heavily involved, as were countless other unions, including the United Federation of Teachers.
Five unions formed LaborStrong 2021—the Service Employees International Union (SEIU) 32BJ, Communications Workers of America District 1, DC 37 (AFSCME), the Hotel Trades Council, and the New York State Nurses Association. As the nurses union put it, the city and state need legislators who "are committed to dismantling racism, to strengthening our public health infrastructure and our social safety net."
Labor and democratic organizations often worked together, indirectly and directly. In the second instance was the Road to Justice, a coalition of 1199SEIU United Healthcare Workers East, Make the Road Action, and Community Voices Heard Power.
The WFP endorsed candidates in over half of the districts. Social change organizations, including WFP affiliates, were also active. These groups included Citizen Action, Community Voices Heard Power, NYIC Action (whose sister organization is the New York Immigration Coalition), New York Communities for Change, and the Sunrise Movement. Other, more outwardly political outfits included the New York Progressive Action Network (NYPAN), affiliated to Our Revolution, and the Democratic Socialists of America (DSA).
Sometimes the endorsements overlapped. But not always—inevitable when 31 of the 51 council seats were open, without incumbents running due to term limits (and a few retirements).
People of color will comprise 68% of the new council. Of these 35 members, 14 are Black, 15 are Afro-Latino or Latino, and six are Asian American. These are all increases, from today's 13 Black, 11 Latino, and two Asian American council members. For the first time, city lawmakers will hail from South Asia. At least seven of the city legislators were born outside the U.S. The first Muslim woman in council history, Brooklyn's Shahana Hanif, will be seated.
For the first time ever, women will comprise the majority of council members. Either 28 or 29 women will serve, an increase from 14 currently. The organization 21 in 21, formed a couple of years ago, labored for this. The Victory Fund contributed to the council's now six open LGBTQ members, and Crystal Hudson (Brooklyn) and Kristin Richardson Jordan (Harlem) are the chamber's first Black openly LGBTQ women.
Each of the city's five boroughs has a president, mostly a ceremonial position but sometimes a step to higher office. Sweeping union and liberal mass organization endorsements, Vanessa Gibson will become the Bronx's first Black woman in the position. Antonio Reynoso, endorsed by the WFP and an army of democratic groups, will become president of the city's largest borough, Brooklyn.
Of the three citywide offices, progressives will occupy two of them. The incumbent Public Advocate Jumaane Williams was re-elected by nearly 50 points. He was endorsed by the WFP, NYPAN, and many others, as was Brad Lander, set to be the new comptroller.
New York City mayoral race
The Democratic Party mayoral primary winner, moderate Eric Adams, troubles many activists. There were three bona fide progressives in that race, again a result of an open primary election of an open political party.
Comptroller Scott Stringer was racking up endorsements and his poll numbers were moving up when a single accusation of sexual harassment upended his campaign. The accuser was a woman he had dated in the past. And she is (or was at the time of the announcement) a registered lobbyist who had worked for a Stringer political opponent. Endorsements from progressive movements were withdrawn, though not from the Retail, Wholesale, and Department Store Union, the Building Trades Council, and the UFT. Notwithstanding the impossible demand for Stringer to prove it did not happen, a second accusation made the case less murky.
The least viable but most leftist, Dianne Morales, ran a non-profit housing organization (with its own controversial history). Her campaign imploded upon a union organizing campaign and her response to it. Endorsements from progressive outfits as well as trade unions were rescinded. But can a political campaign witness a legitimate union drive? After all, the campaign would have ended long before an NLRB vote would normally be conducted.
That left Maya Wiley, formerly of Mayor Bill de Blasio's staff, MSNBC talking head, and attorney. Previously the third choice (the city's primaries now have ranked choice voting) of many on the left, her campaign gained steam as Stringer and Morales fizzled out.
But not enough steam. Brooklyn Borough President Adams, a true centrist, won the primary. As local public radio host Brian Lehrer put it, Adams successfully positioned himself as the missing link between the movement for police reform and the indisputable rise in crime. When young, he was beaten by police but entered the force to change things from within. So he garnered support from some of those opposed to police brutality (though not from Black Lives Matter) and those concerned with public safety.
Furthermore, he won important union endorsements—including DC 37 and SEIU 32 BJ—and won large Black and Latino areas of the Bronx and Brooklyn. Clearly, many working-class and racially and nationally diverse voters are comfortable with Adams. He now stands a great chance of becoming the city's second Black mayor.
But it is not a guarantee. This city had five terms of Republican mayors that began with Rudy Giuliani's defeat of the re-election hopes of the first Black mayor, David Dinkins. That election proved that many Democratic voters, especially white ones, are willing to jump to the GOP and are hesitant to pull the lever for a Black candidate. The Republican opponent, Curtis Sliwa, has for years postured and spoken like an ignoramus, an uninformed "regular" guy who might upend the system and "throw the bums out."
Buffalo
Democrats also dominate the state's second-largest city (population 255,000). It has been decades since a Republican or any other party has won a seat on the Common Council, which is up for election in two years. The last time a candidate on the Republican line won the mayorship was 1985.
Incumbent Mayor Byron Brown, the city's first Black mayor, sought a fifth term. He won endorsements from the Western New York AFL-CIO, Western New York Communications Workers of America Council, 1199 SEIU, Civil Service Employees Association (CSEA), and NYSNA.
He wrote off his most formidable opponent, DSA's India Walton. Formerly a nurse who was active in 1199SEIU United Healthcare Workers East, Walton later became the executive director of a nonprofit. Walton had the support of DSA, the WFP (that in years past endorsed Brown), the area's State Sen. Sean Ryan, some of the most progressive state and NYC elected officials, the majority of the Buffalo School Board, and nearly a dozen other local and national outfits.
Walton opposes any more charter schools, and this gained her support from the Buffalo Teachers Federation. Workers United, which represents 7,000 food service workers outside New York City and 2,000 in Buffalo, strongly backed her. But endorsements often go only so far. With less than $100,000 to spend, the weakness of her all-volunteer staff was illustrated by its failure to get her on the WFP ballot line in November.
Brown boasted of downtown development while the activist Walton hammered away that this growth neglected the poor neighborhoods. During the primaries, Brown did not campaign, refused to mention Walton's name, declined to debate, and turned in fewer signatures than in prior races to secure his name on the ballot.
Brown's strategists were more clear-sighted. Two polls in early June indicated potential danger to the incumbent. Around $120,000 from area millionaires, billionaires, and other business people poured in during the final week of the primary. The campaign flooded the city with radio, television, and print advertising.
The primary turnout was slightly over 20%, a huge drop from Brown's four prior primaries. Walton won a stunning upset, 52% to 45%. (Le'Candice Durham gathered 3%.) Walton was poised to become the first socialist mayor of a large U.S. city in generations.
Predictably, Brown refused to accept his defeat. He has launched a write-in candidacy ("Write Down Byron Brown"). He also maneuvered for a "Buffalo Party" ballot position. Despite missing the third party filing deadline by several months, the state Supreme Court allowed it. So did federal Judge John Sinatra, though his brother is a developer and major donor to Brown. However, the Walton campaign and other voices successfully appealed these decisions.
Not without paying a price. The Walton campaign spent tens of thousands of dollars for these court actions. Area taxpayers also spent heavily for the county Board of Elections in the legal battles. A poll in August had Brown ahead by 10 points. A major task for Walton and her supporters will be to overcome the money, institutional support, and name recognition. If triumphant, Walton will be the first socialist mayor of a major U.S. city in decades.
Rochester
Democrats outnumber Republicans 4 to 1 in Rochester, the state's third-largest city (population 206,000). The city will have a labor- and progressive-backed new mayor, Malik Evans. The CSEA, AFSCME, Rochester Teachers Association, Rochester Association of Paraprofessionals, Citizen Action, and the WFP endorsed the At-Large City Councilmember, and he credited the labor movement for being the key to his victory.
Controversy surrounded incumbent Lovely Warren, the city's first African-American woman mayor. These included finance and campaign law violations and concealing details about the death of Daniel Prude. The problems overshadowed her democratic accomplishments of expansion of affordable housing and some police reforms. Evans won in a landslide, 66% to 34%, and is unopposed in November.
Elections for the City Council's four district members will take place in two years, but the five at-large member seats were on the ballot. The WFP endorsed one victorious incumbent, Miguel Melendez, Jr., as well as Stanley Martin and Kim Smith of the People's Slate, who won the two open seat primaries.
Syracuse
The state's fifth-largest city (population 142,000) may have its first Black mayor. Khalid Bey, a Common Council member, won the Democratic primary by less than 50 votes out of 5,400 cast, a paltry 13% turnout. In November, he faces incumbent Ben Walsh, on the Independence Party line via petitioning since that party no longer has "permanent" ballot status. Also on the ballot is Republican Janet Burman.
If victorious, Bey will be the city's first Black mayor. But not with labor and left/progressive endorsements. And not without any controversy. He refuses to get the COVID-19 vaccine. Local housing activists have told People's World that he doesn't use his Common Council email account. Meaning, it has been incredibly difficult to set up meetings or simply have constituent correspondence.
On the other hand, two at-large Common Council seats were on the primary ballot. Rasheada Caldwell, an African-American activist from the non-profit world whom the WFP endorsed, won the most votes and will likely be seated at the council after November.
Albany
Mayor Kathy Sheehan, the incumbent, won the Democratic primary over Valerie Faust, 64% to 36% in another lackluster primary, with a mere 17% turnout. Sheehan had the WFP endorsement in the past, but not this year. While the NYSNA endorsed her, the campaign's website listed support only from elected officials.
Many Common Council Democratic Party candidates from the state's sixth-largest city (population 96,000) had WFP support. The winners from this group included Sonia Frederick (Ward 1), Derek Johnson (Ward 2), Gabriello Romero (Ward 6), Meghan Keegan (Ward 9), Alfredo Balarin (Ward 11), and Deborah Zamer (Ward 14).
WFP-endorsed candidates faced no primary in Wards 10 (Owusu Anane) and 15 (Thomas Hoey). Of the WFP endorsed contestants who lost, Ward 7's Violetta De Rosa fell short by only 13 votes (barely more than 2 percent).
All WFP candidates will appear on the third party's ballot line in November. Like most cities in the state, primary victories are akin to November success.