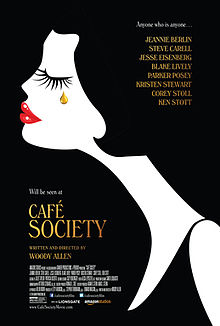 Loved, loved, and meh Café Society, this year's installment of the annual Woody Allen film production factory. How that guy keeps 'em coming not only so regularly but also on such a generally high level of interest, is truly a phenomenon of continued creative juices still flowing in the senior decades. Are they studying him in gerontology schools?
Set in the mid-to-late 1930s, his story focuses on Bobby Dorfman (a strong and gentle Jesse Eisenberg), going nowhere in his dad's modest business, yearning to seek his fortune along the starry, storied streets of Hollywood, where his uncle Phil (Steve Carell), his mom's brother, is a major movie agent handling the town's biggest talent. Bobby falls in love with Phil's secretary Vonnie (the attractive, fun Kristen Stewart). He also wants to put a little distance between himself and his brother Ben (Corey Stoll in the Damon Runyon lovable gangster mold). There's also a schoolteacher sister Evelyn and her husband, identified in Woody Allen's voiceover narration as a Communist.
The affair with Vonnie does not go smoothly, and the heartbroken Bobby returns to New York where he helps to manage a high-end nightclub – Café Society – with his brother. It's a toney spot where you can meet the élite at the intersection of politics, business, culture and crime. On the rebound from his instructive but disastrous sojourn in Hollywood, Bobby meets a divorcee, Veronica Hayes (Blake Lively), at the club, and they soon get married and start a family.
The tale is a romantic bittersweet fantasy with all the trademark Allen elements we have come to expect and appreciate: the absurd extravagance of emotions and events, the juxtaposition of sublime adolescent confusion and stereotypical Jewish neuroticism against violent gangsterism and consumerist excess, and the creative tension between (well, let's face it, caricatures of) New York versus Los Angeles, the old East Coast/West Coast divide. The convoluted story leaves the characters with Allen's wise and by now standard conflation of regrets, nostalgia, compromises, missteps and missed chances. A metaphor for life itself. Loved his fog of uncertain outcomes.
Also loved Vittorio Storaro's saturated cinematography, both indoors and out, and the over-the-top period set designs by Santo Loquasto. In this visually enchanting film we step into the champagne worlds of the 1 percent in hustle-bustle New York City and the dream capital of the planet, Los Angeles in its Hollywood heyday.
So where does the meh come in? Maybe I'm just too much of a People's World kind of critic to just let the fantasy roll where Allen wants to take us. If he does address the theme of place as central to this film, he also just about totally disregards the sense of time, except for the roadsters and the costume designs. We're in the late 1930s – the Great Depression, you've heard of it? Not a soul down on his luck selling apples or pencils in sight. Okay, maybe that's too clichéd. How about some nod to FDR or the New Deal? Or a mention of the Spanish Civil War and the convulsion going on in Europe? The supposedly Communist brother-in-law is portrayed only as a weak, nebbishy, feckless sort (the typical Woody Allen stand-in) who wants to avoid conflict with his oafish neighbor at all cost – and this during one of the most exciting and turbulent periods of Red-led labor uprising in the history of our nation.
And by the way, there actually was a New York City club called Café Society in the 1930s, founded by progressives who invited such performers as Billie Holiday and lefty songwriter Harold Rome to its stage. It was a fully integrated venue that featured showcased Broadway stars on breaks between shows, or on their dark nights, with topical material of the day, that gave a leg up to folks with something to say.
Could be, I cherish my own fantasies of the 1930s, but whatever they are, they don't quite jibe with Woody's. So: loved, loved, and meh.
Video of the film can be seen here.
Café Society
Written and directed by Woody Allen
96 minutes
In national release