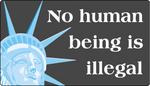 NewsAnalysis
The Republican leadership of the House of Representatives is pushing hard to get HR 4437, Rep. James Sensenbrenner's vicious anti-immigrant bill which spurred this year's huge immigrant rights marches, approved piecemeal by the House and Senate and signed into law before the November elections.
Immigrant rights advocates are denouncing this maneuver as a Republican electioneering fear tactic, to rush votes without giving the public time to understand their implications, and to "wrong-foot" the Democrats into seeming to oppose national security.
But there is a real possibility that the Republicans could succeed in getting their agenda approved in the Senate by means of amendments to spending bills.
The Senate also passed an immigration bill, S 2611, in May. However the Republican House leadership refused to convene the usual conference committee to reconcile HR 4437 with S 2611. They complained that the Senate bill gave too much away to immigrants by creating mechanisms whereby some undocumented immigrants could be legalized (at great effort and expense for themselves), while adding a guest worker program.
Instead, the Republicans spent the summer holding dozens of "field hearings" around the country. Witness lists at these hearings were heavily skewed toward a repressive enforcement-only approach.
On Sept. 7, the Republican House leaders announced that they were going to bring in new legislation aimed at increasing border security.
Then the "Secure Fences" bill, HR 6061, was introduced on Sept. 13 and passed on Sept. 14. It went straight from drafting to the floor and was rammed through at high speed before there could be any mobilization against it, on a partly party-line vote of 283 ayes and 138 nays. Senate Majority Leader Bill Frist (R-Tenn.) announced he would push it through the Senate. The Senate has voted to close debate on the measure, greatly increasing the likelihood of passage.
The bill orders the construction of 700 miles of fences on the U.S.-Mexico border, and requires the Homeland Security secretary to create a "virtual fence" of electronic sensors and other gizmos for the other 1,200 miles of borderland. This may cost taxpayers $7 billion. Objections by immigrant rights activists have been joined by Native American communities bisected by the border, such as the large Tohono O'Odham tribe in Arizona.
More bills derived from HR 4437 have now been introduced and will be handled in the same way: HR 6095, the "Immigration Law Enforcement Act," and HR 6094, the "Community Protection Act."
Together, these bills constitute an assault on due process rights of immigrants (including legal permanent residents) and a giant power grab by the Bush administration. They would:
• Encourage state and local police to carry out immigration enforcement activities, leading to vast racial profiling.
• Authorize creation of an official federal list of "criminal gangs," whose non-citizen members would be subject to summary deportation even if they were legally in the country and individually had committed no crime.
• Permit the federal government to detain indefinitely non-citizens subject to deportation, if the government decides they are not cooperating with deportation efforts or under some other circumstances.
• Reverse a court injunction which limited the forced return of Salvadoran refugees to their homeland because of the danger they would be tortured or murdered by the regime there.
• Severely limit the rights of immigrants under detention or facing deportation to have their day in court to oppose the government's decisions in their cases. This would vastly increase the power of the Department of Homeland Security over non-citizens.
This is a cynical election-year ploy that should be defeated by active lobbying of both House and Senate members.
Rosalio Muñoz, Communist Party USA Southern California organizer, noted, "Mass pressure on the Senate to block HR 6061 is needed immediately, to stop the House right-wing Republican enforcement railroad in its tracks." The same applies to the other bills.