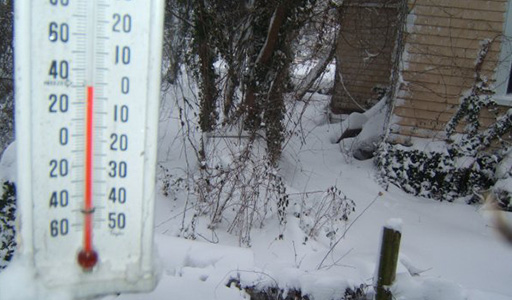 Are you cold? Fingers numb after digging out of this week's East Coast blizzard? Guess what? This year is stacking up as one of the hottest since we humans started keeping thermometer-based temperature records 160 years ago.
So says the World Meteorological Organization.
"The year 2010 is almost certain to rank in the top three warmest years since the beginning of instrumental climate records in 1850," says the WMO. What's more, it adds, over the past decade from 2001 to 2010, "global temperatures have averaged the highest value ever recorded for a 10-year period."
But what about all that snow outside?
Does it make global warming "junk science," as the Boston Herald's Michael Graham proclaims?
Does that 15-inch snowdrift in your driveway mean – as a tea-party "media" mailing in my inbox argues – that human-caused global warming is nothing but "twisted 'facts'" marketed by "a cabal of elitist politicians, bureaucrats and activists who front the environmental movement to push intrusive, Marxist-derived policies in a quest to become filthy rich"?
Well, no.
As People's World writer Marc Brodine pointed out last winter, "many people confuse the current weather (cold) with the long-term direction of the climate (warmer)."
"Just because it is cold outside right now doesn't mean that global warming isn't real," he wrote. "Global warming has to do with the climate, with the long-term trend of the world's average temperature. The short-term weather has to do with what is happening this week or next in the part of the world where we currently reside. The two are not identical, and colder weather does not contradict the fact that our climate is warming up."
In fact, the National Oceanic and Atmospheric Administration, in its annual Arctic Report Card, issued Oct. 19 this year, reports "continued near-record sea ice loss" and warming temperatures in the Arctic this past summer. That Arctic trend appears to be having an impact on "mid-latitude climate" – meaning North America, Europe and Asia – the agency reported.
Dramatic warming in the Arctic over the last several decades may be pushing cold Arctic air southward, scientific studies suggest. Scientists call it a "Warm Arctic/Cold Continents" weather pattern, featuring an abnormally mild Arctic and an unusually cold U.S. and Europe.
"We have a potential climate change paradox," the NOAA says. "Rather than a general warming everywhere, the loss of sea ice and a warmer Arctic can increase the impact of the Arctic on lower latitudes, bringing colder weather to southern locations."
Weather Underground meteorologist Jeff Masters writes, "This pattern is kind of like leaving the refrigerator door ajar – the refrigerator warms up, but all the cold air spills out into the house."
"If the Arctic Report Card is right," says Masters, "we'll be seeing more of this pattern during coming winters – possibly even during the winter of 2010-2011."
Writing in the New York Times this week, forecaster Judah Cohen ties colder winter weather to increasing snow cover in Siberia, caused by global warming.
"As global temperatures have warmed and as Arctic sea ice has melted over the past two and a half decades, more moisture has become available to fall as snow over the continents," says Cohen. "So the snow cover across Siberia in the fall has steadily increased."
That creates an unusually large dome of cold air in the region, changing airflows across the earth's surface, he writes. Cold air flows south into East Asia and southwestward into Europe. In North America, cold air is pushed south from the Arctic on the east side of the Rockies.
"That is why the Eastern United States, Northern Europe and East Asia have experienced extraordinarily snowy and cold winters since the turn of this century," Cohen says.
The experts remind us that one season's weather can fluctuate even while long-term trends continue. And with all the variables out there, weather forecasting is still not an exact science.
Based on the above normal Siberian snow cover, Cohen is predicting below normal temperatures for the East Coast this winter.
On the other hand, when asked to predict this winter's weather Masters says, "Flip a coin. After a year of some extraordinary extreme weather, we are overdue for a relatively quiet season or two of weather."
We'll just have to wait and see.
Meanwhile, research on climate and weather is ongoing, and scientists continue to debate the role of various factors.
"This will be an arena generating plenty of research, but also scientific disagreement, for a long time to come," New York Times reporter Andrew Revkin writes in his Dot Earth blog. "What's important, to my mind, is not to confuse this kind of normal, healthy scientific debate with more basic understanding of human contributions to, and responses to, climate change."
And as the PW's Brodine tells us, don't believe the "blizzard of nonsense" from right-wing loons. Global warming is not eliminating winter. In fact, as the scientists are finding, more snow is actually more proof of global warming.
Don't put away your snow shovels yet.
Photo: PW/Tim Wheeler