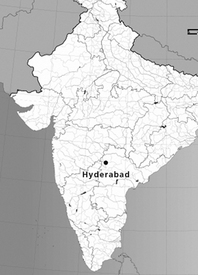 PWW Editor Teresa Albano is blogging from India, where she is attending the conventions of the Communist Party of India and Communist Party of India (Marxist). The parties hold seats in the national Parliament and lead the governments in three of India's states.
Keep up with her blogs in our Online eXtra section. These are some excerpts.
Great advances, great challenges
HYDERABAD, India — As I arrived at the Begumpet airport here, part of a two-person delegation of the Communist Party USA, we were greeted by a delegation of bank workers and members of their union.
The Communists who are active in and lead the bank employees union took the responsibility to meet all the international delegates. They said this particular union, associated with the Communist Party of India, has about 600,000 members.
After arriving at the "holistic resort" just outside the city where the international guests are staying, we headed to the CPI's offices. A six or seven story yellow stucco building with the hammer and sickle flag flying on the top, it was a scene of great activity. The CPI's general secretary, A.B. Bardhan, had just arrived from Delhi and some press was there filming him. He warmly greeted all of the international guests in this impromptu meeting, joking with the Australian comrade about the Indian-Australian cricket rivalry. Cricket is a huge sport in both countries.
The CPI holds a few seats in the Andhra Pradesh state assembly. But their roots are much deeper than the number of seats reflects. The party is widely credited with a massive land reform fight in the state during the early years of independence and continues to enjoy much respect and support from the people.
We met many party staff workers — beautiful, modest working-class men and women who reminded me of the salt-of-the-earth comrades I know in the U.S.
We drove and walked a bit around the city. This is a weekend full of religious celebration. There are the Christian celebrations of Good Friday and Easter. Hyderabad's twin city, Secunderabad, has a sizeable Christian population.
Then there is the Hindu celebration of Holi. Plus the Muslim celebration of Eid-e-Milad. Hyderabad has a significant Muslim population. You see many mosques around the city.
Holi is by far the biggest celebration. Pictures of children and adults covered in "colors" grace the front pages of every newspaper. Dyes or paints of yellows and pinks are poured over or smeared on faces and arms. We passed a group of young men with motorcycles parked, taking a break and play-fighting by smearing these festive colors on each other. Holi is a time to have fun with some abandon.
A visual cacophony of buildings, signs, people, cows, dogs and the mess of construction vies for your eyes' attention. Everyone is in motion. At one construction site very dark-skinned women wearing shirts and saris in bright colors and patterns carry baskets of bricks from one spot to another on their heads. Barefoot construction workers.
Then you speed by stores and malls with recognizable brand names in the windows: "Lee" and "The Gap." Then whiz — a small Hindu shrine has a figure in its center and the remains of a fire in front of that. Then whiz — a group of boys, covered in dust, are playing cricket. Then policemen and security guards outside some government offices, then cart after cart with sellers of lime and lemon juice, coconut water or watermelons. These thousands upon thousands of small stands and carts are how many people scrape together a living for themselves and their families.
This is part of India heaving itself into the new century. Great advances and great challenges, great wealth and great poverty, great technological education and advances while women still carry bricks on their heads.
Roommates
My roommate is from the Communist Party of Bangladesh. She told me to call her Lina.
Lina is interested in what's going on in the U.S. I try to explain what our struggle is like. The new possibilities for change, especially during this election year. But Lina is worried. She hears from her friends who live in the U.S. that nothing is happening. That the only quest in the U.S. is to make money. That the younger generation is very satisfied with their lives. Everything is easy, she hears. A push of a button and you get what you need.
I try to explain that so many young people oppose the Iraq war, are against Bush and are getting very active in the 2008 elections.
But she's not convinced. Lina is a leader of a peasant/farmer organization. She said her elder son is jobless but her other son is a teacher. "Life is very hard in Bangladesh," she said.
With 17 sugar mills in Bangladesh — some slated to be closed this coming year — Bangladesh has to import its sugar. The Adamjee Jute Mill, the biggest jute mill in Asia, has been closed under the order of the World Bank's so-called reform program.
The Communists and others are demanding that the government stop listening to the World Bank's advice.
Pelosi's visit to India
When newspapers here reported a visit to India by House Speaker Nancy Pelosi (D-Calif.), eyebrows were raised. Pelosi, the first woman to hold the position of House speaker, is known in the U.S. as a common-sense progressive on many important issues. For example, she has opposed the Iraq war from the start.
But one area toward which Pelosi takes a hawk position is China. Pelosi represents a district in San Francisco where a significant section of business favors Taiwan and takes an anti-Communist, hostile position towards China.
Many who follow U.S. and Indian politics wondered if Pelosi's visit was intended to be used against China. The answer appeared in the Deccan Chronicle, the area's largest English-language daily newspaper, with its headline, "Pelosi in India to tick off China."
After Pelosi met with Indian Prime Minister Manmohan Singh, she met with the Dalai Lama in Dharamsala, India. In a speech in New Delhi afterwards, she urged the world to denounce China for its alleged repression in Tibet.
China was quick to reply that Tibet is an "internal affair." China's ambassador to India, Zhang Yan, told reporters, "We don't allow any country to meddle in China's internal affairs."
India and China have had a long and mixed history, including an ongoing border dispute which at times has erupted in armed conflict. During the Cold War and after the Soviet-Chinese split, India was viewed as pro-Soviet. And China developed military and economic relations with Pakistan.
India and China, the world's two most populous countries, each have growing economies and needs including energy. In competitive capitalist terms, there is a rivalry between the two, something the U.S. would like to use to pit one against the other. The Communists in India and China, however, emphasize peaceful cooperation and sharing mutual interests to bring their countries' populations out of deep poverty.
Communist Party of India opens 5-day meet
The Communist Party of India began its five-day congress here March 23 in a pouring rain unusual for the season and this area, which mostly does not get enough. But the rain nourished the fighting spirit of Communists and their supporters.
Present at the opening day ceremonies were leaders of the four other left parties that are in coalition with the CPI. Each party vowed to work together to challenge the policies of the Congress Party-led government that negatively affect the working people, farmers, women and minorities in India, while at the same time not allowing the far-right BJP party to take advantage.
The main issues of concern for the left are in foreign policy and domestic economic issues. The Indo-U.S. nuclear deal is the main point of concern. Because of U.S. imperialism's strategy for Asia — to isolate China and to dominate the region economically, politically and militarily — the Indian Communists and left are opposed to the deal unless certain safeguards for Indian sovereignty and an independent foreign policy are met.
Economically, India boasts "fast growth" especially in the private sector. This model of development, however, has left "the vast mass of our people high and dry," CPI General Secretary A.B. Bardhan said.