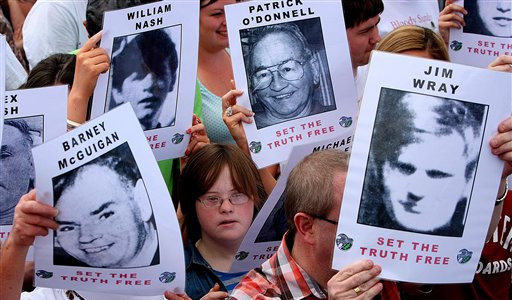 (Morning Star) British Prime Minister David Cameron has apologized unreservedly to the families of those killed on Bloody Sunday saying the action of troops was "unjustified and unjustifiable."
The Saville Report into the 1972 massacre in Derry (Northern Ireland) found that the British army had fired first and that none of those killed or wounded were armed or had done anything which could have justified their deaths or injuries.
Lord Saville also stated that several soldiers had knowingly given false evidence in a bid to justify their actions.
Commenting on the publication Cameron said the law lord's findings were "unequivocal."
He said: "I am deeply patriotic and I never want to believe anything bad about this country. But the conclusions of the report are absolutely clear. There is no doubt, no ambiguity."
Cameron told the Commons that the inquiry had established that none of the casualties posed any threat to British troops.
He said the inquiry found that the first shots had been fired by British troops, no warnings had been given and that some of the soldiers had lost control.
Lord Saville also found that the order issued by Colonel Derek Wilford that sent British soldiers into the Bogside "should not have been given."
The Prime Minister said the report found that none of those killed by British soldiers had been armed with firearms and that no warning had been given by the soldiers.
The casualties were down to the soldiers "losing their self-control," said Cameron, adding that he was "deeply, deeply sorry."
Lord Saville also noted that a number of soldiers had "knowingly put forward false accounts."
Shortly before 4pm on Sunday January 30 1972, British troops opened fire in Derry's bogside, signalling the beginning of one of the most notorious massacres in British and Irish history.
At 4:07 p.m. soldiers from 1 Para, led by Major Ted Loden, had entered William Street in a snatch operation. But they had been told not to engage in a running battle down Rossville Street.
At 4:10 p.m. the soldiers had opened fire in the area of the Rossville flats.
In the ensuing slaughter Jackie Duddy, Pat Doherty, Barney McGuigan, Hugh Gilmour, Kevin McElhinney, Michael Kelly, John Young, William Nash and Michael McDaid, James Wray, Gerald Donaghey, Gerald McKinney and William McKinney were killed.
Twenty-one soldiers had fired in the massacre, expending 108 rounds in total. The army claimed it had come under fire in the Rossville flats area, allegedly by the Provisional IRA. Yesterday that lie was firmly rejected by the Saville Inquiry.
There were jubilant scenes in Guildhall Square in Derry as families who have fought for 38 years for justice addressed a huge crowd of supporters.
Mickey McKinney, whose brother Willie was murdered that day, said: "Willie McKinney was murdered by British paratroopers on Bloody Sunday. This is an historic day for Derry."
Liam Wray, whose brother Jim had been shot twice by soldiers, once while lying mortally wounded on the ground, said Lord Saville had found there was no justification for either of the two shots.
Tony Doherty, whose father Patrick was shot and killed, told the crowd: "The victims of Bloody Sunday have been vindicated. The parachute regiment has been disgraced. The truth has been brought home at last."
Reposted from Morning Star.

Photo: The crowd carries pictures of the victims of the 1972 Bloody Sunday massacre while they march through Londonderry, Northern Ireland, to the Guildhall where relatives of those killed on Bloody Sunday saw the first copies of the Saville Inquiry report June 15. Thirteen civilians killed on Bloody Sunday died as a result of "unjustifiable firing" by British soldiers, the long-awaited report found. More than 1,000 Londonderry residents applauded, hugged and cried outside city hall as the long-awaited verdict was announced live on a huge television screen. (AP/ Julien Behal/PA)