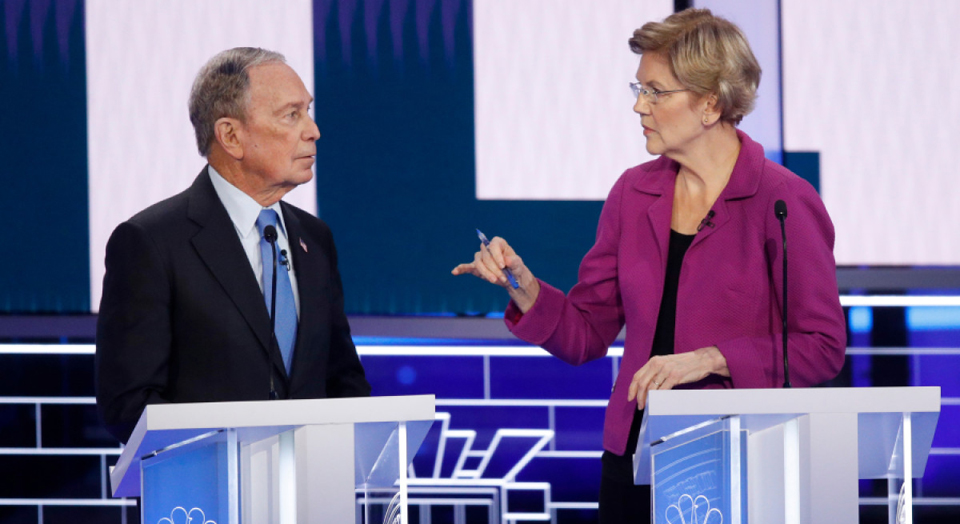 LAS VEGAS—Mike Bloomberg and his billions were a target of all his Democratic opponents at the Nevada debate last night. With one candidate after the other exposing the similarities between Bloomberg and Trump and with Bloomberg having apparently been so arrogant that he did not bother to prepare for the inevitable attacks, the debate became the most contentious so far in the 2020 race.
Unfortunately pundits this morning seemed to revel in what one of them described as "blood-sport" last night, failing as so many pundits do, to understand that all of the issues in contention during the debate were actually ones of major importance to the nation's working-class majority. That was true of the need to defeat Trump, the exposure of racism and sexism in Bloomberg's background, obscenity of the wealth gap as exemplified by him and the issue of Medicare for All which also came under attack. To the pundits it was "blood-sport" but for the people, it was discussion of real issues they worry about every day.
Bernie Sanders' advocacy of Medicare For All and his call for the building of a mass movement from the bottom up as the guarantor of change also came under attack, particularly from Bloomberg and Buttigieg.
One thing was clear last night. The candidates all showed that they will not roll over and accept Bloomberg who has offered himself as the best chance of success for what has become a "stop Bernie" movement that threatens to divide the Democratic Party and aid Trump's re-election effort. The crowd in the auditorium last night cheered almost every attack on Bloomberg.
Eight Democrats are still seeking their party's nomination to run against racist, xenophobic, right-wing and misogynist Donald Trump this fall. But to get the chance to knock off Trump – who the same day claimed, without proving it, that he's clinched the GOP nod – the Dems first had to campaign through two early primaries and two caucuses, all in small states, followed by Super Tuesday on March 3.
Sanders, Vermont's Independent senator, won the popular votes in the first caucus (Iowa) and primary (New Hampshire). Former South Bend, Ind., Mayor Pete Buttigieg ran narrowly behind him in both and is tied with Sanders in the delegate count so far, with Sen. Amy Klobuchar, DFL-Minn., third.
The third small-state contest, Nevada's caucus, followed its own early balloting with the actual caucus meetings coming on Feb. 22. The more than 75,000 who voted early could well be the majority already of the total number who will have voted by the end of Saturday. The fourth, the South Carolina primary, is Feb. 29.
On Super Tuesday, California, Texas, Virginia and 11 other states, most of them in the South, all hold simultaneous primaries, followed by Washington State on March 10 and Illinois on St. Patrick's Day, March 17. Nevada polls give Sanders a wide lead over the other hopefuls in the Silver State. He leads in the latest national polls, too.
The party's polls, pollsters, consultants, and corporate big givers are again freaking out over the possibility of progressive Sanders winning the nod.
There is no sign yet of any "moderate" behind whom all those opposed to Sanders could unite or of any other candidate who can instantly unite all the factions. If, as it appears to many now, that Sanders eventually gets the nomination, unity against Trump will have to be developed around his candidacy and the building of a broad, inclusive coalition.
Buttigieg, Biden, and Klobuchar each made their cases before the Vegas crowd and the national TV audience last night, with Buttigieg pushing his experience solving day to day problems as mayor of a Midwest town, Biden pushing his experience in the Senate and the White House as Obama's Vice President, and Klobuchar pushing her ability to win elections by pulling in independents and even Republicans.
Sanders, Warren, and Buttigieg all went after Bloomberg's wealth, his campaign spending of more than $400 million so far on TV and other media ads, and his mayoral record, especially his police department's stop-and-frisk targeting of men of color.
Bloomberg said he's apologized for that and for his comment advocating "put them against the wall" to search for guns. Both stop-and-frisk and his crack anger African-Americans in particular.
"I'm embarrassed about stop-and-frisk…It got out of hand and went too far," he said. The other hopefuls didn't believe him.
Warren said his apology was inadequate because he was just saying that it was a policy that "went too far." The very idea of stopping and frisking people on the basis of racial profiling, she said, was abhorrent and Bloomberg wasn't apologizing for that.
"Democrats take a huge risk if we just substitute one arrogant billionaire for another," Warren said, meaning having Bloomberg face Trump. "It's time to have a president who will be out there fighting for working families." Added Klobuchar: "We don't need another billionaire."
Bloomberg offers other targets in his record. One came up in the debate: His mistreatment of women. He ducked the question, saying female accusers voluntarily signed confidentiality agreements about settlements of their cases and citing his hiring record as mayor and at his foundation. The others scoffed at that, noting the question pertained to his personal attitude towards women.
Another target came up briefly: Bloomberg's palling around with Trump, congratulating his fellow tycoon on "a great golf game," as the questioner put it. Bloomberg replied he has the cash, and the guts, to take down Trump, "the worst president we have ever had."
But no contender mentioned Bloomberg's abysmal record with New York City workers and unions, or his rocky relations with the Washington-Baltimore News Guild and his workers it represents at one of his most visible businesses, Bloomberg-Bureau of National Affairs, a top corporate-audience newsletter publisher.
The others did, though, note Bloomberg's opposition to raising the minimum wage to $15 an hour and his past advocacy of cutting Social Security, Medicare, and Medicaid. He ducked those topics.
Meanwhile, Buttigieg tried to bring down Sanders by accusing him of dividing the country. The mayor claimed he could unite it with a forward-looking agenda, giving few specifics.
He also repeated established talking points against the Vermonter, calling him a Socialist – Sanders corrected him with the words "Democratic Socialist" – and saying Sanders couldn't beat Trump, because of people's prejudices against Socialism, as a recent poll shows. Bloomberg said "socialism doesn't work. It failed. Look at what happened in all the communist countries."
And Sanders rebutted the mayor by paraphrasing Dr. Martin Luther King, saying it is Bloomberg who favors socialism but the socialism the billionaire favors is "socialism for the rich and capitalism and rugged individualism for the working class and the poor."
Then he listed examples of government handouts, bailouts and tax breaks for the wealthy that he said constituted the socialism for the rich supported by Bloomberg.
Buttigieg pursued the effort to raise concern about the "socialist" label as he struggled to establish his centrist credentials. "We could wake up after Super Tuesday and have only two candidates left standing: A Socialist who thinks capitalism is the root of all evil and a billionaire who wants to buy up" the presidential nomination. Democrats aren't comfortable with those choices," he claimed, adding that "neither Sanders nor Bloomberg is a true Democrat."
Bloomberg was first elected New York Mayor as a Republican before becoming an independent and has endorsed GOP presidential hopefuls, including George W. Bush, Buttigieg pointed out. Sanders, an independent, caucuses with Senate Democrats, and Buttigieg criticized that, too.
That led Sanders to shoot back that "all we are saying is it's time for working people to have a voice in Washington, not like the 46 billionaires" who have contributed to Buttigieg's drive.
Sanders refuses campaign cash from corporate committees and rich individuals, and he particularly slammed the pharmaceutical industry and the health insurers as among the worst of the big givers.
Buttigieg also again touted his "Medicare for all who want it" alternative to Sanders's long-held campaign centerpiece, Medicare For All. Buttigieg cited a flyer supposedly from Nevada's big and politically powerful union local, 50,000-member Culinary Workers Local 226. The flyer says Sanders would take away the union's top-line health care. Local 226's parent, Unite Here, is neutral in the race.
Buttigieg did not mention one item from his health care plan as posted on his own website: Restoration of the now-dead yearly fee the ACA planned to impose on people who refuse to buy health insurance. The ACA's fee was $700, but pro-Medicare For All groups point out Buttigieg's is $7,000. Warren criticized Buttigieg's plan but missed the chance to mention that figure.
Other candidates also criticized Sanders's Medicare For All plan, with Biden repeating his accusation that it's unaffordable. Biden and Klobuchar both touted improving and expanding the Affordable Care Act, with Biden advocating adding a "public option" – a weak form of Medicare For All – to it.
Klobuchar took a few potshots at the others, but also kept emphasizing both the need to beat Trump this fall and her ability to get things done in D.C. Biden, desperate because he's crashed in the polls, and animated, pushed those points, too, plus his long experience as senator and vice president.
But Klobuchar faced incoming fire from Warren. The Massachusetts senator has her own version of Medicare For All. After criticizing Buttigieg's proposal as "a two-page PowerPoint" that does little to control medical costs, Warren pivoted to call Klobuchar's plan "a post-it note."
"My plan is the public option, which would reduce premiums for 12 million people and increase coverage for just as many," Klobuchar shot back. She also claimed then-President Barack Obama (D) favored the public option while pushing the ACA through Congress. At the time, that was briefly true.
Obama was half-hearted about the public option and quickly dropped it under insurers' pressure. Biden didn't mention its abandonment while touting his work for Obama for getting ACA passed a decade ago.
"I'm a fan of Obamacare," Bloomberg claimed. That led the unusually animated Biden to declare: "He said it was dangerous! Look it up! Check it out!"
Buttigieg took time out from pummeling Sanders to challenge Warren "for doing nothing" in Congress, but she put him down by retorting about her successful push, over bankers' and brokers' opposition, for the Consumer Financial Protection Bureau. And when Buttigieg challenged both Klobuchar and Sanders on their past votes, both cited their overall records – and in Sanders' case a sea change in favor of gun control. This time, neither the mayor nor Sanders challenged Biden's support of Bush's war in Iraq.
With no candidates of color, in a diverse political party, on stage, Warren took the lead on one important issue for those communities: The racism pervading the criminal justice system. Stop-and-frisk "targeted communities of color from the beginning," she said. It also, she told Bloomberg, called into question his "leadership and accountability" and spotlighted his "willful ignorance" of racism's real impact. As usual, Warren promoted her plan to deal with criminal justice, including funds and police reforms.
One other issue important to voters never came up: Reproductive rights. That drew a complaint on Feb. 20 from Jenny Lawson, executive director of Planned Parenthood Votes, the group's political arm.
"The exclusion of abortion from the national conversation, just days before the Nevada caucuses, does a severe disservice to voters," she said in a statement. "While there is a world of difference between Trump and the Democratic presidential candidates on reproductive health and rights, there is too much at stake to ignore this issue. Now is the time for candidates to lay out their plans to not just protect, but expand our reproductive health and rights should they become our next president."
There were a few points of agreement. Though rarely mentioned, the need to beat Trump was one.
Klobuchar sounded like Sanders in extolling the virtues of high voter turnout to do so, especially among those – women, people of color, industrial workers, other minorities – whom both the Democrats and Trump have left behind.
The difference was that Sanders still advocates a mass movement from the bottom, while the Minnesotan pointed out how she marshaled Democrats, independents and even Republicans in her high-turnout U.S. Senate races, all wins, and said she could repeat that performance. And she too took a crack at Bloomberg.
"I welcome Mayor Bloomberg to the race. He shouldn't hide behind his TV ads," said Klobuchar. "And then I saw the memo from his campaign staff," leaked the morning of the debate, "saying three of us should step aside for him." The senator, for one, made clear she doesn't intend to bow out – no matter what or whom the party establishment of pols, pollsters, consultants, and big givers, wants.