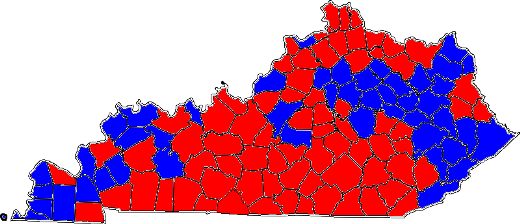 LOUISVILLE, Ky. — On May 18, the U.S. Senate primary elections took place in Kentucky. There was a reported "low turnout" for both the Republican or Democratic parties. Nevertheless, millions voted for who would represent the two parties in the upcoming November elections to replace Jim Bunning (R-Ky.) in the U.S. Senate.
Bunning, the Republican Senator serving as Mitch McConnell's junior since 1999, decided to retire from his position, citing an apparent difficulty raising campaign funds, meaning that the Republican spot would be open to a fresh candidate.
Out of the Republican candidates, Trey Grayson, Rand Paul, Jon Scribner, John Stephenson, Gurley Martin, and Bill Johnson (who dropped out of the race before the primary, but was still on the ballot), it had become a simple race between Rand Paul and Trey Grayson.
Rand Paul (the son of Ron Paul, Republican Representative from the 14th Texas Congressional District) supports the extreme capitalist values of the GOP, such as a "free market" solution to health care. He also opposes government bailouts, is for trying suspected terrorists with military tribunals instead of civil courts, and would keep Guantanamo Bay open. Paul believes that the healthcare system is over-regulated. It's no surprise that he is backed by the tea party movement.
Trey Grayson (Kentucky Secretary of State) supports the more "traditional" values of the GOP. He is "pro-life," seeking to ban abortions under any circumstance. Grayson wants more than 700 miles of border fencing equipped with the "latest technologies", while deporting undocumented immigrants and taking away the birthright of children born in the U.S. to undocumented immigrants. He has an A+ rating from the NRA.
The Democratic candidates, in similar fashion to the Republican race, had 5 candidates, with two of them having the best chance of winning. Of Jack Conway, Daniel Mongiardo, James Buckmaster, Darlene Fitzgerald Price, and Maurice Sweeny, it had come down to Conway and Mongiardo.
Daniel Mongiardo, lieutenant governor of Kentucky and son of Italian immigrants, supports further healthcare reform. Mongiardo sees the bill passed in March as merely the first step towards affordable healthcare for all. Mongiardo actually has a medical degree. Mongiardo wants to create jobs in Kentucky, and promotes the cleaner liquid coal fuel from America than the foreign petroleum currently being used in fuel. He plans on cutting CO2 emissions even more than any of the proposed "Cap & Trade" bills currently in Congress.
Jack Conway, who is the current attorney general, has a plan to create jobs by proposing a 20% tax credit to businesses who expand their payroll and hire more workers, but doesn't apply to government workers. He also supports more lending to small businesses and "cutting red tape" in the paperwork for small business owners. Jack Conway states that he will save the U.S. $430 billion in ten years, partly by closing corporate tax loopholes on overseas interest and shutting down offshore tax shelters. He is opposed to privatizing Social Security and refused to sign on to Republican and tea party lawsuits against the healthcare reform bill. He is against bailouts, will challenge McConnell to stop defending Wall Street, and is for Wall Street reform that puts consumers first.
For working class families, Mongiardo seemed to be the best candidate. Most progressive groups supported him. However, in 2004 Mongiardo made a campaign promise to vote in favor of the anti-LGBT Federal Marriage Amendment. Kentucky Heartwood, an organization that preserves forests in the state, chose not to endorse any particular candidate.
In the end, Jack Conway won the Democratic Primary, beating Mongiardo by 1%. Conway got 44% of the vote, to Mongiardo's 43%. It brings back memories of 2004, where Mongiardo lost in the general election to Jim Bunning. In 2004, Mongiardo had 49.3%, and Bunning had 50.7%.
As for the Republican Party, the tea party backed candidate, Rand Paul, won by a wide margin to Trey Grayson, Paul's 59% to Grayson's 35%. Paul's victory is being considered a "tremendous mandate for the tea party." Paul had never run for office, using his inexperience in a way that reflected a candidate who had not been "corrupted by Washington," or in the Bluegrass State sense, Frankfort.
Photo: County results of the 2004 Kentucky Senate race. (Public Domain)