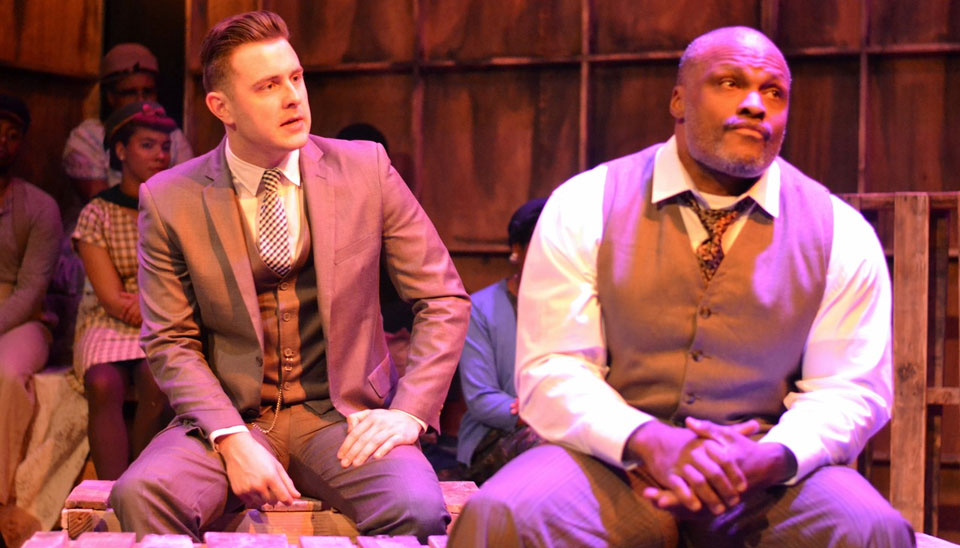 SHERMAN OAKS, Calif.—Loft Ensemble's lofty, must-see, powerful production of Blues for Mr. Charlie is the latest in a growing list of a revival of works by author/playwright/polemicist James Baldwin, one of America's "poet laureates" opposing racism. I believe this renaissance was launched by Haitian filmmaker Raoul Peck's Best Documentary Academy Award-nominated 2016 I Am Not Your Negro, with Samuel L. Jackson giving voice to the man who wrote 1962's The Fire Next Time and so much more.
Writer/director Barry Jenkins's 2018 sensitive feature film adaptation of Baldwin's 1974 novel If Beale Street Could Talk, which scored Regina King a Best Supporting Actress Oscar and Jenkins a Best Adapted Screenplay nomination, followed. Actor Charles Reese has been mounting his one-man show An Evening in History with James Baldwin, which I was lucky enough to catch Feb. 23 at Emerson College in Hollywood, where Reese's Baldwin pieces were presented by the Eboni LA Alumni Association as part of its Black History Month programming. The cover story of the current issue of The Progressive Magazine references Baldwin's famous essay A Letter to My Nephew (which is part of Fire).
Now this welcome James Baldwin renaissance keeps rolling out the hits with Loft Ensemble's scintillating stage revival of the bard's 1964 Blues for Mr. Charlie, which was originally a three-act play but is presented here in two acts with one intermission. After a shocking curtain opener (don't arrive late for your seats!) followed by the grim aftermath of a violently suppressed protest, what smacks you right in the kisser is Baldwin's precise prose, his dynamic dialogue and lilting lines clearly penned with the assuredness of a master scribe.
Baldwin brilliantly uses words, as well as images, to conjure up the racism of Apartheid America in the Deep South during the Civil Rights movement, which the large cast and crew flawlessly, deftly dramatize, skillfully directed by Tor Brown. Following the brutal, Bull Connor-like suppression of the African-American characters' opening protest, one clearly sees they are, literally, Black and blue, adorned with bruises ably highlighted by makeup designer Angela Santori.
The protesters have picket signs, among them one emblazoned with the slogan: "No Justice, No Peace." Some sticklers for fact may point out that this is historically inaccurate as this particular movement catchphrase was not part of the parlance in the early 1960s, when Blues is set. Or perhaps the helmer is slyly visualizing that the struggle then, alas, continues 50-plus years later.
The play's protagonist seems to be Richard Henry. (Is his name a wry reference to Richard Wright, the militant novelist Baldwin also wrote about? Apropos, Wright's 1940 Native Son re-opens April 20 at the Kirk Douglas Theatre in Culver City as part of Center Theatre Group's annual "Block Party," bringing intimate theatre productions such as this 2018 Antaeus Theatre Company show to a bigger venue. HBO is also screening an all new film version of Native Son later this year.)
Richard's trajectory spurs and moves the drama's action forward. Portrayed by Jefferson Reid, Richard is the son of preacher Meridian Henry (Tony Williams), a Martin Luther King-like minister. Baldwin's choice of nomenclature is astute, as according to the Cambridge Dictionary, "meridian" means "an imaginary line that   passes from the North Pole to the South Pole through any place on the surface of the earth, used to show the position of places on a map."
Indeed, presumably to spare his son the indignities of existing in the segregated South, Rev. Henry has dispatched his son to the North, to live in New York City. But this proves to be no panacea either, for the would-be musician becomes addicted to heroin, involved with (what I suppose could be called "disreputable") white women and so on. The play opens with Richard way down yonder in the land of cotton, where he has been largely forgotten. Used to the greater relative freedom of the North, Richard stirs things up back home in the Deep South, where soon enough he finds himself in deep shit. (The Virgil Tibbs character in John Ball's 1965 novel In the Heat of the Night and as portrayed by Sidney Poitier in the 1968 movie has a similar "fish out of water" dynamic—a Black man from the North navigating the segregated South.)
Part of Blues' vibe is derived from actual historic events, including 1955's Emmett Till tragedy that triggered the Civil Rights cause, the 1963 murder of Mississippi's NAACP field secretary Medgar Evers at Jackson, and the KKK's 1963 bombing of Birmingham's 16th Street Baptist Church that killed four girls. In my opinion, much of what is the Loft Ensemble version's second act is also Baldwin's response to the enormously popular 1960 Pulitzer Prize-winning Harper Lee novel To Kill a Mockingbird and its beloved 1962 screen adaptation. (Will Geer's Theatricum Botanicum presented a stage iteration in 2015, while another rendition is currently on the boards on Broadway.)
As Baldwin's title indicates, Blues for Mr. Charlie does not deal solely with Black dramatis personae, but also with whites, and their complex interactions with one another. "Mr. Charlie" is Black slang for whites—or perhaps more precisely, the white power structure. Before the proverbial curtain lifted, Brown's mise-en-scène cleverly and literally sets the stage, with a group of Caucasians ensconced on one side of the theatre and clear across from them on the other side, the African-American cast members. They are explicitly, graphically blocked so that they are segregated—separate, and not necessarily equal.
Pursuing the Mockingbird analogy, if Reid's Richard is roughly equivalent to Harper Lee's Tom Robinson, and Mitch Rosander's snarling racist redneck Lyle Britten is the counterpart to Robert E. Lee "Bob" Ewell, then Parnell James (Kristian Maxwell-McGeever) has Blues' closest approximation to Atticus Finch—the white man Blacks go to when they're in a pinch.
However, unlike Atticus (memorably played by Gregory Peck, who won an Oscar doing so) James is not an attorney, but rather editor of the small town newspaper. Like Finch, James is more educated than the other "crackers" like Lyle, as he comes from a more well-to-do, well-connected, refined family pedigree. (Ideologues may fault Baldwin here for "class incorrect" typecasting.) Although Richard is probably Blues' protagonist and Lyle the play's antagonist, Parnell James, illumined by Maxwell-McGeever's finely etched, tortured portrayal, is arguably Baldwin's most interesting character. (But then again, I'm Caucasoid, so maybe it's easier for me to relate to him?) Intriguingly, James's last name is the same as the author's first name.
Parnell James plainly sees the era's injustices, but as a white man of privilege, he is conflicted, with one foot in each camp. He is also one of the "good ol' boys," and Lyle has been one of his best friends. But the editor has been indulging in some "communist propaganda" (as some of the racists deride any editorial favoring, you know, social justice) in his newspaper, and worse, in race mixing, daring to love (not just lust after) a Black woman or two, whom he had yearned to wed (which explains this bachelor's marital disposition). James wants to do what Spike Lee pithily calls "the right thing," but he has lots to lose in a land of night riders and racist vigilantes. To a large extent, Baldwin's tragedy pivots on what the compelling Parnell James will or won't do.
James seems to epitomize "the white moderate" that Dr. King critiqued in his 1964 Letter from Birmingham Jail: "Over the past few years I have been gravely disappointed with the white moderate. I have almost reached the regrettable conclusion that the Negro's great stumbling block in his stride toward freedom is not the White Citizen's Counciler or the Ku Klux Klanner, but the white moderate, who is more devoted to 'order' than to justice; who prefers a negative peace which is the absence of tension to a positive peace which is the presence of justice; who constantly says: 'I agree with you in the goal you seek, but I cannot agree with your methods of direct action'; who paternalistically believes he can set the timetable for another man's freedom; who lives by a mythical concept of time and who constantly advises the Negro to wait for a 'more convenient season.' Shallow understanding from people of good will is more frustrating than absolute misunderstanding from people of ill will. Lukewarm acceptance is much more bewildering than outright rejection."
Change is more likely to be made by those who have nothing left to lose—not by those privileged few acting out of noble convictions instead of their own self interest. Blues also closely tracks the tension between nonviolence and militancy, which has been a central part of the African-American liberation movement since slavery times. Historic examples include: W.E.B. Du Bois versus Booker T. Washington; SCLC versus far more passive "resistance"; Martin versus Malcolm; nonviolence versus Black Power; and so on. In fact, not only did this dynamic play out in the Black Panther Party itself, but in the blockbuster movie Black Panther itself.
This production of Blues is creatively structured to be told out of narrative order. Richard's spectral appearance in Act II is chillingly effective. The play has an excellent recorded and live soundtrack that includes gospel and blues songs, Negro spirituals and sound effects. Its repeated use of gun blasts put me in mind of American Saga—Gunshot Medley by Dionna Michelle Daniel, which was premiered by Rogue Machine Theatre last year (which also happily revived Lorraine Hansberry's Africa-set, anti-colonial classic Les Blancs in 2017).
Reid's incarnation of Richard is moving. The play strikes a note of moral ambiguity, as it touches upon whether or not Richard has a firearm, nude pix of Northern white women, is still a narcotics addict, and so on. While Baldwin clearly has his sympathies, he realizes nobody has an absolute monopoly on morality and honesty. There is even a sort of Freudian rivalry or competition between father and son regarding Juanita, whom Richard and Meridian both fancy. (Baldwin, of course, was gay, but I did not detect any LGBTQ subtext in Blues—perhaps as a straight male it flew under my "gaydar?")
Other standouts in this oversized cast in a diminutive playhouse with an effectively spare set include Latiera Harmon, who has a great stage presence as Juanita and quickens the pulse not only of the Henry menfolk but, as you'll see, another character. Casting directors, talent agents, etc., should be lining up to sign the gifted Harmon to a contract, if she isn't already inked up.
For my money, if you listen closely, the best bit of dialogue is uttered by Kevin Padilla as Lorenzo, but you have to aurally zoom in and focus on him at the end of his testimony, otherwise it may just sound like throwaway lines. Throughout the drama and in the courthouse sequence, Lorenzo has vacillated between defiance and going along to get along. While on the stand, he is almost insolent to the judge and court, which clearly represent the white supremacist power structure. As his testifying comes to an end, His Honor dismisses the world-weary witness, and the relieved Lorenzo plaintively mutters, "Thank you kindly, sir."
There it is: The servility centuries of the lash, shackles, lynching, enslavement, Jim Crow and worse have whipped and beaten into the oppressed. Padilla delivers a brief, hushed, but extremely truthful moment that speaks volumes.
If I have one criticism of this play, as a Mississippian theatergoer explained to me, Southerners generally speak more slowly than the actors did. I was told by someone associated with Loft Ensemble that director Brown is from Kentucky, so I imagine he's aware of this. But clocking in at about two and half hours, perhaps he and his cast felt that they had to move things along.
But this is a mere quibble. It never stops amazing me, it's absolutely uncanny, how works of art are often coded chronicles commenting on our own time. James Baldwin's rumination on race and white supremacy re-emerges as a white nationalist racist maniac carries out the despicable mosque massacres in New Zealand. That Australian madman would be right at home with Lyle and the other good ol' boys – but hopefully, we pray, not with Parnell James.
This was my first visit to Loft Ensemble, but it certainly won't be my last. If you care about race relations and the dramatization of them in entertaining, enlightening ways, Baldwin's ingenious gem is the indispensable drama you absolutely can't afford to miss. Bravo!!!
Blues for Mr. Charlie is performed Sat. at 8:00 pm and Sun. at 7:00 pm through April 7 at The Loft Ensemble, 13442 Ventura Blvd., Sherman Oaks 91423. For more info: (818) 616-3150 or www.loftensemble.org.      
L.A.-based reviewer/film historian Ed Rampell is moderating a panel on "Blacklist Exiles in Mexico" April 2 at the San Francisco Art Institute. For details see here.