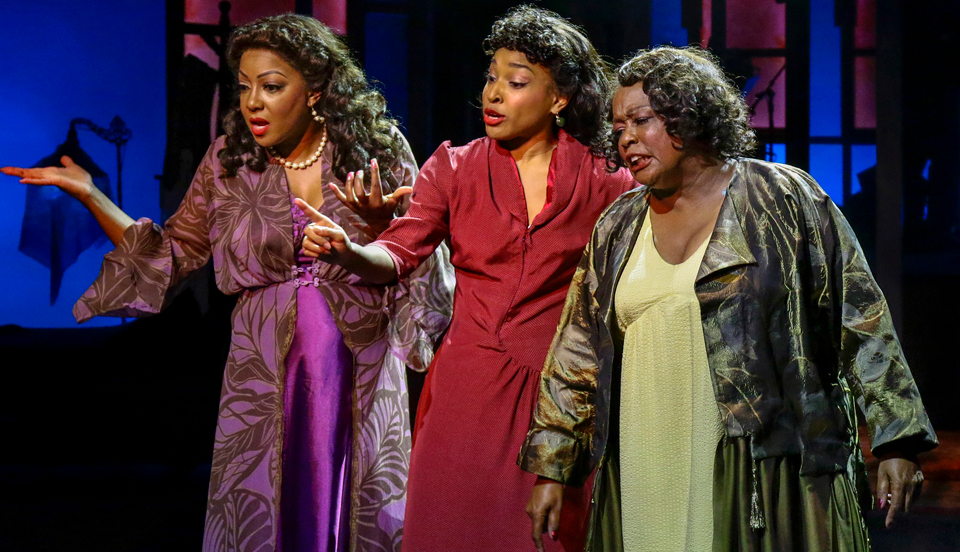 BEVERLY HILLS, Calif.—One of the common misperceptions about African-American culture in the United States is that it is so indelibly imbued with Christianity. It's easy to see where this comes from: Some of our most vivid images of the civil rights movement are of pastors preaching out the good news of equality and human rights. The hundreds of spirituals that have come down to us form the backbone of the African-American musical tradition, though it's important to recall how many of them refer not to salvation in Jesus as such but in the struggles of the Hebrew people recounted in the Old Testament.
Sit through an evening of Blues in the Night, set in a cheap Chicago hotel in the 1930s, and not a single one of the two dozen-plus numbers refers to religious belief. A lot of faithless lovers, to be sure, but they're not talking about that old time religion.
Jazz is one of the few truly American art forms, and though its roots lie in church hymns, it grew to be influenced more by popular music. Great jazz artists, such as Duke Ellington, have applied themselves to spiritual themes, and of course if you visit a Black church you will hear jazzed-up versions of many gospel songs; but essentially it has become a secular tradition.
According to singer Carmen McRae, "Blues is to jazz what yeast is to bread—without it, it's flat." And in that sense, blues can be like religion: In many faith systems, worshipers confess their sins and transgressions, and how small and powerless they are before the mighty majesty of God. You have to acknowledge how low you are before you can think about rising up again. You just have to understand, there's no promised redemption. You have to lift your own self up.
So we are catching this cast of three women and one man in Blues in the Night at low points in their lives. Their comfort lies not in prayer but in honest recognition of where life has brought them, and from the integrity of being allowed to tell their own story. From here, it would seem, they can only go up. That honesty is key to their survival.
What brought them so low? Here's where the ideological rubber hits the road.
In this selection of material now on stage at the Wallis Annenberg Center for the Performing Arts, there's a whole lot of drinking going on. That certainly has to be a factor. And then there are those faithless men: "A man is a two-face, / A worrisome thing / Who'll leave you to sing / The blues in the night," from the Johnny Mercer and Harold Arlen song that provides the title to the show. Of course, when Frank Sinatra sang it—or any other guy—"a man" was changed to "a woman." Being worrisome is a gender-neutral thing.
But what drives people to booze? (Drugs are almost completely absent from this show, with only one or two offhand references to "joints.") What factors make for faithlessness among men?
What's missing are the reasons Black folks (and others too, for that matter) can be feeling so blue: Substandard housing and redlining, underfunded schools, poor medical care, unworthy political representation, no voting rights, no jobs or underpaid jobs and no union protection, high food prices, no medical or parental leave, segregation, discrimination, lynching, the enduring legacy of slavery.
Individual circumstances always play a part; but when societal problems are this widespread, then other categories of analysis must come into play. The marketplace, however—recordings, radio, films, agents, bars, clubs and concert halls—for the most part dictated that such concerns would not be voiced.
When Sheldon Epps conceived and directed Blues in the Night Off-Broadway in 1980—it moved to Broadway in 1982—he was not yet 30 years old. I believe the same song-set is used again, as it has been for over 30 years now in productions around the country and abroad. But when I saw it in New York years ago, I don't remember the show being quite so theatrical and persona-driven as it is here. It was more of a revue with undifferentiated characters. But here Paulette Ivory plays "The Woman of the World," Bryce Charles is "The Girl with a Date," and Yvette Cason is "The Lady from the Road." Chester Gregory plays a "The Man in the Saloon," a strutting, dandified cabaret singer who, as the single male in the cast, takes the brunt of all the women's complaints about the lying, cheating snakes in their lives. The women often share a song, trading off verses, dancing together and gesturing knowingly to one another.
Many of the great composers and lyricists are represented here: Bessie Smith with six numbers (more than anyone else), Vernon Duke, Billy Strayhorn, Duke Ellington, Willard Robinson, Ida Cox, Alberta Hunter and more.
Social consciousness does appear often, if not as fully developed social theory. Yvette Cason as the older music hall diva, the Lady from the Road, likes to practice her big numbers in the hopes that she'll be hired again, but grouses about "TOBY"—the Theatre Owners Booking Association, which she re-christens "Tough On Black Ass."
Jimmy Cox's 1923 song "Nobody Knows You When You're Down and Out" is included (I hadn't thought of it as a blues but apparently it is), performed here slow and steamy, with a firm grasping gesture on the line "So if I ever get my hand on a dollar again, I'm gonna hold on to it 'til them eagles grin." The three women harmonize like the obsidian mirror of the Andrews Sisters. The theme of money comes up again and again. In "Four Walls (and One Dirty Window) Blues," the singer says, "My head is like my wallet / There's nothing left but memory."
"I want…a man that loves to work" goes another lyric in Alberta Hunter's "Rough and Ready Man." "Folks I'm looking for a worker—not you / I want an extra special kind / When I get the type of man I want / I know I'm gonna have a little time / Got to be ambitious, a man that loves to work / I don't want no man that's lazy, no man that tries to shirk / I want a two-fisted, double-jointed, rough and ready man / I want a hard working, no shirking, good and steady man." Such a man "can be a backwards farmer or a digger in a ditch / He can even drive a garbage wagon." These women did not require limousines and tuxedos; they simply wanted the stability of a dependable income, the dignity of a normal home life, and a decent father to her children.
Vocal delivery is all-important to Epps, and these four artists are simply Meistersingers of the genre. I would go so far as to say that with their attentiveness to articulation and meaning of words, their note-perfect pitch, and their poetic approach, these tunes—many of them anyway—achieve the status of art song. I know they might not have been conceived quite that way, but neither were folk songs that composers lifted into the canon with no more than a simple piano arrangement.
Movement and gesture are employed in every number. Each of the women, occupying her own little hotel room (evocative scenic design by John Iacovelli), steps out to center stage to amplify her thought, often engaging with Mr. Gregory or the other women. Dance is required, as so many of these songs are dance forms ("New Orleans Hop Stop Blues" and "Stompin at the Savoy," for example). Gowns, robes, fans and other props (costume design by Dana Woods) contribute to the swirling visual impression. It becomes one of Epps's directorial tics that every number concludes with a fade or silhouette capturing the cast in a held pose as the music ends.
If owning your sadness can be a healing dose of reality, there's another sweet memory that gets these four characters' spirits up: Sex. The basic feeling is "If you want me for your own, / Treat me right or leave me 'lone." But "treating me right" can get shamelessly explicit and raunchy, as anyone knows who's delved into the Bessie Smith catalogue. Leola and Wesley Wilson's "Take Me for a Buggy Ride" is more than suggestive: It's an unexpurgated fantasy of an uninhibited lovemaking session with smirking innuendos. "Wild Women Don't Have the Blues," by Ida Cox, is another such number, employed by Mr. Gregory to seduce women out of their bluesy torpor. And my heavens! What Andy Razaf and Wesley Wilson have that "Kitchen Man" cook up with every conceivable reference to meat and sausages to please his lady for hours on end!
There is not a weak link in the show. For me, a highlight was Bessie Smith's "Wasted Life Blues," in which the Lady from the Road turns the pages of her scrapbook and wonders, "What will my end be?" It's a mad scene from a blues opera yet to be written.
The well-known song "I Gotta Right to Sing the Blues," by Harold Arlen and Ted Koehler, wraps up the show with all the cast members. Finally a new sense of resolution breaks the resignation that characterizes most blues songs as the performers affirm that they're going to change their loves to live the lives they dream.
Music director Abdul Hamid Royal has put together a smoking hot band led by pianist Lanny Hartley, with Kevin O'Neal on bass, Randall Willis and Louis Van Taylor on reeds, Lance Lee on percussion, and Fernando Pullum on trumpet. A theatrical haze over the set suggests a warm nostalgia for times gone by.
Blues are the cry of a people in pain, and new verses are written every day. These classics, blissfully performed to exquisite perfection, are gems of the American songbook that are a joy to know.
Blues in the Night plays through May 27, Tues.-Fri. at 8 pm, Sat. and Sun. at 2:30 and 8 pm (only 2:30 on May 27) at the Wallis Annenberg Center for the Performing Arts, 9390 N. Santa Monica Blvd., Beverly Hills 90210. Tickets can be purchased at the Box Office, or by calling (310) 746-4000 or at the Wallis website.