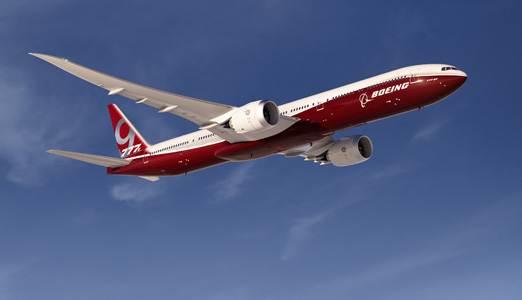 SEATTLE (PAI)-Members of the International Association of Machinists in the Pacific Northwest are voting today on an 8-year contract extension offer from Boeing that many are unhappy with.
Boeing is in a strong position with its offer after having taken advantage of corporate ability to play one state or locality off against the other. After much maneuvering by the company 22 states have told the company that they want it to locate work now done by Washington State workers in their states. Most have offered tax breaks and other enticements to lure Boeing into their states.
Despite this, IAM President Thomas Buffenbarger has told his memebers that two days of bargaining in mid-December between the union and the company produced a new offer with "amended terms and additional money," compared to the company offer the workers rejected in November.
Avoiding a full-throated endorsement, Buffenbarger asked the 31,000 workers the extension would impact "to give it your fullest consideration." If members approve the extension, the new IAM-Boeing pact would end in 2024.
Buffenbarger warned that Boeing would indeed move production of its new 777X passenger jetliner out of the Pacific Northwest, costing thousands of well-paying union jobs. And Boeing promised to keep 737X production in the Pacific Northwest and to move jobs there from Wichita, Kansas.
"Some may believe this is a 'fake' play by the company. Your union, based upon information that indicates otherwise, must take the threat seriously. Given the legalities …and the fact that several states have tendered serious offers and incentive packages to the company, the timeline for the Puget Sound area is expiring," his letter warned.
Workers, of course, are well aware of offers to Boeing that have come in from around the country.
Missouri lawmakers, for example, have approved a $3.5 billion tax incentive package to lure between 2,000 and 8,500 777X factory assembly jobs to St. Louis, the St. Louis Labor Tribune has reported. Boeing already employs 13,000 union workers at a military aircraft plant in St. Louis.
Boeing's new offer to IAM "assures all 777X production, wings, sub-assemblies and wiring will be performed in the Puget Sound area," Buffenbarger wrote. "The total value of the new improvements to the contract offer adds more than $1 billion to the previous offer. I believe this represents a "significant" improvement worthy of the membership's consideration. The total value of the company's current proposal is nearly $5 billion as of today's calculations."
Buffenbarger called Boeing's new offer "a historic moment for the Machinists, Boeing and the Puget Sound community." He thanked "a large number" of Machinists for their comments, and added another reason for the vote: To have IAM members, not federal courts or the National Labor Relations Board, order a new round of balloting. So Buffenbarger ordered the new vote in a Dec. 20 telephone call to IAM District Lodge 751 President Tom Wroblewski.
In November, IAM's Boeing workers voted down the 8-year contract extension by a 2-to-1 margin. Pensions were the big issue, Wroblewski said then. And company-provided charts showed workers' health insurance premiums would double in 2016.
"The democratic process worked and our members made the decision to not accept the company's proposal," by a 2-to-1 ratio, Wroblewski said then. "We preserved something sacred by rejecting the Boeing proposal. We've held on to our pensions and that's big. When financial planners are talking about a 'retirement crisis' in America, we preserved a tool that will help our members retire with more comfort and dignity."
John Wojcik contributed to this story.
Photo: Artist's concept of the 777-9X provided by The Boeing Co. from the new family of 777X jetliners. AP