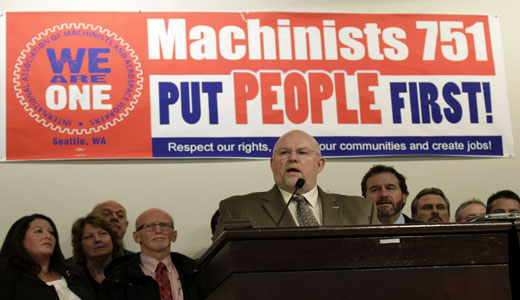 Controversy over the recent, narrowly ratified eight-year contract extension between the Machinists and Boeing, covering 32,000 workers in the Pacific Northwest and Wichita, Kansas, will be a key issue in a Labor Department-ordered rerun election for the union's top jobs.
That vote could see the first real challenge to IAM president Tom Buffenbarger and his slate. It begins with nomination meetings in Machinists halls on Jan. 25. Lodges then pick from among nominees, by majority vote in each lodge, on Feb. 8.
Jay Cronk, a mechanic for New York's Metro North commuter railroad and a former top staffer at the Machinists' headquarters in the D.C. suburbs, heads the "IAM Reform" slate. Karen Asuncion, a 30-year United Airlines ramp services worker at Washington's National Airport, and Pat Maloney, a Machinist at Boeing's Gresham, Ore. plant who opposed the contract extension, seek two of the eight VP slots.
Cronk, Asuncion, Maloney, and their allies need endorsements in the Feb. 8 meetings from at least 25 of IAM's 800-plus local lodges to set up an actual contest.
Asuncion tried for an officer's spot before, then alerted the Labor Department to election process problems. The Department of Labor investigated and ruled that notice for nominations went out too late. The agency ordered, and will supervise, the re-run.
Already, the Boeing contract extension is a big issue, Maloney told the Northwest Labor Press. Buffenbarger sought and got a rerun vote on a modified version of the extension after the workers rejected the original – which froze traditional pensions for current workers and barred them for new hires – by a 2-to-1 margin.
The extension rewrite passed by 51 – 49 percent, over unanimous opposition of Local Lodge 751 leaders. The negotiating pressure was enormous, so much so that local president Tom Wroblewski said it wrecked his health. He's retiring Jan. 31.
Cronk says the contract extension was "very badly mishandled," the Labor Press reported. "They got themselves involved absent any input from the local leadership, and made commitments to Boeing they couldn't deliver. I wouldn't have brought that offer to members."
Maloney told the Labor Press he was already concerned about IAM leaders' decisions, but the contract pushed him in. "Commercial air manufacturing and use is in a boom time right now. We should never accept concessionary agreements when the economy is good," he said. The Boeing contract "radically severs the whole solidarity process," and destroys trust between members and the leadership, he added.
Photo: Tom Wroblewski/AP