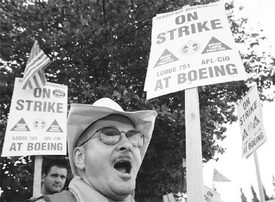 Over 18,000 aircraft workers in Seattle, Portland, Ore., and Wichita, Kan., hit the picket lines Sept. 2 rather than accept takeaways insisted on by Boeing Corporation. The company took in $1.87 billion in profits last year, International Association of Machinists spokesperson Connie Kelliher told the World.
"This strike is not about economics, but a corporate strategy to break the workers who have built this company. There is no reason for any takeaways and the contract [Boeing's proposal] is filled with them," said Mark Blondin, president of Machinists District 751, which represents the Boeing workers. "Boeing profits have tripled in the last three years."
Boeing's proposed takeaways included tripling of health care premiums, eliminating health care coverage for future retirees, the smallest yearly pension increase — six bucks — since the pension plan was established in 1955, and higher medical co-pays and deductibles.
In what Kelliher called a "divide and conquer" tactic, the company proposed a separate deal for 950 Wichita workers that would leave them out of any increases in COLA or wages or pensions or bonuses.
The company's proposal also called for requiring machine operators to run up to four machines. Currently, operators run one machine, said Kelliher.
Blondin stated, "This is the same fight across America to maintain the standard of living for working families who generate profits for the corporate elite. Those at the top are not giving back, and neither should our members."
Members echoed his sentiment on a web site set up for rank-and-file input. "All we are asking is for a contract that will allow us to afford to keep up with the ever increasing economy. That is not too much to ask when Boeing is getting a lot of orders and making great profits," wrote Margaret P. She concluded, "I am prepared to strike as long as it takes, rather than settle for less than we deserve."
Another member, Robert M., used the site to express concern for the hurricane victims. "I want the Union to donate my strike pay to the hurricane victims fund," he wrote. "If you can't, please let me know and I will do it. Thank you."
This response was not surprising to union spokesperson Kelliher. "Our people are huge on community service even in normal times," she explained, adding that the union's community services committee has ongoing projects to build wheelchair ramps for the disabled and to provide food for the needy. "Right now we're having a blood drive and volunteers are stuffing baskets for hurricane victims." Several strikers have gone down to New Orleans to help out.
As for the strike, "Our lines are strong," said Kelliher. "Our people have a lot of resolve."
PAI contributed to this story.