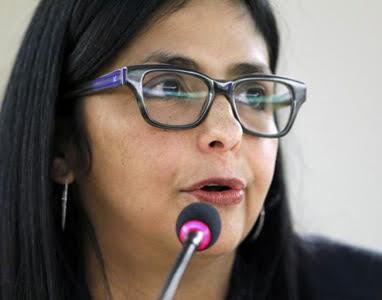 For over a year, the left-wing Venezuelan government of President Nicolas Maduro has been battling for its life. But it and its "Bolivarian" support base are not giving up.
The sudden and dramatic worldwide drop in oil prices has hit Venezuela hard. Maduro, and his predecessor, the late President Hugo Chavez, had used the country's ample revenues from petroleum sales to greatly improve the living standards of the mass of Venezuela's 30 million people. But now, oil is selling at only $3 a barrel more than it costs to produce it, the price having dropped from $100 a barrel in to $30 a barrel today. It is small comfort for Venezuela that the same sort of thing is happening in all the poor countries that had been surviving until the commodities glut on the sale of oil and similar items.
The drop in oil prices has led to shortages of items which Venezuela does not produce or manufacture itself, because it has become much harder to import them. For example, Venezuela imports 24 percent of its food, and it is no easy matter to make up for the lost imports by increasing the country's own agricultural production. Venezuela is a highly urbanized country.
Also, this situation, combined with a dysfunctional exchange rate regime that actually encourages smuggling Venezuelan products out of the country, has led to rampaging inflation. The government sees speculators and smugglers, along with businesses aligned with the opposition, as sabotaging the economy, and this is also very possible, since wealthy private businessmen control most of retail trade.
Many of the problems have been exaggerated in the corporate owned press in the United States and internationally. For example, the inflation rate is NOT "700 percent" but more like 181 percent, and eggs are NOT selling for "$150 a dozen" in Caracas. Nor is the health care situation nearly as bad as we read about in our newspapers in the United States. There are shortages of such medicines and supplies as have to be imported, but there is not some sort of massive die off of babies in Venezuelan hospitals. These things are just propaganda lies, but the problems are real enough, and the government's situation is very, very tough.
This combination of factors led to a major defeat for the ruling Great Patriotic Pole, the united front that includes Maduro's Venezuelan United Socialist Party, in the legislative elections of December 6, 2015. The right-wing opposition managed to get a supermajority of seats in the National Assembly, and since then have not paused in their attempts to push Maduro from power and dismantle the progress the country has made since the first election of Hugo Chavez in 1998. The Venezuelan right also is determined to work with other right-wing governments, and with the United States, to dismantle the Bolivarian "pink tide" of left-wing governments that has swept Latin America for the past 17 years.
Currently, the effort of the right within Venezuela is focused on promoting a recall referendum to remove President Maduro from office. I will write more on the details of that effort in another article.
At the international level, the Venezuelan right has been trying to marginalize Venezuela within the Latin America-Caribbean context. The lead in doing this has been taken by the right-wing government of Paraguayan President Horacio Cartes. More recently, he has been joined by Luis Almagro, the Secretary General of the Organization of American States (OAS) and by the new foreign minister of Brazil, José Serra. Serra has been trying to marginalize Venezuela in MERCOSUR, the South American Common Market, where Venezuela was supposed to take up the revolving chair function this month.
At the same time, at the urging of UNASUR, Maduro has offered to sit down and negotiate with the opposition, with former Spanish Prime Minister José Luis Rodriguez Zapatero, former Dominican President Lionel Fernandez, and former Panamanian President Martin Torrijos as mediators. Maduro is willing to do this with no preconditions. The three leaders who have volunteered as mediators are none of them close to either the Bolivarian movement or the right-wing.
So in the OAS, Secretary General Amagro dramatically announced that he was going to invoke articles 20 and 21 of that nation's charter to call for a suspension of Venezuela's voting rights. This "democracy clause" in the OAS charter is intended to be invoked when there is a coup d'état, military or other, or when people in power illegally suppress opposition activity.
Almagro's basis for promoting this use of the democracy clause is based on rather specious arguments. One complaint he has advanced is that the jailing of a number of people after rioting in 2014, instigated by the right-wing opposition itself, led to 143 deaths, mostly of supporters of the government, security personnel or bystanders, constitutes a breach of the democratic order. The people jailed include one high profile opposition politician, Leopoldo Lopez, and one man captured in Colombia and extradited to Venezuela on terrorism charges, Lorent Saleh. Opposition parties and press have not been suppressed, and the jailed individuals were convicted by normal process of law for activities that would get you sent to the slammer in almost any country. Leopoldo Lopez had openly instigated violence that turned deadly, and Saleh was credibly accused of terrorism not just by the Venezuelan government but also by the conservative government of Colombia.
Another beef of Mr. Almagro was that the Venezuelan Supreme Court had ruled that a number of measured passed by the National Assembly since the right-wing took it over were unconstitutional, among them an amnesty which would have freed Leopoldo Lopez and Lorent Saleh. Another law the Court rejected as unconstitutional would have retroactively reduced the length of Mr. Maduro's term. But how the Supreme Court rules on legislation is not the basis for claiming that a breach of the democratic constitutional order has taken place, in Venezuela, the United States or anywhere.
Another complaint was that Venezuelan authorities are taking too long to process signatures on petitions for the recall of Maduro. But the clock has not run out on the process, and besides, the Venezuelan government complains that the opposition handed in a lot of signatures of people who are deceased or do not exist, so doing a careful check is necessary and appropriate.
Venezuelan Foreign Minister Delcy Rodriguez firmly rejected Almagro's accusations and his attempts to use the OAS as a means of attacking her country and interfering in its government. She rounded on the Paraguayan foreign minister, Oscar Cabello Sarrubi, whose government has been a major instigator of attacks on Venezuela, for his hypocrisy: "How can a government that came to power through a coup speak about democracy? How can authorities tied to Alfredo Stroessner's dictatorship speak about democracy? With what moral compass are you speaking about Venezuela? Enough with the double standards!"
Alfredo Stroessner was the bloodthirsty military dictator of Paraguay from 1954 to 1989. The current Paraguayan government includes many figures connected to the old Stroessner dictatorship; it came to power in a "soft coup" against left-wing President Fernando Lugo in 2012. After a brief interim government, President Horacio Cartes was elected in 2013; since then he has been suppressing disaffected peasants whose land his allies have been transferring to big landowners connected to Stroessner's and Cartes' Colorado political party. There are widespread accusations of human rights violations and corruption.
The matter in the OAS has not yet been decided, although Almagro was allowed to present his accusations to a special session. The opposition in Venezuela has now grown balky on the subject of participating in a dialogue with the government, adding new demands before it will sit down at the table with Maduro. One of the demands is that more Latin American "ex presidents" be brought into the group of mediators. It may be that the opposition won't negotiate seriously as long as it has a chance of getting its way at the OAS But so far, other OAS member states seem cool to the idea of going further with the Venezuela matter.
Meanwhile, the new right-wing government in Brazil, itself of shaky legality and no legitimacy after its "soft coup" against the legally elected president, Dilma Rousseff, is going after Venezuela in MERCOSUR. Brazilian "interim" foreign minister José Serra is trying to block Venezuela's assumption as revolving chair of MERCOSUR. Once more Delcy Rodriguez blasted Serra for his government's hypocritical antics: "The Bolivarian government of Venezuela rejects the insolent and immoral declarations of the de facto foreign minister of Brazil", she tweeted, making a biting reference to the widely denounced illegitimacy of the current Brazilian regime.
This is heroic and hemispheric hypocrisy. Just about every right-wing government in the Americas can be accused of far worse violations than Venezuela. Massacres of teachers in Mexico, murders of environmentalists in Honduras-the list goes on, but people like Almagro and Serra say nothing. This does not exclude the United States, as Delcy Rodriguez pointed out, with our vote suppression, the Citizen's United Supreme Court ruling that allows corporations to buy elections, and our police suppression of minority communities.
However, there are two pieces of positive news. In spite of the hostile attitude that the United States has been displaying toward Venezuela, Rodriguez and Secretary of State John Kerry did have a meeting during the OAS special session, and Kerry stated afterward that the United States supports the dialogue process that Maduro is promoting.
Also, the rains came, filling Venezuela's reservoirs and ending a period of strict rationing of electrical power that had Venezuelan government workers doing two-day work weeks.
Photo: Venezuelan Foreign Minister Delcy Rodriguez. PSUV