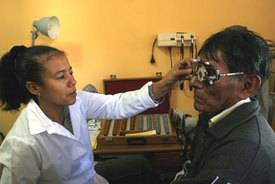 Three months into a seemingly quiescent presidency, Bolivian President Evo Morales has staked out banners of change for Latin America.
On April 29, Bolivia joined the Bolivarian Alternative for the Americas (ALBA), a year-old alliance between Cuba and Venezuela aimed at fostering hemispheric unity and social justice. Then on May 1 Morales nationalized Bolivia's natural gas industry.
ALBA contains agreements on commodity trading, sharing of scientific and technical expertise, diffusion of health care and education, and new banking, credit and tariff arrangements. It promotes cultural development, sports and food security.
Morales called for ALBA to take on "People's Trade Agreements" as the counterpart of so-called free trade agreements Washington has signed with nine Latin American nations.
The formalities of Bolivia's accession to ALBA took place at the Convention Center in Havana, with Morales, President Hugo Chavez of Venezuela, and President Fidel Castro in attendance. Later, each of them addressed 25,000 invited guests gathered in Havana's Revolution Plaza.
Two days later Morales proclaimed the nationalization of natural gas resources: "The time has come, the awaited day, a historic day in which Bolivia retakes absolute control of our natural resources. … The looting by the foreign companies has ended." The setting was a gas field in southern Bolivia operated by the Brazilian state conglomerate Petrobras. Flags were unfurled, and troops moved in. They also occupied 55 other facilities in the country.
The "Heroes of El Chaco" decree, named for 50,000 Bolivians who died defending natural resources some 80 years ago, calls for state control of gas extraction and distribution, not for outright confiscation. The soldiers' job is to assure that data on assets remain available for negotiations taking place over the next 180 days.
Foreign companies will transfer 82 percent of their revenues from large fields to Bolivia's state oil company Yacimientos Petrolíferos Fiscales Bolivianos (YPFB). They now pay 50 percent, and revenues are expected to increase from $460 million in 2005 to $780 million in 2007. Owners of recently privatized companies will transfer 51 percent ownership to YPFB. If compensation packages and contracts for foreign companies to become service providers do not emerge from upcoming negotiations, the companies will leave Bolivia.
The nationalization decree was celebrated at May Day rallies throughout the country. Demonstrations staged by Morales' opponents on the left fizzled as the government seemed now to be making good on two key pre-election promises, nationalization of natural resources and a new constitution.
On July 2, Bolivians will elect representatives to a constitutional convention. Evidence of progress toward nationalization may give Morales forces a leg up at the convention, especially in the battle over indigenous rights.
Morales dropped one more bombshell: he said the gas fields were "just the beginning, because tomorrow it will be the mines, the forest resources and the land." Vice President Alvaro Garcia Linares declared on May 2 that landless peasants would gain access to large, underdeveloped land holdings and that violations of conservation laws by corporations would be punished. The government apparently has its eye also on railroads.
Spain's foreign minister expressed his "deep concern" over the nationalization decree. Spain's Repsol energy group controls 25.7 percent of Bolivia's gas production, and Spanish Prime Minister Jose Luis Rodriguez Zapatero has hinted that aid to Bolivia may be cut.
Brazil has shown restraint. Petrobas controls $1.5 billion worth of investments in Bolivia, works half of Bolivia's natural gas fields, and supplies Brazil with half of its natural gas imports. The Bolivian government in turn derives 33 percent of its revenue from Petrobas operations that account for 70 percent of Bolivia's gas exports.
According to Brazilian President Luiz Inacio Lula da Silva, "There is no crisis. … I'm sure that we will come to an agreement." The Bolivian action is "a necessary adjustment for a suffering people," he said.
The presidents of Bolivia, Brazil, Argentina and Venezuela met May 4 in Argentina. In a joint statement the leaders affirmed Bolivia's "sovereign right" to exert control over natural resources and that upcoming bilateral negotiations would determine the role of foreign companies in Bolivia and details of compensation.
In all, some 20 foreign companies are affected by the nationalization decree, including BP, British Gas, Exxon, and the French company Total. So far, the U.S. government has said little about the developments.