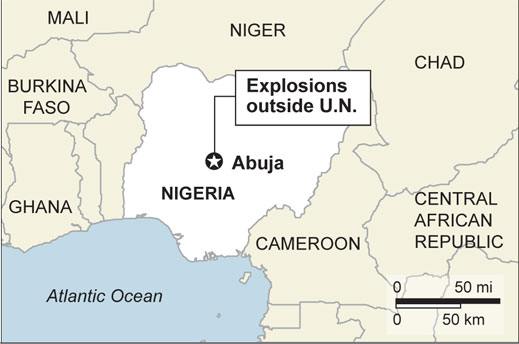 Partially destroyed by a bomb on Friday, the UN complex in Nigerian's capital Abuja employed 400 people. Boko Haram (BH), a group of Islamist militants operating in northern Nigeria, claimed responsibility for the suicide bombing that destroyed most of the ground floor when a car exploded at the main entrance.
Northern Nigeria, united politically before 1967 as one of three federal divisions, is the more arid and sparsely populated half of the country where most residents are Muslim and large numbers are Hausa-Fulani. Along with the Igbos and Yorubas, they are one of the three ethnic groups dominant in the country.
While active since the 1960's, Boko Haram gained attention in 2002 after initiating attacks against police officers in the northeastern Yobe State. Similar groups also favor the introduction of Sharia law, which is already in place in twelve of Nigeria's thirty-six states. In February BH postered buildings in Maiduguri with statements that they engaged in attacks there to 'establish the Sharia system of government in the country.'
Boko Haram has also had a distinctive focus on opposition to Western cultural institutions, principally secular Western education. And it opposes the lack of enforcement on alcohol bans in many Sharia-governed jurisdictions.
In recent years, most attacks have taken place in Borno State, another northeastern jurisdiction, but over the summer there has been increasing aggression toward targets in the states of Bauchi, Kano and Katsina.
Traditionally, BH focuses on the security forces and government of Nigeria itself. As well, the country has witnessed a shift toward targeting symbols of foreign and Western influence such as Abuja's international hotels, Christian religious sites and sites of international organizations such as NGOs and the UN. Foreign journalists have been attacked.
Influenced by Islamist ideologies, the group's aims and motives recently appear to be more internationally oriented. Some observers say they may be collaborating with al-Qaeda in the Islamic Maghreb (AQIM) or other groups, and there are allegations of links to northern politicians who benefit from the violence or wish to destabilize the national government. One southwestern state governor, Kayode Feyemi, has alleged that the group is in fact "a creation of northern politicians who were bent on holding on to power."
However, analysts also point to the role of poor governance and socioeconomic conditions in Nigeria as indirect causes of these and similar sectarian tensions, and rates of poverty are higher in many parts of the north.
Conflict studies scholar Nathanial Danjibo, says that even students from affluent families in northern Nigeria "roam in the streets" and must often resort to begging, making them "vulnerable to social vices [such as] being a ready-made army that can be recruited to perpetrate violence."
The region also has a history of imposed cultural protectionism: British colonial authorities, collaborating with the ruling Northern elite, built few Western schools there. This has been identified as helping create an environment where "Christian evangelism and even academic research are … perceived to be part of the agenda of Western imperialism."
While the international community and Nigeria itself have condemned Boko Haram's attacks, human rights groups have also accused the Nigerian government's military response as brutally disproportionate, featuring indiscriminate killing of civilians, even extra-judicial killings, and torture.
"Boko Haram must stop its reign of terror in the country," said Tawanda Hondora, an Amnesty International official commenting on the violence in June. The Nigerian government must address the violence by "investing heavily in reforming the criminal justice system', she added, which 'subjects thousands to human rights violations," said AI's accompanying press release.
In July, lawmakers in Borno state also condemned the national government's military responses, and its governor Kashim Shettima admitted that the "excesses of the [Nigerian military], who are operating under a very tense environment" need to be "curtailed" through a new code of conduct.
Nigeria has an extensive history of political corruption, though international media reported comparatively less fraud and violence during the election of President Goodluck Jonathan last May. Nevertheless, his administration continues to face criticism, importantly including his management of the Economic and Financial Crimes Commission, a key anti-corruption agency.
"The country's governing elite continues to squander and siphon off the nation's tremendous oil wealth, neglecting basic health and education services for the vast majority of ordinary citizens," said a Human Rights Watch press release on Thursday.
Nigeria is a significant producer and exporter of oil, but is plagued by the ongoing conflict in the oil-rich Niger Delta, a site of tension between competing ethnic groups, foreign oil companies, and government security forces.
In 2009, violence between BH and Nigerian security forces in four northeastern Nigerian cities left 800 people dead. It is estimated that the wider Sharia conflict in Nigeria has killed 10 thousand people since 1953 and displaced thousands more.
AP image