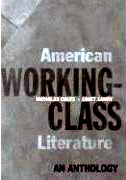 In his poem "A Worker Reads History," Bertolt Brecht wrote:
Who built the Seven Gates of Thebes?
The books are filled with kings.
Was it kings who hauled the craggy blocks of stone?
In the last 50 years or so, much has been uncovered about the role of working people in creating our history and culture, but much remains to be discovered.
With the publication their new anthology, "American Working-Class Literature," Nicholas Coles and Janet Zandy and Oxford University Press have made a major contribution to uncovering literature by and about American workers.
There have been other anthologies of American working-class literature like "Proletarian Literature in the United States," "New Masses Anthology" and "Writing Red," but this new anthology is undoubtedly the most comprehensive collection of U.S. working-class literature ever published. There is no way to do justice to this rich book in a short review.
Previous anthologies have tended to focus on the proletarian literature of the '30s. This 960-page volume includes more than 300 works from the Colonial Era to the present.
In their introduction, the editors carefully define the three words in the title: American, working class, and literature. "American" literature is defined as literature that was "produced or published in the territory that now comprises the United States," which suggests that "U.S. Working-Class Literature" might have been a more appropriate title.
Quoting the Marxist economist Michael Zweig, they define the "working class" as "people who share a common place in production. … They produce the wealth of nations, but receive from that wealth only what they can buy with the wages their employers pay them."
"Literature" is defined broadly to include poetry, novels, short stories, autobiographies, dramas, reportage, letters, speeches, manifestos, oral histories and songs. The editors write, "An important claim of this book is that the working class is not only a class that works — that produces goods and services; it is also a class that produces culture, including literature."
The book is generally organized chronologically, and the seven chapter headings give some idea of its contents and themes: "Early American Labor, Hard, Bound, and Free, 1600s-1810s"; "New Kinds of Work, Old Practices, 1820s-1850s"; "Beneath the Gilded Surface, Working-Class Fictions and Realities, 1850s-1890s"; "Revolt, Repression, and Cultural Formations, 1900-1929"; "Economic Depression and Cultural Resurgence, 1930s"; "Affluence, Cold War, and the Other America, 1940s-1970s"; and "The New World Order and Its Consequences, 1980s-2005."
Each chapter has an introduction, putting the chapter's selections in historical context and highlighting key themes.
Occasionally, recent works are included in chapters dealing with a specific historical event. For example, Mary Fell's 1983 poem about the 1911 Triangle Shirtwaist Fire is in the chapter covering 1900-1929.
Like Mary Fell, many of the recent writers were unaware of the earlier literature about those events, which shows why an anthology like this is so important. Up until now, much of this literature has been buried and forgotten.
Although the selections span four centuries, common themes emerge. As the editors write, "Through often-lyrical and feisty language, these workers witness the conditions of working-class lives, the power of resistance, and the necessity of struggle — not only in a political or labor context, but also in the dailiness of 'making do.' These voices emerge despite efforts to silence them through strikebreaking, militias, red-baiting, corporate dominance and political unwillingness to name the class that … encompasses the majority of Americans."
In addition to selections by anonymous and little-known authors, the anthology includes selections by writers who will be known to many readers of the People's Weekly World, including Frederick Douglass, W.E.B Du Bois, Jack London, Upton Sinclair, Woody Guthrie, Mike Gold, Tillie Olsen and others.
Hopefully, the excerpts in this anthology will inspire young people to read classic novels like "The Jungle," "Jews Without Money" and "The Grapes of Wrath."
The book is designed in part as textbook for use in academic settings, and it will be a useful addition to courses in U.S. literature, cultural and working-class studies, U.S. history, and labor history. Teachers and professors in those fields should consider adding this book to their reading lists and urge their libraries to purchase it.
But the book is not just for academics and students. It is for anyone who wants to read literature by and about the U.S. working class. Such readers will also be pleased by the illustrations and photographs that grace the book's pages.
Unfortunately, some community libraries have refused to order the book on the grounds that it is "too academic." The notion that working-class literature is "too academic" is ridiculous, but it is part of the effort to silence the voices in this anthology.
Urge your library to order this book. If they won't order it, ask them to get it through an interlibrary loan. This is a book that belongs in every public library.
American Working-Class Literature: An Anthology
Edited by Nicholas Coles and Janet Zandy
Oxford University Press, 2006
Softcover, 960 pp., $52.95