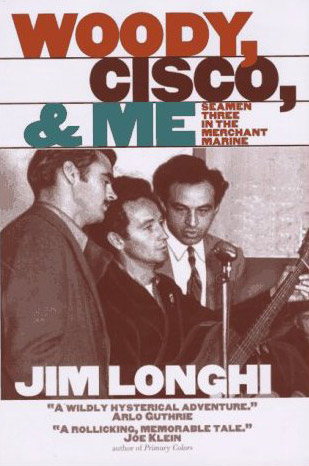 July 14th is the 100th birthday of Woody Guthrie. This seems a good time to review a remarkable book that covers one of the least-discussed periods of Woody's life. In the process, it illuminates Guthrie's courage, character and humanity. And, it's a great read!
Jim Longhi shipped out with folk singers Woody Guthrie and Cisco Houston in the Merchant Marine during World War II. In 1994, he wrote of their experiences in Woody, Cisco and Me. Longhi explains why he wrote the book. "Neither Woody nor Cisco had to go to war… but they volunteered for the Merchant Marine. Millions know Woodie Guthrie the 'national possession,' but very few know Woody Guthrie the war hero. He and Cisco, besides performing other deeds under fire, risked their lives to save mine. Their story must not die with me."
First of all, this is a great tale. Longhi writes with a self-deprecating wit that brings to life service in the Merchant Marine, which had more dead, proportionately, than all the other war services combined. Along the way, we catch glimpses of radical New York life in the 1940s; a worm's eye view of the sailors, many shipping out for the first time, who manned the ships, and of the soldiers they carried to war; the workings of the National Maritime Union, the boisterous, radical seamen's union founded only a few years earlier and struggling to maintain its democracy against encroaching gangsters; the desperate poverty in the port cities of Belfast, North Africa and Sicily; the tension of sailing in a vast convoy with Nazi submarines picking off ships and the experience of being torpedoed (twice) and surviving.
This all sounds terribly serious, as indeed it was. But Longhi tells the story mainly through anecdotes that had me roaring with laughter and eager for the next page. And through these anecdotes Cisco Houston and Woody Guthrie, but especially Woody, come alive in a way that more formal biographies can't match.
Woody's brilliant stratagem for calming the fears of the ship's crew during a storm at sea.
Woody, serving as messman, convincing the crew that the same old ship's chow was gourmet dining.
Breaking the segregation barrier to bring black and white troops together on board the ship.
Breaking up a gambling ring that was stealing the troops' pay.
Overcoming language and religious barriers to hold classes in unionism for dock workers in North Africa.
Rescuing a trapped seaman from the hold of a sinking ship.
We get a picture of Woody as intensely human, someone with a deeply felt connection with ordinary people everywhere. And we get a glimpse of an amazing time in American history.
It won't be easy finding a copy. The book is out of print, but used copies are available online for about $10.00. My local library does not have it, but it is available through interlibrary loan. It may take some effort to read this book, but it will be worth it.
Book Review
Woody, Cisco and Me: Seamen Three in the Merchant Marine
By Jim Longhi
1997 , University of Illinois Press