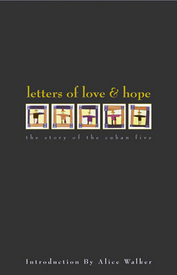 Cuban poet Nancy Morejon provides an introduction for this slim volume of letters, poems, drawings, photographs and diary excerpts exchanged between five U.S.-imprisoned men and their family members in Cuba. Readers, she predicts, will cross a "threshold of feelings [into] a vast edifice built on the foundation of dignified sacrifice and profound moral values." And we do.
Antonio Guerrero, René González, Fernando González, Ramon Labañino and Gerardo Hernández, known now as the Cuban Five, were monitoring terrorist plotting by right-wing Cubans in Florida when they were arrested in 1998. They are waiting for an appeals court decision on their flawed trial. Their unjust imprisonment has spurred a worldwide campaign to free them.
U.S. writer Alice Walker provides poignant introductory remarks in which she invokes the memory of African families torn apart by slavery and the contemporary reality of African American parents in prison, separated from families, because of racial and class oppression. Appeals attorney Leonard Weinglass summarizes the prisoners' case.
The book is divided into sections, each with a description from one of the wives (in René González's case, from his mother) of police, court and prison encounters, followed by family correspondence. It first appeared in 2004 in Cuba as "El Dulce Abismo" (The Sweet Abyss), the title of a Silvio Rodriguez song.
Poetry from life experiences
Morejon states that "this poetry comes from life itself," from a grim reality, we might add, where survival mechanisms are tested and against which observations on values and purpose carry extra weight.
Humor has a role. Adriana Perez asks that future children "not be disorganized and a bad baseball player like you [Gerardo] or bad tempered like me." And they dream. Two of the couples plan for children, Adriana and Gerardo by rehearsing name possibilities, and Fernando and Rosa by securing a proxy marriage, where someone else stood in for Fernando at the ceremony.
Gerardo and the rest depend upon the "support we've received from our people and government, our relatives, and thousands of brothers and sisters worldwide." Irmita's school friends wait for her outside the court where she had gone to attend her father René's sentencing.
Adriana gives vent to a rare manifestation of anger: we are "victims of a cruel, refined, and sinister method of psychological torture. I have so much rage that I cannot cry." For the most part, however, the letter writers have a long view and are given to expressions of purpose.
Fernando González suggests to his wife Rosa that "to hatred we have to respond with love — love for Cuba, love for our people, love for Fidel … that love should and will be reflected in more love between us." Rosa replies, "It doesn't matter how long we have to wait, the truth will come out. … I continue to wait with the same love as always."
Family bonds remain strong
There is strength in family. Olga Salanueva writes, "There is no hatred in me because [the U.S. legal system] has not been able to destroy us. … After five years … we are still united and will always be a family."
To son Tony, Antonio Guerrero sends "giant, indestructible love" from "father to son … or what's best, best friend to best friend."
He continues, "I'd tell you always to be a modest person, willing to help anyone who needs it, and above all, be just. You'll need to study hard since knowledge will help you understand and shape the world around you." In school Tony is studying agricultural work. "You'll learn that people have to work to provide food," dad writes. "It's important to enjoy work and value its importance for society … the most important thing is that you be a generous person, since individualism and egotism aren't worth a thing."
Four-year-old Ivette hears from her dad René, "Studying will be all that society will ask of you [as a child]. … You'll grow up in the most just society the world has ever conceived."
This book is a must read for every Cuba solidarity activist and anyone who values love, hope, dignity and justice.
Letters of Love and Hope – the story of the Cuban Five
Introductions by Alice Walker and Nancy Morejon; commentary by Leonard Weinglass
Ocean Press (www.oceanbooks.com.au), 2005
Softcover, 200 pp., $16.95