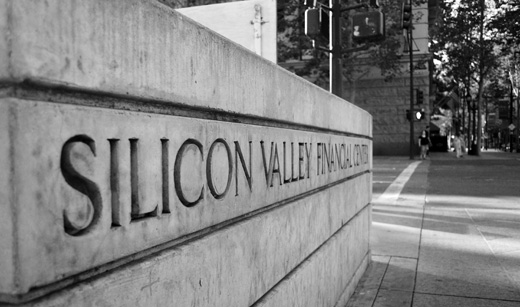 BURLINGAME, Calif. — California's Silicon Valley, in the Bay Area, has added tech sector jobs recently that have helped raise national employment levels. However, those most hurt by the nation's economic bust of 2008 seem to be losing out. While fueling a new source of profits for Wall Street, working families here are not enjoying the benefits of the region's economic resurgence.
The end of the dot-com bubble of the late '90s undercut much of the expectation of the high-tech economy being "immune to economic cycles." The ensuing bust in 2001 triggered a national recession and many bubble-fueled personal fortunes were lost as rapidly as they were gained. High-tech business culture shifted away from earlier Gold-Rush-level enthusiasm, leaving a few surviving companies to take over most of the main sectors.
Working families saw the greatest losses. Nonprofit organization Working Partnership, USA in its 2010 report "Life in the Valley Economy" found that in the wake of the tech recession "It wasn't until 2006-07 that Silicon Valley workers began to see a return to normality in job markets and wages. But just then, the national housing bust hit, followed hard on its heels by the financial crisis, erasing all the gains made during the recovery and then some."
The number of middle-income families in the area declined to 49.7 percent by 2010, reported the Public Policy Institute of California. Their study, "The Great Recession and Distribution of Income in California," noted that wide gaps in income distribution are a hallmark of the earnings picture in this state: "In California, the gap between lower- and upper-income families has been larger than in the rest of the nation for many decades and has tended to increase in recessionary periods. The Great Recession is no exception."
2009 marked the "official end" of the Great Recession, but today nearly 22percent of Bay Area families live below federal poverty levels. Hardest hit have been African American, Latino and immigrant families. Unemployment levels remain high in these demographics even with recent job gains in the Bay Area.
Higher education, often cited as a route to higher earnings in the tech sector, is no guarantee out of poverty in Silicon Valley. As reporter Martha Mendoza found, "Before the Great Recession, about 10 percent of people seeking food had at least some college education. Today, one in four who line up at food pantries for bags of free food have been to college."
Homelessness, meanwhile, rose to 20 percent by 2012 in Silicon Valley and the average rent for an apartment rose to $2,000 per month. Living costs are such that an income of $80,000 is required to just make basic living expenses for a family of four, yet many are struggling on much less.
Palo Alto, home to Stanford University, recently went so far as to pass a law that criminalizes homelessness, cloaking the law in a statute that would forbid anyone from using their car as a dwelling. Offenders could be charged with a misdemeanor that may result in a $1,000 fine or six months in jail.
Sales of high-end Bay Area homes, on the other hand, those costing $1.5 million or more, have increased to nearly 25 percent over last year, which had already seen expanding sales in this range. Rising home values have heated up the rental market while on the other end of the social scale, a number of families are one paycheck away from losing their apartments.
Investors are further driving up home prices, sinking capital into single-family homes to rent or to flip for resale. Companies are buying foreclosed properties at auction as well as on the open market, often outbidding families who cannot compete with the deep pockets of a firm who can make an offer well over the asking price. Areas hard-hit by the subprime loan crisis are being subjected to what the New Republic reported as "REO to rental." It is estimated that nearly 27 percent of rentals may now be held by absentee landlords on Wall Street. Findings show that 24 percent of home sales in the Bay Area in 2012 were purchased by corporations.
In an ironic twist, these home sales are now being bundled into Real Estate Investment Trusts (REITs), which function as a mutual fund for real estate holdings and return profits to investors from rents at a rate of 5-7 percent.
"Perhaps worst of all, Wall Street has begun to explore the option of securitizing the rental revenue, much in the way that they used mortgage-backed securities to ramp up capital in the bubble years. Three separate REO-to-rental trusts appeared on the market, under the administration of Wells Fargo, in the past couple months. These are non-public offshore trusts that are unregistered with the SEC, and in all likelihood have no credit ratings …" the New Republic concluded.
Those who lost their homes to the subprime crisis of the last decade may now find themselves renting from the same corporations that were bailed out in 2008, on the road to a potential new Wall Street bust based on yet another derivative-based market bubble.
Photo: christian.rondeau, CC BY 2.0