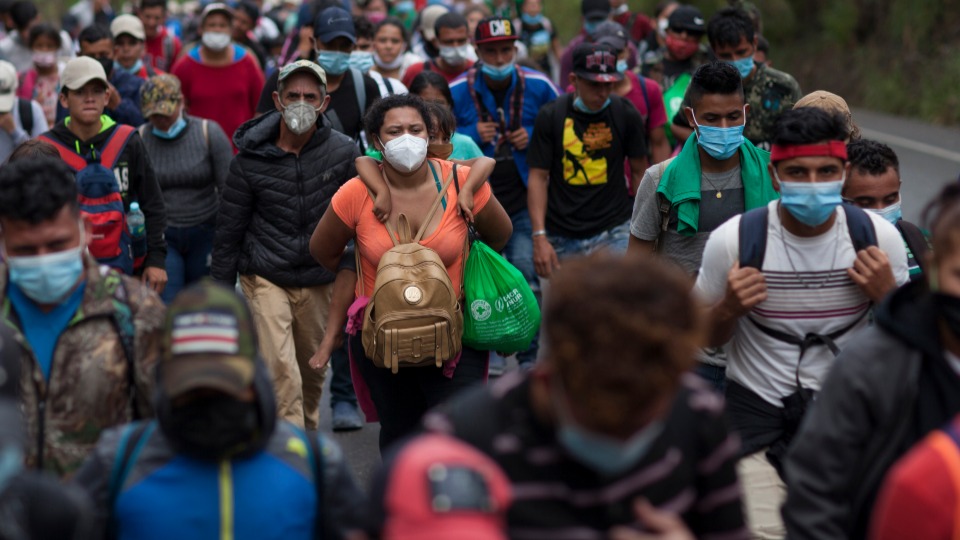 The coming of a spring season signifies new beginnings, quite like the transition from one presidential administration to another. And as with all things newly budding and beginning to bloom, some of the changes in Washington are gradual ones. President Joe Biden inherited a politically fractured nation and a Trump-sized mess, yet his first 50-plus days as president have scored advances on several fronts, most notably in response to the pandemic and the economic crisis, but there is still much to do and many campaign pledges to fulfill.
As Biden sits behind the Resolute Desk, with a pen and a litany of proposed legislative plans in hand, the dark days of the Trump administration still linger—the days of children in cages and persecution and dehumanization of human beings detained at the U.S.' southern border.
As previously reported, Biden is making moves to fix and reverse Trump's detestable immigration policies harming undocumented migrant refugees, workers, and families. Though the proposed immigration bill delivered to Congress by the Biden White House shows promise and progress, there is still a long road ahead, many issues unresolved, and Congressional battles to be faced.
As the immigration debates continue in Washington, there has been a recent influx of migrants arriving at the border, including thousands of children now being held in government-run detention facilities.
What we know
As of Sunday, March 14, U.S. Customs and Border Patrol (CBP) is holding 4,200 children in detention centers. The number represents a 31% increase since the end of February when 3,200 children were detained.
During February 2021, CBP encountered 3,500 migrants a day, a 28% rise since January 2021.
The number of children and families seeking to enter the U.S. doubled in the same period. And the number of unaccompanied minors from Central America rose 60% over January to more than 9,400.
There are several reasons for this rapid increase. A report from the Congressional Research Service shows that the COVID-19 pandemic and its disastrous impact on the global economy play a significant role in the rise of migrants arriving at the border.
Many unaccompanied migrant children and teenagers are now held at a CBP tent facility in Texas. Conditions inside are bleak, with some sleeping on the floor because there are not enough sleeping mats, according to non-profit attorneys who conduct oversight of immigration detention centers.
Almost 3,000 children and teenagers have been in detention for over 72 hours, some as long as several weeks, despite the CBP's three-day limit for detaining minors before transferring them into the custody of officials in the Office of Refugee Resettlement (ORR). This delay in the transfer is due to a lack of housing space in the Health and Human Services (HHS) system.
The Biden administration is also drawing criticism from immigration attorneys and activists for denying access to tent facilities to assess the actual conditions.
"It is pretty surprising that the administration talks about the importance of transparency and then won't let the attorneys for children set eyes on where they're staying," Leecia Welch of the National Center for Youth Law told the Associated Press. "I find that very disappointing."
Welch continued: "We understand the administration inherited this disaster, but I cannot stress enough how urgent the situation is."
When asked about the housing of migrant children, White House press secretary Jen Psaki said Monday, March 15, that the administration was looking for additional facilities. "Certainly, we would ensure that we're meeting the standard that we have set out," Psaki said.
Homeland Security Secretary Alejandro N. Mayorkas released a statement early Tuesday, March 16, on the influx of arrivals.
"The situation at the southwest border is difficult. We are working around the clock to manage it, and we will continue to do so. That is our job. We are making progress, and we are executing our plan. It will take time, and we will not waver in our commitment to succeed," he said.
In the detailed statement, Mayorkas said additional facilities were to be set up and staffed in Texas and Arizona to shelter unaccompanied minors. He said that his department "partnered with community-based organizations to test and quarantine families that Mexico could not receive and have developed a framework for partnering with local mayors and public health officials to pay for 100% of the expense for testing, isolation, and quarantine for migrants."
Rhetoric runs ahead of action
The surge at the U.S.-Mexico border has created a major test for the Biden administration and has seen some of Trump's policies stay in place, most notably the expulsion of immigrant adults and families under a public-health declaration citing the current health pandemic.
Biden declined, however, to reinstate the public health expulsion of children and ended a Trump order that discouraged potential family sponsors from coming forward to care for unaccompanied minors.
The Biden administration has also turned to the Federal Emergency Management Agency (FEMA) to help manage and care for unaccompanied minors arriving at the southwest border and will do so over three months. FEMA is the one government agency with the capacity to quickly house a lot of people who need immediate shelter; it is most known to the public for providing housing assistance in the aftermath of disasters such as hurricanes or tornados.
"The situation we are currently facing at the southwest border is a difficult one. We are tackling it. We are keeping our borders secure, enforcing our laws, and staying true to our values and principles. We can do so because of the incredible talent and unwavering dedication of our workforce," Mayorkas said in closing. "I came to this country as an infant, brought by parents who understood the hope and promise of America. Today, young children are arriving at our border with that same hope. We can do this."
People's World will continue to monitor the current crisis at the southwest border as well as developments in the Biden administration's response.
Read Al Neal's special People's World feature, On the Border, winner of the 2020 International Labor Communications Association prize for Best Series.