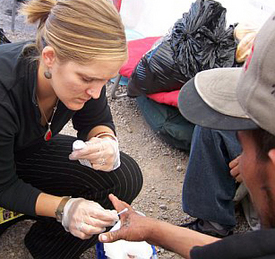 TUCSON, Ariz. — While Congress debates "tougher security at the border," the temperature is rising above 100 degrees in the Sonoran Desert. Already 84 bodies have been found along the Mexico-Arizona border, more than this time last year.
Instead of treating migrants as victims of U.S. and Mexican economic policy, they are treated like invaders by the National Guard, Border Patrol, Minutemen and other vigilantes, bandits, and now, Blackwater and other mercenary "armies."
Once arrested, migrants are often abused by the Border Patrol, deprived of water, food and emergency care, and deliberately separated from family members.
"This is a failed border policy. It's immoral," said longtime border activist Pancho Medina. "When will the people of this country realize what is happening to people from our neighboring countries, 'friendly nations,' people who once traveled freely on their land, people who have lived in this area for thousands of years?"
No More Deaths (NMD), one of several organizations in southern Arizona helping migrants, is gearing up for another summer of rescues. Members have been walking the trails along the border, observing the foot traffic in order to set up camps and be available for aid. They have signed up hundreds of volunteers from across the country.
Last summer, NMD began setting up aid stations on the Mexican side for deportees who are literally dumped at the border by Wackenhut, a private prison company notorious for human rights violations.
Deportees are left at the border truck crossing in Nogales, Ariz., where they must walk three miles to Nogales, Mexico. Dropping them at the truck crossing keeps tourists from spotting the dehydrated, injured, robbed, disoriented and emotionally distressed people as they limp or are carried across.
Women and children are often brought in the dark of night when the border crossing is officially closed, leaving them especially vulnerable to injury or getting lost.
Blisters, bites, sprains and severe dehydration are common. Volunteers wash migrants' feet and treat their wounds, offer water, food, a cell phone to make a call, and a few options for their next steps.
"We are the eyes and ears of how migrants are treated by Border Patrol and other law enforcement agencies. It's horrifying," said Maryada Vallet, coordinator of the Northern Mexico humanitarian aid centers for NMD. She adds that up to 1,000 people are being deported to this place every day, and over 100,000 have been helped since the project started last July.
"The humanitarian presence has certainly prevented more deaths and suffering," Vallet said. "It gives an ounce of support and a safe place for migrants to decide what they will do next." She said NMD has added shelters in Nogales and in Agua Prieta, Mexico, where people are also being "dumped."
Volunteers who care for the shelters 24/7 are people who have been deported several times and can't return to the U.S. without fear of prison. Gilberto Flores, who lived in San Jose, Calif., for many years and whose family is still there, now runs the shelter and says he will stay as long as people need help. His work is heroic, but he shrugs it off and says he has nowhere else to go.
Volunteers from many groups on the U.S. side carry food from Casa Maria soup kitchen in Tucson, along with medicine and supplies, including diapers, socks, and shoelaces (the Border Patrol removes these from deportees). The state of Sonora has a fulltime person at the shelter helping people reconnect with family in Mexico and get emergency care.
Most deportees will try crossing again. As they regroup and heal in Nogales, they know that every day the thermometer is rising. Some still have unhealed wounds but want to stick with friends and family. The cat-and-mouse game of trying to enter the country becomes extremely risky.
The Rev. Robert Carney, who serves the migrant and border community, helped a young woman from Guerrero who was limping from apparently torn ligaments. She was frightened, alone and in shock. When he asked her if she would try again she said, "I have three children."
Carney said, "I cringe when I hear people say migrants are seeking a better life. It's much more than that — it's life or death."
To learn more about border rescue and aid efforts, visit www.nomoredeaths.org.
nmyers @igc.org