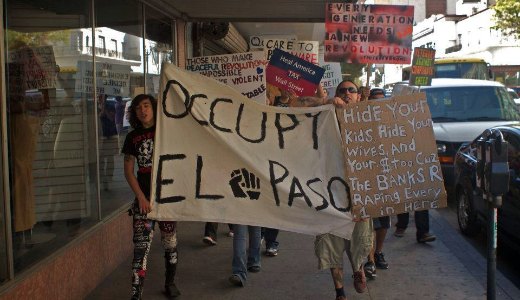 EL PASO, Texas – Now into its fifth week, the Occupy El Paso movement in west Texas is facing a classic high-noon showdown. On Thursday police visited the site of the Occupation in the city's central San Jacinto Plaza and warned occupiers to vacate by midday on Nov. 13 or risk forcible eviction and arrest. Local activists are already holding training sessions on nonviolent resistance tactics and calling for local volunteers for civil disobedience if authorities try to evict the group by force.
Occupy El Paso is currently operating legally under a City Council permit that allows the group to stay in the plaza 24 hours a day until the Nov. 13 deadline. However, city officials and law enforcement have prohibited occupiers from pitching tents, and at one point harassed activists by ordering all tents to be taken down during the daytime, supposedly to protect the grass. However, when demonstrators refused to comply, the police chose not to seek confrontation.
The mid-November deadline was supposedly timed to allow the city to two weeks to put up holiday decorations at the plaza in time for the annual post-Thanksgiving official lighting ceremony.
El Paso protesters have received strong support from local labor unions, including the Border Farmworkers Union, who held a march of support last week from their union hall to the Plaza. El Centro Mayapan, a Latino cultural center in El Paso, has also offered its full moral and material support to the mainly-Anglo occupiers.
Meanwhile, occupiers in the nearby city of Las Cruces, N.M., were ordered to purchase prohibitively expensive $12 per-night-per-tent camping permits if they wished to remain on city park property, and city officials warned that evictions would begin at 11 p.m. Thursday for those without permits. Occupy Las Cruces activists issued urgent calls for supporters to come to the park immediately to stand firm against the city's "violation of First Amendment rights."
As it turned out, here were no negative incidents Thursday night in Las Cruces. At the last minute, supporters of the Movement provided more than enough donations to buy camping permits for all Occupy protesters. The police were satisfied, and said
there would be no action against protesters "tonight or for the foreseeable future."
Directly across the river from El Paso in nearby Ciudad Juárez, Mexico, 29 "indignados" of that city's Occupy Movement, including the elderly and infirm, were attacked and arrested on Tuesday by officers of the city's Municipal Police while peacefully demonstrating. A video posted by the city's mainline daily newspaper, the Diario de Juárez, shows police officers armed with automatic weapons storming peaceful demonstrators who were marching through downtown Juárez placing crosses with the names of victims of the city's ongoing wave of drug-related violence. Police threw demonstrators to the ground and forcibly cuffed them, in one case detaining an elegantly-dressed national news reporter and roughly tossing her into the bed of a police truck.
"We were peacefully demonstrating, and you see how the police came and attacked us, injuring the women, grabbing us by force. In this country the authorities are outlaws who don't answer to the citizenry. The very same police who are now arresting us aren't capable of arresting the criminals!" shouted one demonstrator.
Occupy El Paso, which held a protest march on Nov. 2 in solidarity with Oakland, Calif., occupiers, has already offered its full support to the arrested Juárez demonstrators.
Photo: Owen Williamson/PW