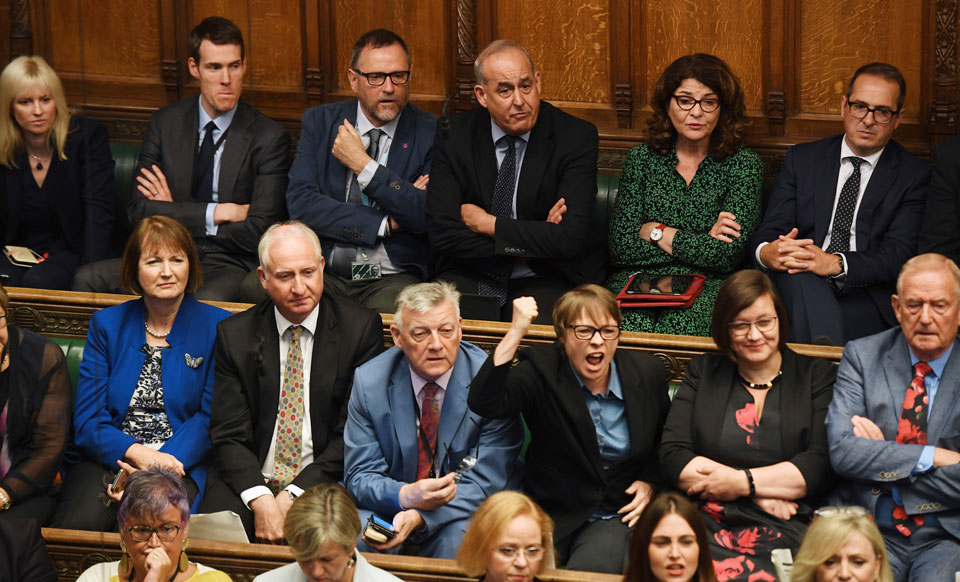 Acrimony as thick as fog over the River Thames hung heavy in the air inside the U.K. House of Commons Wednesday. British Prime Minister Boris Johnson, just off the plane from New York, faced furious Members of Parliament a day after Britain's high court ruled he acted illegally in suspending Parliament ahead of the Oct. 31 Brexit deadline.
Taking a cue from Donald Trump, who met with him while in New York, Johnson casually dismissed the calls for his resignation, challenged the opposition parties to "either topple me, or let me deliver Brexit," and accused the Labour Party, and the whole of Parliament, of intentionally wrecking his chances of negotiating a new Brexit deal.
"I say it is time to get Brexit done," he said, accusing his opponents of ignoring the will of the people, who in 2016 voted 52% to 48% to leave the 28-nation European Union. "64 days ago, I was told that Brussels would never reopen the withdrawal agreement. We are now discussing a reopened withdrawal agreement in the negotiations…. I was told there was no chance of a new deal. But we are discussing a new deal."
Applause rose from his own Conservative Party MPs and was met with jeers from the opposite side.
"Order…order," shouted House of Commons Speaker John Bercow in an attempt to calm the outrage. "People are gesticulating wildly; I can scarcely hear the Prime Minister myself."
Johnson's statement before the House of Commons, aside from claiming a new Brexit deal was in the works, laid out his plan to still withdraw the U.K form the EU on Oct. 31: "Most people… regardless of how they voted three years ago, think the referendum must be respected." He said the U.K.'s Supreme Court ruling was "respectfully, wrong," accused Parliament of betraying the people, and branded opposition Labour Party leader Jeremy Corbyn a peddler of "Communist rhetoric."
It's as if Johnson and Trump were separated at birth. Both are volatile and ever more dangerous as public, political, and legal accountability for their unlawful deeds grows—perhaps signaling their quick demise.
"We have a really good man who's going to be the prime minister of the U.K. now, Boris Johnson. Good man, he's tough, and he's smart," Trump said, addressing the conservative youth organization Turning Point USA back in July. "They're saying 'Britain Trump.' They call him 'Britain Trump,' and people are saying that's a good thing. They like me over there. That's what they wanted. That's what they need."
Corbyn, however, said the prime minister was not fit to govern, and "should have done the honorable thing and resigned" after the high court ruling. "Yet here he is, forced back to this House to rightfully face scrutiny, without a shred of remorse or humility and no substance whatsoever," continued Corbyn.
MPs accused him of showing disrespect for the rule of law and deceiving the Queen when he asked for her permission to prorogue, or suspend, Parliament. They repeatably, and to no avail, called for an apology.
"Have you no shame, prime minister?" said Ian Blackford, the Scottish National Party's leader in Parliament.
Johnson defiantly replied: "I think the people of this country have had enough of it. This Parliament must either stand aside and let this government get Brexit done or bring a vote of confidence and finally face the day of reckoning with the voters."
Opposition lawmakers and some Conservative "rebels" have said they will back an election only if a no-deal Brexit is ruled out—something the prime minister is reluctant to accept.
Parliament passed a law before the illegal suspension requiring Johnson to seek a Brexit deadline extension if no new deal was reached, but he said he wouldn't do that under any circumstances, calling the law "the Surrender Act" and  a "Humiliation Bill."
"He says he wants a general election. I want an election," said Corbyn. "If you want an election, get an extension and let's have an election."
As the session grew darker and more bitter, several MPs urged Johnson to soften his language, saying the U.K.'s political climate has become dangerous. Pro-EU MPs have been branded "traitors" by some Brexit supporters, and police have investigated threats against several lawmakers.
Labor MP Paula Sheriff asked Johnson to stop using "pejorative language" and brought up the murder of Jo Cox, a Labour MP killed a week before the 2016 Brexit referendum by an attacker shouting, "Death to traitors!"
"And let me tell the prime minister that they often quote his words—'Surrender Act,' 'betrayal,' 'traitor'—and I for one am sick of it," she said. "We must moderate our language, and it has to come from the prime minister first."
Johnson's reply: "I've never heard such humbug in all my life."
A callous answer, from an unrepentant politician.
"We can see what the prime minister was doing with that horrendous, divisive language yesterday," Labour Party MP Lisa Nandy said Thursday morning. "We can see that this is a clear electoral strategy to whip up hate and try to divide us, and to whip up the hate of people against Parliament."