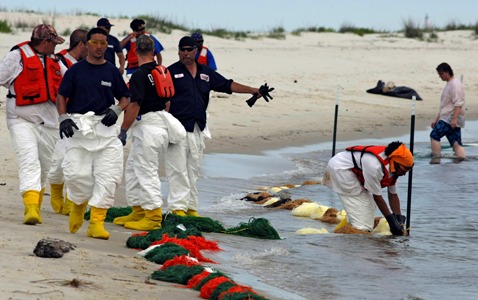 NEW ORLEANS – "Big business can get away with murder," Robert 'Tiger" Hammond, president of the Greater New Orleans AFL-CIO, told the People's World here May 11. "And they are doing it right now!"
Three weeks after the Deepwater Horizon exploded off the coast of Louisiana, killing 11 workers, over 200,000 gallons of oil are still being pumped into the ocean every day, potentially destroying thousands of acres of beautiful marsh land. Additionally, Gulf Coast wildlife – unique to the region – and the fishing industry face critical challenges in the months and years ahead.
Hammond, who also serves as the executive secretary for the Southeast Louisiana Building and Construction Trades Council, continued, "After three weeks they [BP] are on plan E. We don't know when the oil is going to stop."
Unfortunately, this is the second tragedy – in almost four years – Hammond has had to deal with. "First Katrina, now the oil," he said in a raised voice, visibly angry.
Before Hurricane Katrina, Hammond lived in St. Bernard Parish, one of the areas hardest hit by the disaster. "I had 11 feet of water in my house, 14 inches on the second floor. We were under water."
"We were rebuilding our lives, our futures! Now this," Hammond continued.
In the weeks following the Deepwater Horizon explosion it has become obvious that more government regulation is needed. In fact, Hammond connected the oil crisis today to deregulation during the Bush administration.
"George W. Bush vetoed a law that would have required a mandatory cut-off valve precisely for this type of crisis," Hammond said. "There has to be stiffer penalties, stiffer laws. Hundreds of thousands of people's lives are at stake. Hundreds of jobs are at stake – hotels, charter boats, restaurants, the whole tourism industry and the fishermen."
Hammond also said that he has seen a huge change in the federal government's approach to regulating big corporations since President Obama took office.
David Magee, vice president of International Longshoremen's Association (ILA) Local 3000, couldn't agree more. As we stood on the docks just outside of the local's trailer, he told the People's World, "The Obama administration has been part of our post-Katrina rebuilding success."
"Obama is on the side of the community, the workers, the fishermen," Magee continued. "BP, on the other hand, allowed this tragedy to happen. They were trying to save money. As a result, 11 lives were lost and our state, city and region are going to suffer."
ILA Local 3000 Secretary-Treasurer Chris Hammond added, "BP has made a lot of mistakes. They have been irresponsible. All of their safeguards failed. They need to be better regulated."
"This is a new Katrina," he continued.
With states all across the nation facing severe budget cuts, the impact of this crisis will also be felt in Baton Rouge, Louisiana's state capital. Off-shore drilling provides hundreds of millions of dollars in state revenue.
"Off-shore drilling provides revenue for the state that goes towards social programs and helps rebuild our infrastructure," Chris Hammond added, indicating that with better regulation this key regional industry could play a positive role in stabilizing the state's budget.
For a city still recovering from the wounds of Bush-era mismanagement and corporate deregulation, this crisis couldn't come at a worst time.
"There is a lot of anger and disbelief," Magee added. "The outlook is bleak. On the waterfront, once you lose work it is hard to get it back." Many dockworkers fear layoffs as ships are diverted to other areas to avoid the oil.
The oil pouring into the Gulf Coast can and will affect the economy of the whole region. If good paying, union jobs are lost in the docking industry, then jobs in the peripheral economy will also be affected – putting downward pressure on wages and benefits in the entire region, especially for tourism, a cornerstone of the economy here, providing hundreds of thousands of jobs.
As "Tiger" Hammond said, "Big business thrives on failure." Unfortunately, it is precisely this type of failure that has allowed BP to rake in billions of dollars in profits while the people of Louisiana get stuck cleaning up the mess.
Photo: Clean-up workers install netting on the public beach, May 8, on Dauphin Island, Ala., following reports of tar balls washing up on the shore. (G.M. Andrews/ AP/Press-Register)