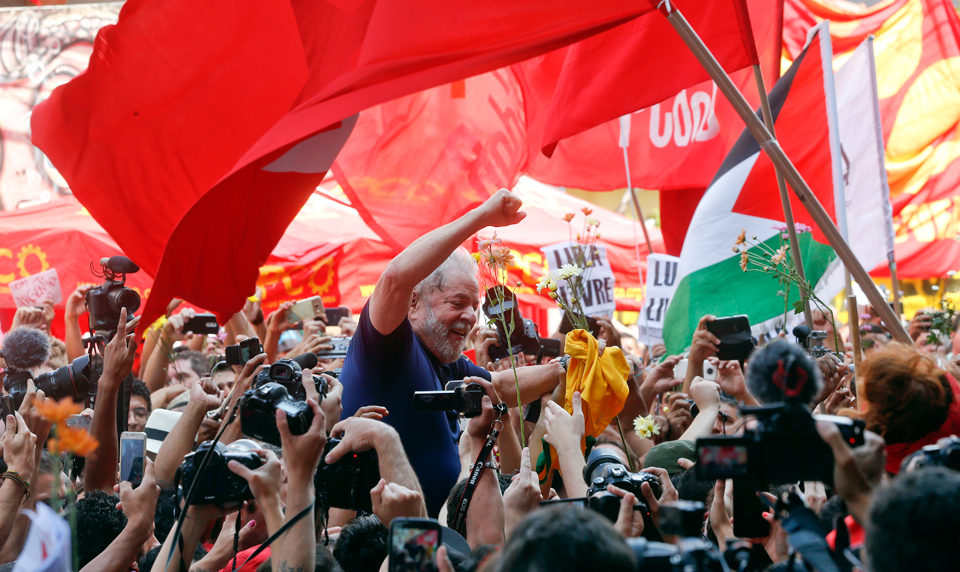 Brazilian police attacked protesters with tear gas and rubber bullets over the weekend as former president Luiz Inacio Lula da Silva was jailed in Curitiba.
Lula, as he is universally known, left the Sao Paulo headquarters of the steelworkers' union he once led in strikes against Brazil's then military dictatorship in the 1970s and handed himself in to police who flew him to the southern city to be jailed.
Thousands of supporters gathered outside the prison, but police laid into them and tried to beat them back from its walls.
People's Committee for the Defense of Lula and Democracy's Pablo Villaca said judges and generals hoping Lula's imprisonment would finish his career would be disappointed: "Instead, the image of Lula being carried in the arms of the people is circulating across the entire planet."
The Supreme Court ruled a week ago that Lula would have to begin a 12-year sentence for a highly contentious corruption conviction despite his appeals against the verdict not being exhausted.
Communist MP Alice Portugal said the rush to arrest Lula before waiting for the legal process to run its course was illegal but said the left was uniting against the persecution of its most popular leader.
"It was nice to see the crowds of young people fighting his imprisonment," she said. "About to be arrested, he showed the left is united, raising the hands of [Communist Party of Brazil (PCdoB) presidential pre-candidate] Manuela d'Avila and [Socialism and Liberty Party politician] Guilherme Boulos.
"It was a moment for tears — they are arresting an innocent person and a president who loves his people," she charged.
A statement from PCdoB president Luciana Santos and d'Avila declared that "Lula's freedom must be, as of today, a flag held high by all democratic, popular and patriotic forces.
"He is in jail because of predevised commissioned verdicts. No proof was brought against him. The sentences were based only on statements by confessed criminals.
"Lula is trapped because in one of the most unequal countries in the world, he ruled mainly for the poor. He is imprisoned because he has put Brazil on its feet."
This article originally appeared in Morning Star.